News > Spokane
Airway Heights mayor rejects calls to resign over online comments
Wed., July 15, 2015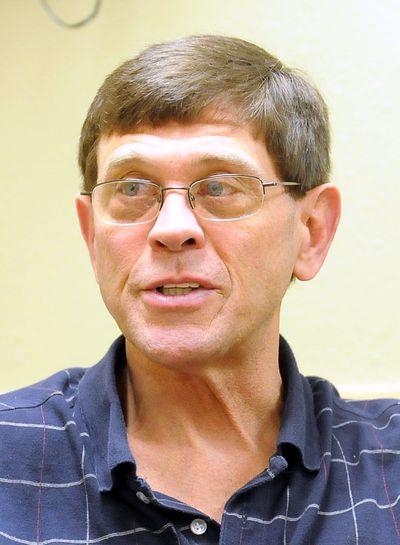 The Airway Heights mayor is refusing to resign after posting comments last week to his personal Facebook page that City Council members say are racist.
Mayor Patrick Rushing, who compared President Barack Obama and first lady Michelle Obama to monkeys, said he did not realize his comments were racist.
"I made a mistake. I owned up to my mistake," Rushing said. "If I do resign, that's admitting I'm a racist and I'm not."
Rushing admits to posting the comments.
"My entire life, race has never been an issue," Rushing said.
Rushing has two years left in his term as mayor. He's also running for a seat on the Cheney School District board.
At the Airway Heights City Council meeting Monday, all the members present except Rushing called for him to resign following a private meeting during which council members discussed Rushing's behavior.
"Well, I'm not going to call him a liar but I think it's pretty common knowledge that groups in the past have used reference to apes and monkeys as justification as violence against races," Councilman Kevin Richey said in an interview.
Richey became aware of the posts Friday after KHQ reported on the comments.
Police Chief Lee Bennett, who is also deputy city manager, said elected officials must hold themselves to a higher standard.
"When you become a public figure, I'm no longer Lee Bennett, citizen," he said. "I'm police Chief Bennett."
According to minutes from the council meeting, Rushing said the remarks were "completely out of character" and that he would work to "get past this."
"They asked him to resign. He refused. He's an elected official, so our hands are tied," Bennett said. "He said he is not going to resign, and that this was playful banter between him and some friends."
The council members asked City Attorney Stanley Schwartz to draft a resolution expressing the council's concerns and dissatisfaction with Rushing. The resolution also tasked Schwartz with researching possible sanctions against Rushing. The council approved the motion 5-1. Rushing cast the lone vote in opposition. Another council member was absent.
Schwartz said the sanctions may limit Rushing's involvement on boards and commissions, while also giving the council the power to review any oral or written communication Rushing makes on behalf of the city. Schwartz said he's researching options and will present what he finds at the council meeting on Monday.
"These statements, this behavior is not reflective of the values of the Airway Heights community, our council and our staff," City Manager Albert Tripp said.
Airway Heights has a city manager form of government. Rushing's mayoral role is mostly ceremonial, but he also sits on the City Council and draws a monthly salary of $2,000.
Earlier this year, Rushing resigned from his position as a school bus driver for the Medical Lake School District after he failed to immediately report that he rear-ended another car on a foggy morning while driving an empty bus.
Local journalism is essential.
Give directly to The Spokesman-Review's Northwest Passages community forums series -- which helps to offset the costs of several reporter and editor positions at the newspaper -- by using the easy options below. Gifts processed in this system are not tax deductible, but are predominately used to help meet the local financial requirements needed to receive national matching-grant funds.
Subscribe to the Coronavirus newsletter
Get the day's latest Coronavirus news delivered to your inbox by subscribing to our newsletter.
---