News > Spokane
Explosion rips through Zodiac Aerospace in Newport
July 15, 2015 Updated Wed., July 15, 2015 at 1:49 p.m.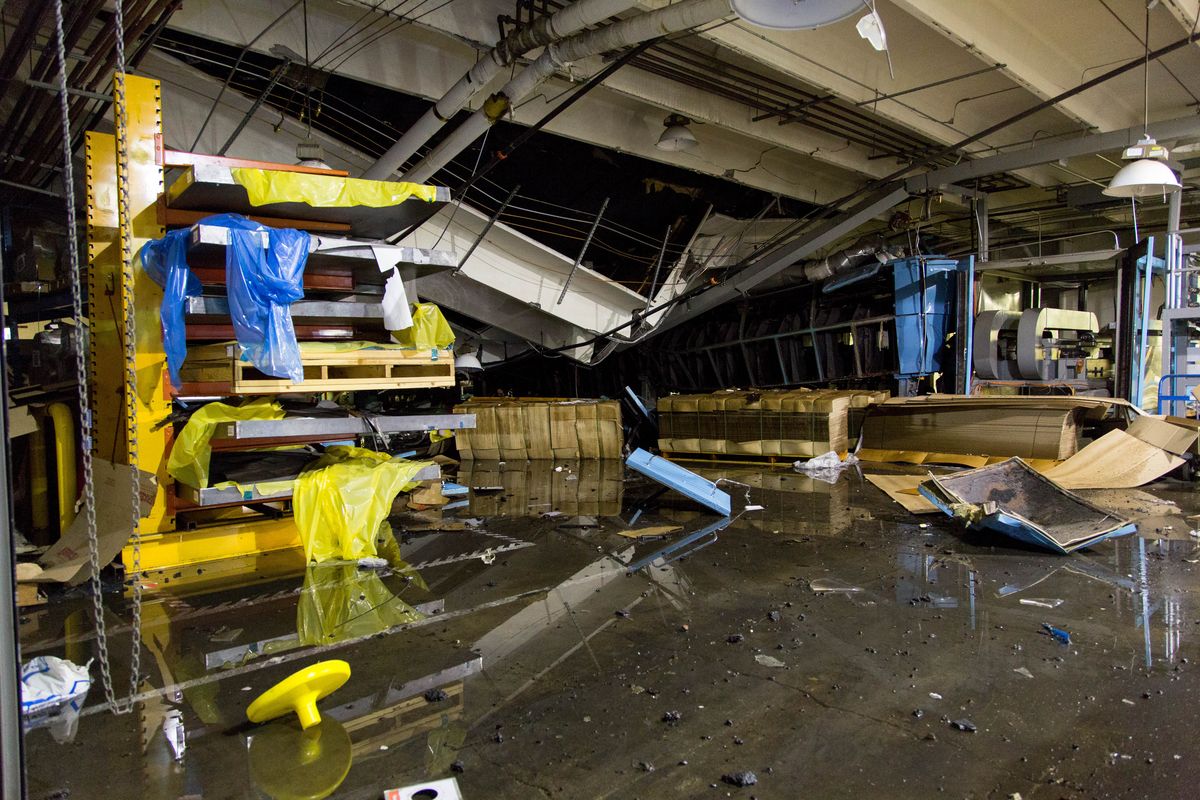 An explosion in July 2015 caused part of the roof of Zodiac Aerospace, in Newport, to cave in. "The damage done there is incredible," said Assistant Spokane Fire Chief Brian Schaeffer. "On the other side of the building there are doors that are blown off their hinges." (Eli Francovich/The Spokesman-Review)
Update: 1: 45 p.m.
State Commerce Department officials who have spoken with representatives of Zodiac Aerospace say the number of employees at the Newport site is actually 104.
Update: 11:49 a.m.
The Zodiac Aerospace plant in Newport employs 85, according to Jamie Wyrobek, economic development director for the Pend Oreille County Economic Development Council. The company has seven subsidiaries in Washington and is "is a large international aerospace supplier with a significant presence in our state's aerospace sector," according to a Washington Commerce Department spokeswoman. Newport City Manager Ray King estimates the explosion caused $1 million in damages to the plant.
Update: 11:30 a.m.
Zodiac Aerospace is a multinational corporation that's a key supplier to Boeing. The Newport plant is part of Zodiac's "Cabin and Structures" division, and makes components for cabin interiors. The business press is questioning whether the explosion in Newport could affect Boeing's commercial jetliner production. A Boeing spokesman said in a statement, "At this time, we are working to determine what, if any, impact there may be to our production system." According to The Wall Street Journal, Zodiac is one of the world's largest suppliers of aircraft interiors to airplane manufacturers like Boeing and Airbus. The newspaper said on its website today, "In recent months it (Zodiac) has been hit by a series of production and labor problems affecting supplies of passenger seats that have delayed jet deliveries and led to sharp criticism from its customers. Further supply-chain disruptions are being closely monitored, as Boeing and Airbus boost production to deliver a record number of commercial jets."
Update: 9:30 a.m.
Of the five people injured, three were released from the Newport hospital, said Pend Oreille County Undersheriff Grant Sirevog. One is in stable but serious condition and the condition of the final person is unknown, he said.
Original story NEWPORT - An explosion ripped through an aerospace company in Newport Tuesday night, shattering glass and causing a section of the roof to collapse. The blast, which occurred shortly before 9 p.m., sent five people to the hospital. At least one person was taken by helicopter to Spokane. "People heard the explosion from miles away," said Grant Sirevog, the undersheriff for Pend Oreille County. Jody Bauer can see the company from her front porch. She said she heard and felt the explosion around 8:45 p.m. Soon after, the fire department warned her that they were worried about a chemical spill and a secondary explosion. So she left with her six-week-old son and her two other children. They spent the night with her parents. "He's the reason we left," she said of her baby. "No, I don't trust little lungs and chemicals." This morning she said her neighbors were picking shards of glass out of their yard. Although a Spokane hazardous material response team was dispatched, they were recalled before arriving. By roughly 2 a.m. it was determined that the site did not pose a chemical danger. Assistant Spokane Fire Chief Brian Schaeffer responded to the incident as well. Although it's still unclear exactly what happened, he said he thought it could have been a flammable vapor explosion. There were chemicals on site, including acetone and alcohol. Although there might have been a brief fire, Schaeffer said the fire suppression systems most likely extinguished it quickly. "This is a big deal for this community," he said. "They're a huge employer." C and D Zodiac, also called Zodiac Aerospace, produces interior products for airplanes. "The damage done there is incredible," Schaeffer said. "On the other side of the building there are doors that are blown off their hinges." Emergency crews started to leave at 2 a.m. Shortly after, a Department of Ecology spill response team arrived to try and minimize the environmental impact of the explosion. They left this morning. Dave Hausserman, facilities manager, stayed up all night keeping an eye on the facility after fire and police personnel left. He said Zodiac Aerospace officials are en route from Marysville, Washington.
The property manager's insurance will deal with the explosion, said Mike Nokes, chief of the fire department in south Pend Oreille County. "This is like one of those things you see on TV," said Dave Hausserman, facilities manager for the Zodiac plant, shown left, briefing others on the layout of the plant.
Local journalism is essential.
Give directly to The Spokesman-Review's Northwest Passages community forums series -- which helps to offset the costs of several reporter and editor positions at the newspaper -- by using the easy options below. Gifts processed in this system are not tax deductible, but are predominately used to help meet the local financial requirements needed to receive national matching-grant funds.
Subscribe now to get breaking news alerts in your email inbox
Get breaking news delivered to your inbox as it happens.
---