News > Washington Voices
Northwest council seat filled by replacement now goes to voters, with four choices
Thu., July 16, 2015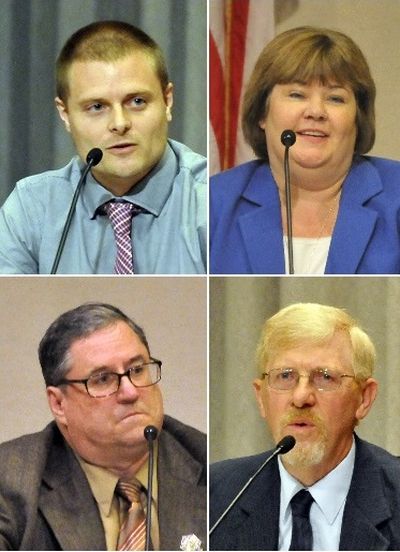 When Steve Salvatori quit the Spokane City Council for work in Texas last year, some people clamored for his replacement to be in his mold: a business-minded, fiscally conservative government outsider.
Instead, the majority on the City Council dipped into the employment rolls at City Hall and appointed Karen Stratton, a former aide to Mayors Jim West and Mary Verner who had spent the past few years working in the city clerk's office.
Stratton has never run for office, but she helped both her parents in their own political campaigns. Her mother, Lois Stratton, was a Democratic state legislator from 1979-93. Her father, Allen Stratton, was a member of the City Council from 1966-76.
Stratton said the 10 months she's been on council sharpened her resolve to protect working people against powerful interests with outsized influence in Mayor David Condon's administration.
Evan Verduin, whom Condon has endorsed in the election, owns a design firm. As an architect, Verduin says he's dealt with the burdensome regulations City Hall puts on businesses. He also said he would make the actions of City Council more transparent by creating an easily searchable online database of council votes.
Finally, he criticized the council for becoming more "polarizing" and said he would be a centrist swing vote.
Dave White, a public works inspector with the county and regular at City Council meetings as part of the conservative Eighth Man contingent, isn't worried about polarization. He's more worried about the "strong push for Seattle-type legislation" by the current council. As a "strict constitutionalist," White's politics are very conservative, but he said he'd work to find areas of compromise.
White said he would work to improve the public's perception of the police force, which he said has done well at reform that's gone unrecognized. He also would bring his professional expertise to discussions of street and public works projects at the city.
Kelly Cruz, who won a lifetime, $1,000-a-week lottery prize last year and is the former chairman of the West Central Neighborhood Council, said he was focused on reducing property crime, which he said is more pronounced in his neighborhood.
He pointed to his endorsement by Sheriff Ozzie Knezovich and various volunteer posts – including a volunteer award from the city – as fodder for voter trust.
Local journalism is essential.
Give directly to The Spokesman-Review's Northwest Passages community forums series -- which helps to offset the costs of several reporter and editor positions at the newspaper -- by using the easy options below. Gifts processed in this system are not tax deductible, but are predominately used to help meet the local financial requirements needed to receive national matching-grant funds.
Subscribe to the Coronavirus newsletter
Get the day's latest Coronavirus news delivered to your inbox by subscribing to our newsletter.
---