News > Obituaries
Obituary: Durling, Raymond James
Age 82
Fri., July 17, 2015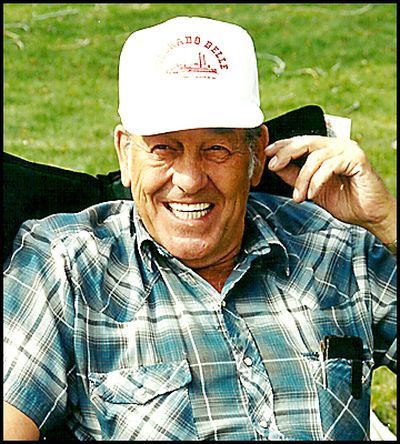 DURLING, Raymond James (Age 82) Ray James Durling went to Heaven on July 14, 2015.
He was born April 17, 1933 in Cherry Grove, Alberta, Canada.
Ray was loved by all his family and friends and will be missed greatly.
He met the love of his life, Betty, when he was 13 years old and she was 12 years old.
They ice skated in the winter, swam in the summer, and went to Lone Ranger Movie Matinees on Saturdays.
They married February 26, 1954.
Ray worked for the Canadian Pacific Railroad until 1960 when they moved to the US.
He was a cub master for four years and worked various jobs before his long lasting career at Kaiser Mead, where he retired in 1995.
Ray enjoyed "snowbirding" to California and got hooked on casino hopping and showgirls.
He loved his family and friends very much.
Once you met Ray, he was your friend for life.
Ray has left behind his wife Betty Durling, sons James Durling and Randall Durling and his wife Cindy Brantl (honorary mentions Cindy Flom and Leslie Johnston), grandchildren Matthew Durling/Heather Lindsley, Jammie Smith and her husband Tim Smith, Melissa Smith and her husband Tom Smith, Jenniffer Jackson and her husband Spencer Jackson, extended grandchildren Holly Cowan, Mick Brantl and Ty Brantl, 11 great-grandkids and six extended, one extended great-great-grandchild and the Weaver family.
He was preceded in death by his parents Fulton and Barbara Durling, brother Arlie Durling and grandson Richard "Scott" Durling.
Services for Ray will be held at Heritage Funeral Home on Saturday, July 18th at 11:30am followed by his burial at Fairmount Cemetery.
We are asking that you please dress casual and in blue as it was Ray's favorite color.
Local journalism is essential.
Give directly to The Spokesman-Review's Northwest Passages community forums series -- which helps to offset the costs of several reporter and editor positions at the newspaper -- by using the easy options below. Gifts processed in this system are not tax deductible, but are predominately used to help meet the local financial requirements needed to receive national matching-grant funds.
Subscribe to the Coronavirus newsletter
Get the day's latest Coronavirus news delivered to your inbox by subscribing to our newsletter.
---