News > Idaho
High temperatures at area lakes a threat to aquatic life
Mon., July 20, 2015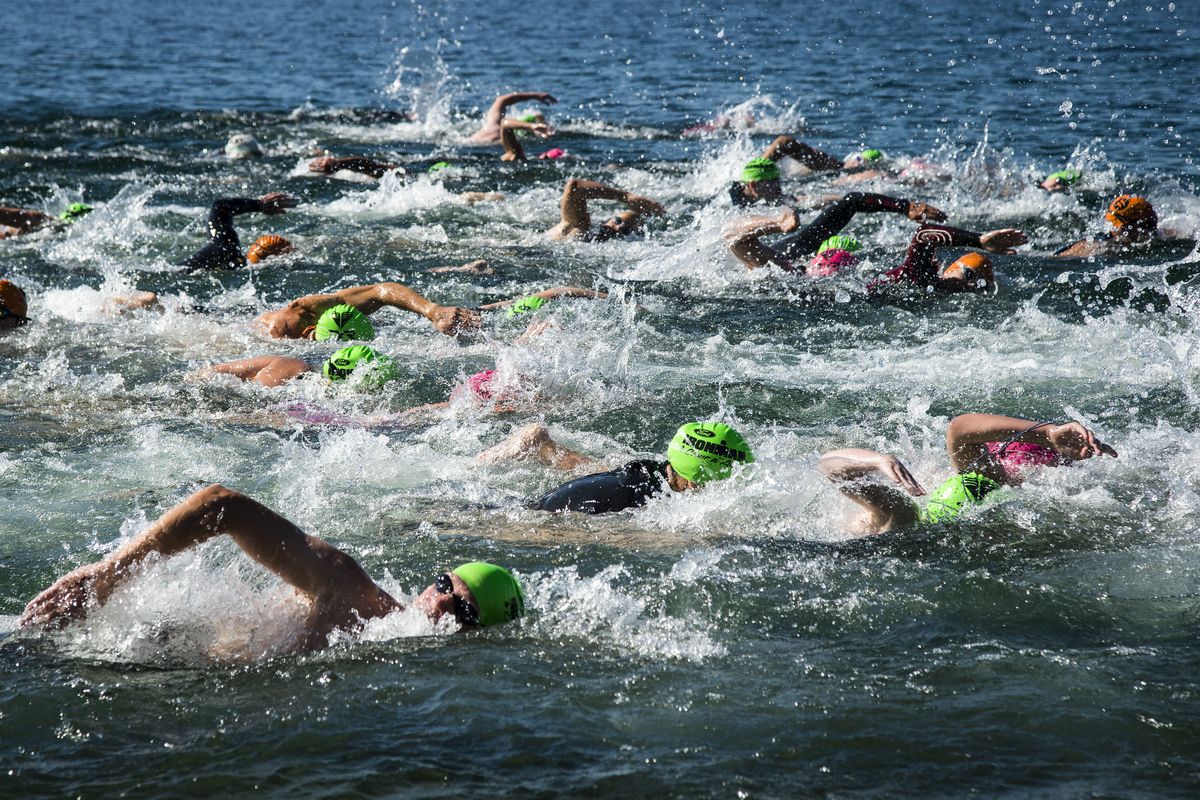 Competitors start their 1-mile open water swim at the Steve Omi Memorial Swim at Sanders Beach on Lake Coeur d'Alene on Saturday. Water temperatures in the region's larger lakes – Hayden Lake, Lake Coeur d'Alene and Lake Pend Oreille – have been in the 70s. (Colin Mulvany)
Wear a wet suit or skip it?
That was the dilemma facing swimmers at the Steve Omi Memorial Swim at Sanders Beach on Saturday morning. With surface water temperatures reaching into the high 70s, Lake Coeur d'Alene was nearly as warm as a heated pool.
"A lot of these high mountain lakes are usually cold, but today it felt like a competition pool," said James Adams, 37, of Wenatchee.
Adams, who took first in the 1-mile swim with a 20-minute time, wore a wet suit to reduce water resistance and provide extra buoyancy. So did Jim Breidenbach, 51, of Spokane. But Breidenbach finished the race feeling overheated.
"It was too hot," he said.
The effects of the regional drought are being felt at local lakes, where sunny days and low runoff have led to unseasonably high water temperatures.
"We've seen temperatures touch into the 80s," said Thomas Herron, Idaho Department of Environmental Quality's regional water quality manager.
Lake Cocolalla had a recent reading of 80 degrees, a temperature that Spirit Lake, Twin Lakes and the region's other smaller lakes have probably hit, too, he said. The larger lakes – Hayden Lake, Lake Coeur d'Alene and Lake Pend Oreille – have been in the 70s.
At the Long Lake reservoir on the Spokane River, monitoring has recorded temperatures of 77 to 79 degrees.
"We're seeing water temperatures that are more typical for August," said Meghan Lunney, an aquatic resource specialist for Avista Corp.
While the warmer temperatures are a plus for swimmers, they're bad for water quality. Hot water stresses fish, spurs plant growth and depletes oxygen levels. Scientists are seeing signs of problems, particularly at Lake Coeur d'Alene's shallow southern end.
'An interesting year for lake science'
Part of Lake Coeur d'Alene's south end went "anoxic" in June, which means there is no oxygen at the lake's deepest levels. The condition occurs when the lake stratifies, with a warm layer on top, a cooler middle layer and a deep, cold layer. When the oxygen gets used up in the lake's deepest layer, it doesn't get replenished until fall, when air temperatures cool and the lake water goes through a mixing process.
The oxygen depletion in the deep water usually doesn't happen until August. This is the earliest occurrence on record, said Laura Laumatia, the Coeur d'Alene Tribe's lake management plan coordinator.
The lack of oxygen changes the lake's chemistry, creating conditions where nutrients and heavy metals in lake sediments can become re-suspended in the water. With a century of historic mining waste at the bottom of the lake, the early oxygen depletion is a concern, Laumatia said.
"We're looking at four straight months of anoxia," she said. "It will be an interesting year for lake science, for sure."
Milfoil, algae blooms
Aquatic weeds also are flourishing in the warmer waters. The growth of invasive milfoil is several weeks ahead of schedule, and a brown algae bloom in southern Lake Coeur d'Alene is visible from state Highway 5.
"It's pretty nasty – it looks like a big, brown mat over the lake," Laumatia said.
That bloom is relatively benign, but lake scientists are expecting a banner year for blue-green algae, which is more worrisome. Blue-green algae blooms can produce toxins that sicken people and pets. The blooms are triggered by warmer water and low oxygen levels, said DEQ's Herron.
Health advisories are in place for Fernan and Avondale lakes and part of Hayden Lake, urging people to avoid areas with visible blue-green algae blooms. Ingesting the toxins can produce serious reactions, such as breathing trouble and liver damage.
Lake Coeur d'Alene has never had a bloom that triggered a health advisory. But ongoing monitoring indicates that blue-green algae concentrations are increasing in the lake, Laumatia said.
Isolated fish kills
Both Lake Coeur d'Alene and Long Lake have had some isolated fish kills of perch and bullheads this year. The mortality usually occurs early in the season, when the fish are spawning in the shallows.
"If you rapidly warm the water, that can create extra stress that can be fatal," Herron said.
With spawning over, the fish should be able to seek out deeper, colder parts of the lake, though lower oxygen levels could become a concern.
Herron recently took his snorkeling gear down to Coeur d'Alene's City Beach for a swim over lunch. The water was as warm as advertised.
"It was pretty comfortable swimming," he said. "There were a lot of people out enjoying themselves."
The warmer temperatures are drawing out a short but savored recreation season in the lake.
Carol Nelson, of Hayden, doesn't start swimming in local lakes until the water temperatures hit the upper 50s, which usually occurs around Memorial Day. This year, she was in the water in a wet suit by May 4.
The unusual weather "extended the season by a month," Nelson said.
Local journalism is essential.
Give directly to The Spokesman-Review's Northwest Passages community forums series -- which helps to offset the costs of several reporter and editor positions at the newspaper -- by using the easy options below. Gifts processed in this system are not tax deductible, but are predominately used to help meet the local financial requirements needed to receive national matching-grant funds.
Subscribe now to get breaking news alerts in your email inbox
Get breaking news delivered to your inbox as it happens.
---