News > Spokane
Then and Now: Whitten Block part of Hotel Lusso
Mon., July 20, 2015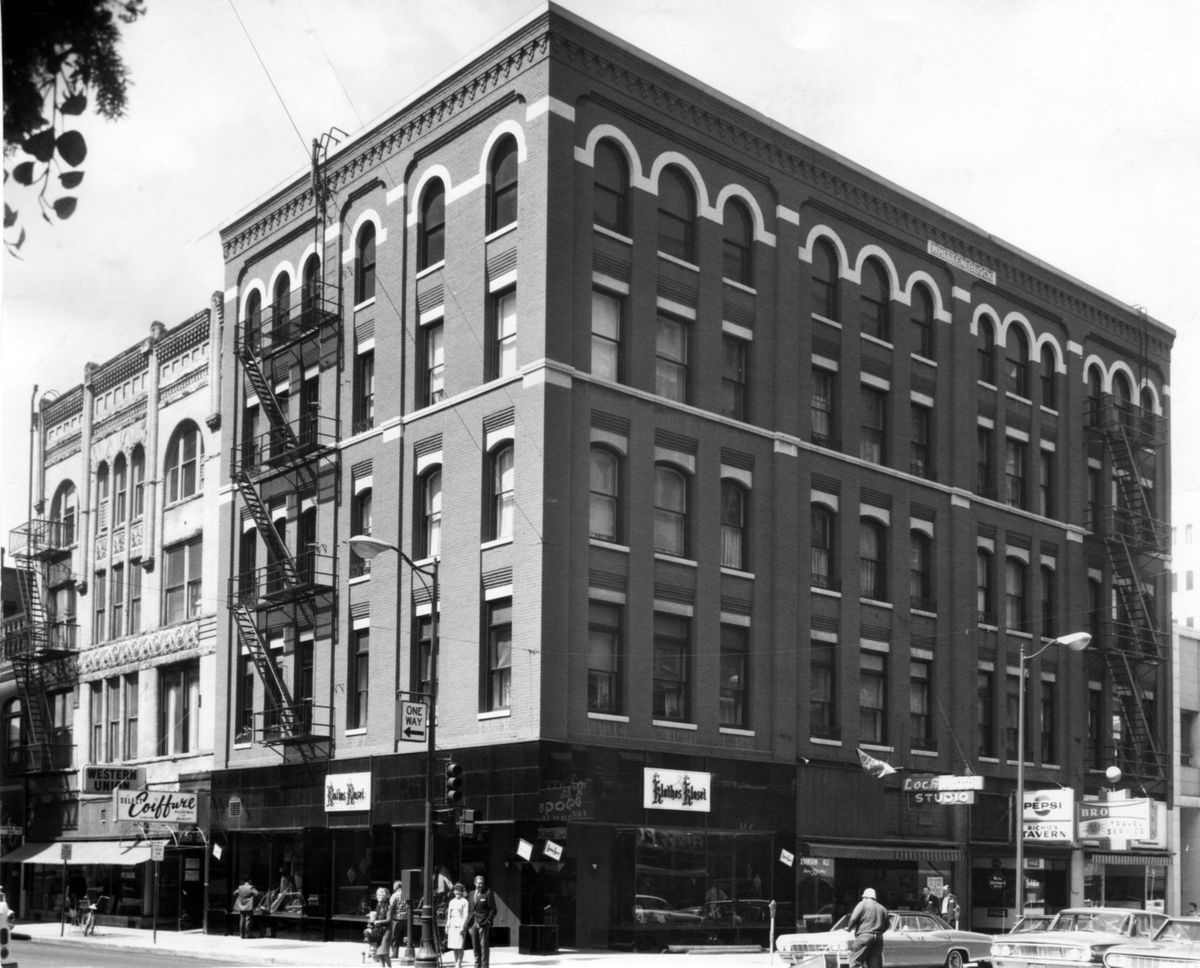 1967 : The Whitten Block, on the northwest corner of Sprague and Post, was sold by the Paul Whitten estate. Whitten died in 1966.
Leydford B. Whitten drove a mule team and wagon from Virginia and arrived in Spokane in 1880. He was trained as a carpenter and quickly built a house that included a drugstore.
In 1888, he married Georgia Ballou, one of Spokane's first female doctors. They had four children, but only two sons lived to adulthood: Paul, who lived at home and helped with his parents' businesses; and Lester, who later moved to Tacoma. L.B. had lost his buildings in the 1889 fire, but put up the five-story Whitten Block in 1890 and invested in mining and Washington Water Power.
L.B. and Georgia divorced in 1903 and Georgia got the Whitten building and other holdings. L.B. died in 1927, leaving a large estate to his two sons. But Paul had never held a job, had a drinking problem and displayed erratic behavior.
In 1946, after several days of heavy drinking, 54-year-old Paul staggered into the kitchen in his mother's house where a hired man was stacking firewood. He shot Eugene Hanley three times without saying a word, claiming later that he thought the man was an intruder. People said he smiled and laughed through his trial, where he was found to be insane and sent to Eastern State Hospital.
Georgia Whitten, who said she was "disgusted" by her son's crime, lived her final years in seclusion and died in 1950. The First National Bank took over management of Paul's part of the Whitten fortune. He was paroled in 1952. Colville chiropractor Samuel Pearsall and his wife, Florence, were assigned as guardians, earning $400 a month to care for him. Now free to spend his family fortune, Paul Whitten showered Mrs. Pearsall with expensive gifts, leading her to divorce her husband, and the two married in 1955.
The chiropractor immediately sued the Whitten estate for "alienation of affection" and won a $15,000 judgment. Lester Whitten died in 1958, leaving his wealth to brother Paul, who died in 1966 at age 74. Florence Whitten lived until 1982, bequeathing her $1.7 million fortune to Whitworth College.
– Jesse Tinsley
Local journalism is essential.
Give directly to The Spokesman-Review's Northwest Passages community forums series -- which helps to offset the costs of several reporter and editor positions at the newspaper -- by using the easy options below. Gifts processed in this system are not tax deductible, but are predominately used to help meet the local financial requirements needed to receive national matching-grant funds.
Subscribe now to get breaking news alerts in your email inbox
Get breaking news delivered to your inbox as it happens.
---