Sports > Gonzaga women
GU women land Nebraska transfer Chandler Smith
Brewster native will redshirt 2015-16 season; play as sophomore in 2016-17
July 23, 2015 Updated Thu., July 23, 2015 at 10:11 p.m.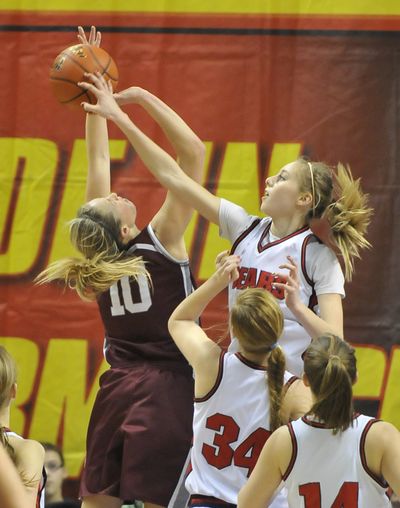 Gonzaga women's basketball coach Lisa Fortier said she thought the Bulldogs had convinced Chandler Smith to join the program last year before the Brewster native ultimately chose to plow her way to Nebraska. After Smith played one injury-shortened season for the Cornhuskers, Fortier finally got her wish as Smith signed paperwork Wednesday to transfer to Gonzaga. She will have three years of eligibility remaining after sitting out the upcoming season. "We tried really hard to recruit her," Fortier said. "Ultimately, it came down to us and (Nebraska). But, we are happy to have her the second time." The 6-foot guard eventually adds another backcourt weapon as Fortier has focused on replenishing the guard position following the departures last year of Jazmine Redmon and Haiden Palmer, and the loss this year of Keani Albanez and Lindsay Sherbert. Gonzaga, which finished 26-8, reached the Sweet 16 and ranked No. 19 in the final USA Today/Coaches Poll, will return senior point guard Georgia Stirton, sophomore Emma Stach and senior Elle Tinkle, who earned a spot on the All-West Coast Conference First Team after averaging 14.9 points per game in league play. Fortier also said she'll have 6-foot senior Shaniqua Nilles focus more on wing instead of playing every position from point guard to power forward last season. "She did fine, but she was playing out of position," Fortier said of Nilles. "Hopefully, we will get her in a position that she is built to play." Gonzaga also adds incoming 5-8 freshman point guard Laura Stockton (Gonzaga Prep), 5-10 guard Zhane Templeton from Grand Prairie, Texas, and 6-1 forward Zykera Rice from Lakewood, Washington. But the biggest wildcard remains the status of Makenlee Williams, a 5-11 shooting guard who played seven games last year as a junior and led Utah State in scoring with 14.4 points per game before transferring to Gonzaga during the season. "She shoots it lights out," Fortier said of Williams. "We are still working on her eligibility. We'll take her whenever we can get her." Gonzaga has requested a waiver from the NCAA to allow Williams to join the team at the semester break and essentially restart her junior year during conference play. If the waiver request is denied, Williams would be required to wait until the 2016-17 season and play only one year as a senior, Fortier said. The coach would not predict how she thinks the NCAA will rule. "The NCAA treats them on a case-by-case basis," Fortier said. "There has never been a case like hers, so we don't know." As has been tradition, Gonzaga will challenge teams with a huge front court even with the loss of 6-4 forward Sunny Greinacher to graduation. The Zags return 6-5 centers Shelby Cheslek and Emma Wolfram, and they return the services of 6-2 senior forward Kiara Kudron, who redshirted last season. The Bulldogs also add 6-3 freshman forward Jill Barta, who also redshirted. "With those players, we'll have the inside secured," Fortier said. Gonzaga will have to wait a season to add Smith, who was a four-star recruit ranked as the No. 18 wing in the country and No. 62 player overall in the ESPN HoopGurlz Top 100 as a senior at Brewster. The Dan Olson Collegiate Girls Basketball Report ranked her 14th in the nation by position. She averaged 21.3 points, 9.2 rebounds, 6.9 assists and 4.2 steals per game as a junior when she led Brewster to a 1A state championship. Her play in high school earned her the Washington 1A Player of the Year in 2013 and 2014, while capturing first-team all-state honors for three consecutive seasons. Smith is expected to begin play at the same time as 2016 recruit Jesse Loera, a 5-7 point guard from Moses Lake, who recently gave her oral commitment to play for Gonzaga. Smith "handles the ball well enough to play the point and shoots it well enough to play off the ball," Fortier said. "We are really happy with our guards right now."
Local journalism is essential.
Give directly to The Spokesman-Review's Northwest Passages community forums series -- which helps to offset the costs of several reporter and editor positions at the newspaper -- by using the easy options below. Gifts processed in this system are not tax deductible, but are predominately used to help meet the local financial requirements needed to receive national matching-grant funds.
Subscribe to the sports newsletter
Get the day's top sports headlines and breaking news delivered to your inbox by subscribing here.
---