News > Obituaries
Obituary: Coleman, Elizabeth M. "Libbie"
Age 88
Thu., July 23, 2015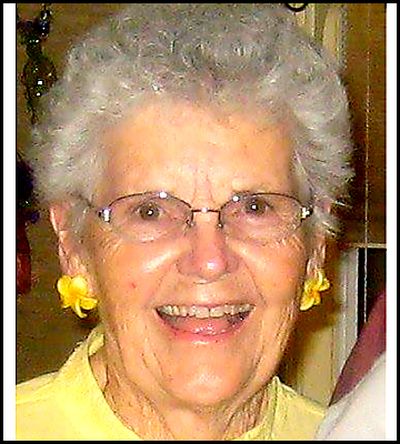 COLEMAN, Elizabeth M. "Libbie" Elizabeth Marie (Hudspeth) Coleman was born in Hunter, WA on July 21, 1927 to Rufus and Jennie Hudspeth, and was known as "Sisser" by her three siblings and their families.
She peacefully died with her family all around her on July 19, 2015 in Spokane, WA.
She was raised in Charlo, MT and Fruitland, WA, where she graduated from High School.
She attended Washington State College, where she met Chad Coleman, a veterinarian student.
They married in 1947, and after graduation moved to Escondido, CA.
Chad opened a clinic in San Diego and Libbie was homemaker for him and their four children.
In 1962, Chad began a veterinarian career overseas, working for USAID and UNFAO.
Over the next ten years, they moved to Ibadan, Nigeria, where their fifth child was born, then to Belem, Brazil, and finally to Debra Zeit, Ethiopia.
They returned to Escondido in 1973.
Chad opened a clinic in San Diego, and Libbie planted 2,500 avocado trees on their property.
Chad died in 1984, and she continued to manage the grove and the clinic for three more years before she sold them.
She worked part-time as Business Manager at Escondido First United Methodist Church for ten years.
Libbie was a member of First UMC since 1953, until her move to Spokane in 2006, where she transferred her membership to Spokane Valley UMC.
In both churches she was very active, including serving as president for the United Methodist Women and as District UMW Treasurer.
She is preceded in death by her husband, her sister Dorothy Knechtel, and one grandchild.
She is survived by her sister Margaret Taylor, her brother Joe Hudspeth, five children: Bill Coleman (Judy) and Carla Coleman in Spokane, WA, Joanne Coleman Campbell (John) in Wenatchee, WA, and Maggie Shelton (Guy) and Carolyn Starr (Richard) in Gilbert, AZ; by 18 grandchildren and eight grand-in-laws, and 20 great-grandchildren.
A grand total of 56 plus numerous nephews and nieces!
What a woman!
A celebration of Libbie's life will be held on July 24, 1:00 p.m. at Spokane Valley United Methodist Church, 115 N. Raymond, Spokane Valley, WA 99206.
Please make memorial gifts to Spokane Valley United Methodist Church.
Local journalism is essential.
Give directly to The Spokesman-Review's Northwest Passages community forums series -- which helps to offset the costs of several reporter and editor positions at the newspaper -- by using the easy options below. Gifts processed in this system are not tax deductible, but are predominately used to help meet the local financial requirements needed to receive national matching-grant funds.
Subscribe now to get breaking news alerts in your email inbox
Get breaking news delivered to your inbox as it happens.
---