Sports > Outdoors
Region hosts 100-plus organized bike rides and races throughout the summer
Thu., July 23, 2015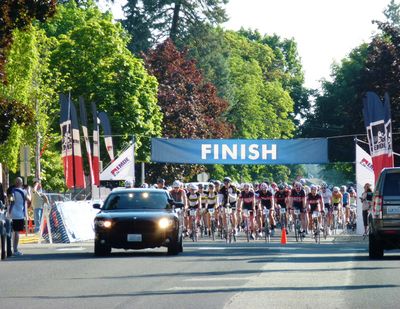 Two organized bicycling events eliminate any excuses cyclists might have for being couch potatoes this weekend.
On Saturday, the Jedermann Gran Fondo ( emdesports.com) based out of Cheney may be the most aesthetically pleasing event a dedicated cyclist will find to enjoy on two wheels.
On Sunday, the Spokane Valley Cycle Celebration ( valleyfest.org) will put riders on the Centennial Trail or other Valley routes.
Kicking off with a pancake and eggs breakfast expanded this year by American Legion volunteers, the Jedermann is an inviting combination of pure recreation with timing that allows riders to be as competitive as they want to be.
The fourth annual event offers rides of 30, 66 or 100 miles or the new 12-hour challenge, for team or solo riders, to see how many miles can be logged for braggin-rights.
By starting at Cheney, the ride puts cyclists on scenic paved roads rarely visited by motor vehicles or cyclists.
"Few people drive those roads unless they live out there because the traffic heads for I-90 or Highway 2," said co-organizer Michael Emde of Emde Sports.
"Every year people tell us they didn't know about these great roads out here," said Marla Emde. "That's because they're just out of reach for most riders leaving from Spokane."
Starting in Cheney puts riders in another world to see new routes and enjoy pedaling through different communities like Sprague and Harrington.
"Cheney is so accommodating, allowing us to close off streets for riders and do what we need to do to stage a great event," Marla Emde said.
The Spokane Valley Celebration offers a 10-mile ride on the Centennial Trail as well as 25- and 50-milers on rural Valley routes.
Some bicyclists will ride both local events this weekend; others will pick and choose from what's becoming a crowded market for cycling events.
"There are so many events it's made it harder to grow an event larger," Emde said.
The Spokesman-Review's 2015 Inland Northwest Bicycling Events Calendar lists 13 organized rides in the region during July and another 13 in August, leading up to 23 events in September.
A new event for cyclists on mountain or hybrid bikes is the Aug. 8 Mount Spokane "Hucklebeary" Epic, with an on-mountain party to go with it. The ride is a fundraiser for the state park's trail system.
Cyclists have been eager to pay and pedal to enjoy the food and support of organizers or to boost fundraisers put on by charity groups.
More than 200 bicyclists of a wide range of ages pedaled the Trail of the Coeur d'Alenes out of Enaville and helped raise about $70,000 in the 2015 Silver Valley Ride to Defeat ALS on June 27.
Following are a few of the other area cycling events coming up through August.
• Eight Lakes Leg Aches, Aug. 1: Ride 15-, 30-, 45-, and 75-mile routes, starting from Spokane's Sunset Hill and out around lakes in Spokane County with about 800 riders to benefit Sexual Assault and Family Trauma Response Center. $45. Info: (509) 343-5020.
• Mt. Spokane Hucklebeary Epic, Aug. 8: Mountain bike dirt-road and trail loops of 20, 40 or 60 miles on Mount Spokane northeast of Spokane; timed with aid stations and post-ride party, based out of Selkirk Lodge. Fundraiser for trail building and maintenance at Mount Spokane State Park. Riders start 8 a.m.-9:15 a.m. $55-$75.
• Kidical Mass, Aug. 8: Safe bike ride for kids on three-mile, vehicle-free course in South Perry neighborhood starting in front of Two Wheel Transit Bike Shop, 1 p.m. Free.
• Le Tour de Koocanusa, Aug. 8: From Libby, Mont., ride 83 miles along Lake Koocanusa in fifth annual event by David Thompson Search and Rescue. Coincides with annual Riverfront Blues Festival. $60.
• Tour de Lentil, Aug. 22: Scenic ride has 50K, 100K and 150K courses with pit stops through rolling Palouse hills based out of Pullman, fundraiser for WSU Cycling Club. Email: cycling@wsu.edu. About $35.
Local journalism is essential.
Give directly to The Spokesman-Review's Northwest Passages community forums series -- which helps to offset the costs of several reporter and editor positions at the newspaper -- by using the easy options below. Gifts processed in this system are not tax deductible, but are predominately used to help meet the local financial requirements needed to receive national matching-grant funds.
Subscribe to the sports newsletter
Get the day's top sports headlines and breaking news delivered to your inbox by subscribing here.
---