News > Washington Voices
WV students savor trip to China
Thu., July 23, 2015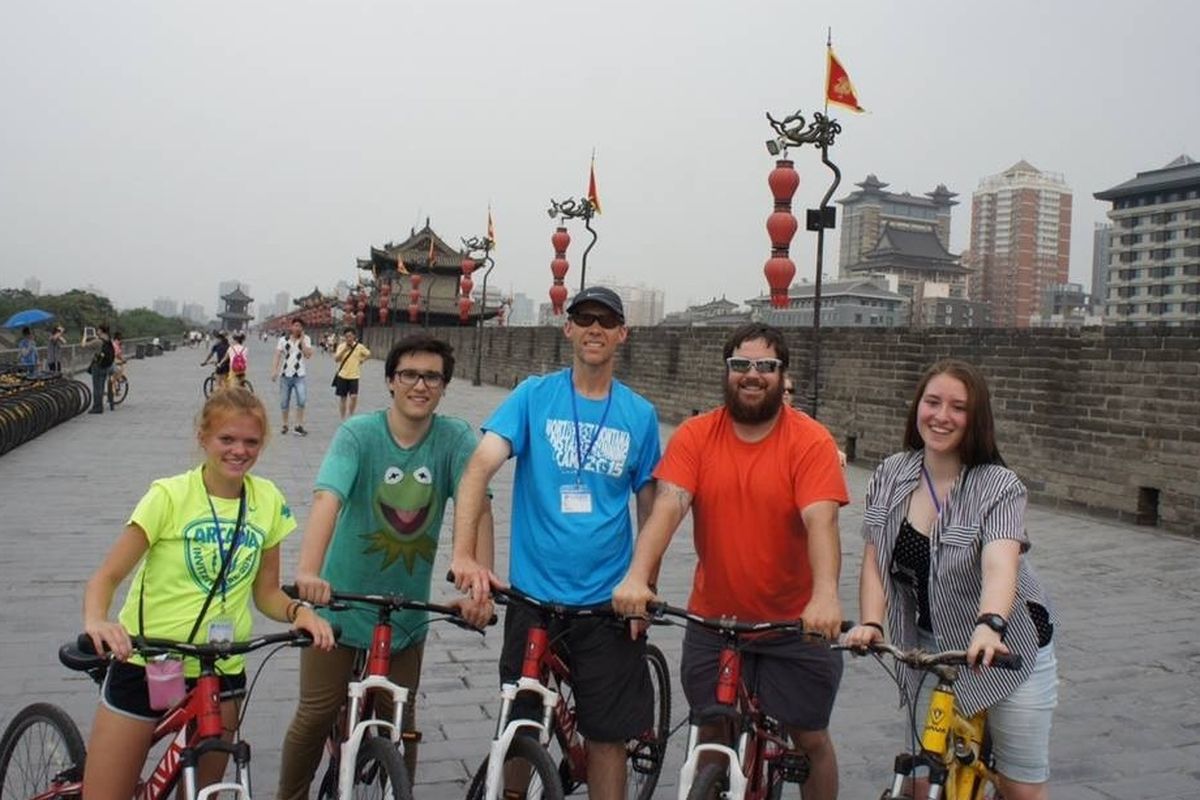 From left, McCall Skay, Dakota Wurle, Ty Brown, Justin Farwell and Rachel Wilson pose with their bicycles at the wall surrounding the city of Xi'an, China.
Students traveling in China with West Valley cross country coach Ty Brown saw many famous sights, including the Great Wall, the Forbidden City and Tiananmen Square.
"I was completely amazed by everything we saw – it was the most incredible experience of my life," said McCall Skay, who graduated from West Valley in June. "The only downside is that, by the time we got back, I was pretty tired of eating Chinese food."
The group visited Beijing, including a stop at the zoo to see the famous pandas, and traveled to Xi'an and Shanghai.
But outside of the stop at the Great Wall, the most memorable moments of the trip for Skay were the early morning runs she and Brown would take.
A state placer in both the 1,600 and 3,200 meters at the state Class 2A track and field meet, Skay is headed to Moscow, Idaho, to run both track and cross country for the University of Idaho. Even while traveling, she stuck to her training schedule.
"Ty and I would go out really early in the morning, at 5 or 6 a.m., and get in my run," she said. "It was so cool to see the streets before they would get so crowded. You'd see older people, people in their 50s and 60s, out for their morning exercises in the park. They would be out doing tai chi together."
"I am so proud of McCall, and we are going to really miss her on the (cross country) team this fall," Brown said. "I think those early morning runs together were something very special and a great way to kind of close out our time together as coach and runner. We talked about lots of things – especially about her future and what she wants to accomplish."
Skay said there were many memorable stops on the trip.
"We got to see quite a bit of Beijing, and at one point we drove past the Olympic stadium where they held track and field. I so wanted to go inside and see what it was like to stand on that track, but we couldn't."
Tiananmen Square was memorable, she said, but the stop at the iconic Great Wall tops the list.
"It's so incredible to be able to stand on something that old," she said. "It really is an incredible experience."
"The first time I took students to the Great Wall, the fog was so thick you could barely see 20 feet in front of you," Brown said. "This time the weather was clear and you could see hundreds of miles because they built the wall over mountains."
Xi'an was memorable for several stops. The students were able to bike atop the city's wall, and inside the walls they visited a marketplace in the Muslim neighborhood.
The only drawback, both insisted, was the humidity.
"It was hot – temperatures were in the 80s and 90s," Brown said. "But the humidity was in the 80s, too. You could shower three or four times a day and change your shirt three or four times, too. You'd break into a sweat standing still."
Brown and his student travelers began planning for the trip more than a year ago, in part to give students and their families time to raise funds.
"That's the prohibitive part of traveling to places like China," Brown said. "It's not cheap. It's something everyone should do, but something not everyone can afford."
Organizers paired the West Valley group with similar groups from Canada, Colorado and Pennsylvania. The diversity of the group was a big part of what made the trip a success.
"Everyone got along, and the kids were all trading information – email addresses and Facebook pages, stuff like that," Brown said. "And the leaders of the various groups were asking each other where and when we were going on our next trip and offering to pair up again."
After leading two trips to China, one while teaching in Colville, Brown said he's already looking forward to leading his next excursion.
"I'm not sure I want to go back to China next time," he said. "I'm not sure where it will be, but I definitely want to do this again. Not next year, but the year after would be about right."
For her part, Skay is emphatic.
"If you have a chance to take a trip like this, you really should go," she said. "I'm going to remember this trip for the rest of my life."
Local journalism is essential.
Give directly to The Spokesman-Review's Northwest Passages community forums series -- which helps to offset the costs of several reporter and editor positions at the newspaper -- by using the easy options below. Gifts processed in this system are not tax deductible, but are predominately used to help meet the local financial requirements needed to receive national matching-grant funds.
Subscribe now to get breaking news alerts in your email inbox
Get breaking news delivered to your inbox as it happens.
---