Sports > Seattle Mariners
Zunino double lifts Mariners in 12th inning
July 23, 2015 Updated Thu., July 23, 2015 at 10:26 p.m.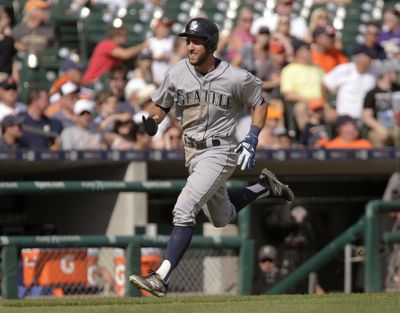 DETROIT – The many scouts who showed up at Comerica Park to get a look at pending free-agent pitchers Hisashi Iwakuma and David Price…well, they got an eyeful in a tight pitchers' duel. Whether either is still around after the July 31 non-waiver trade deadline is already a topic of growing speculation, but both were long gone Thursday when the Mariners pulled out a 3-2 victory over Detroit in 12 innings. This was a marathon, 4 hours and 33 minutes, and not decided until Tom Wilhelmsen recorded his first one-inning save in nearly two years. And it took a break…the sort of break the Mariners have found in short supply this season in suffering a league-leading 15 losses in their opponent's last at-bat. The breaks – there were more than one – this time went their way. Chris Taylor started the 12th inning with a single against Tigers reliever Ian Kroll (1-3) before Mike Zunino, after fouling off two sacrifice bunts, pulled an RBI double past third base. "I just wanted to get the bunt down," Zunino said, "and let everyone behind me pick it up. Luckily, I was able to get the hit after not getting (the bunt) down." The break came when the ball caromed off an angle in the wall after bouncing into foul territory. That sent the ball careening away from left fielder Yoenis Cespedes. Taylor scored without a throw. The Mariners had a chance for more. They had Zunino at second with no outs and at third with one out, but Alex Wilson struck out Kyle Seager and retired Nelson Cruz on a fly to deep left. One run was enough. Wilhelmsen pitched a scoreless inning for his first save since a three-inning outing on June 30, 2014 at Houston. It was his first one-inning save since July 28, 2013 vs. Minnesota. "Zee comes in with a big hit," he said. "I get some luck on my side, and I got a clean inning." It wasn't easy. Wilhelmsen worked around a leadoff single by Jose Iglesias, who went to second on Anthony Gose's sacrifice, but the victory enabled the Mariners to split the four-game series and salvage a 3-4 trip. "It could have been a lot better," manager Lloyd McClendon said, "but I am extremely proud of the way my guys went about their business. "We had some tough losses, and today is the type of game where you can easily just lay down and say, 'OK, they've got their guy going,' and then go out and mail it in. But, man, they were ready." Fernando Rodney (3-4) got the victory after a one-inning thrill ride through the 11th. His first pitch hit Victor Martinez, who moved to second on a one-out wild pitch. Price needed some help to gain his no-decision when Seager, after opening the scoring with a first-inning homer, knocked him out of the game with a leadoff double in the ninth inning. In came Joakim Soria, who retired Cruz on a foul pop to first. After an intentional walk to Robinson Cano, the Mariners sent up Seth Smith as a pinch-hitter for Franklin Gutierrez. Smith sent a drive to deep right that moved Seager to third, but Soria protected the tie by striking out Mark Trumbo. Price's line: eight-plus innings, two runs, five hits, one walk and seven strikeouts. Iwakuma exited after seven innings and a career-high 112 pitches. He opened the game by yielding three straight hits, including a two-run double to Victor Martinez, but permitted nothing further. "They put up good at-bats," Iwakuma said. "That pitch to Victor Martinez was a backdoor slider. It wasn't a bad pitch. He just got to it. He reached out and took it deep. "From the second inning on, I was able to pitch my own game." Was this Iwakuma's last start for the Mariners? Speculation continues to mount. Detroit fans saluted Price, who is drawing heavy trade interest, after the eighth inning and again when he came to the bench in the ninth. Iwakuma said: "I don't worry about the future. I just have to take care of one game at a time. I missed a lot of baseball in the first half – 21/2 months – and I need to make up for that." Price carried a 2-1 lead into the seventh before the Mariners caught their first major break after Cano's one-out single. Cano went to second on a two-out wild pitch before Trumbo lined a single to right. "He gets you to two strikes," Trumbo said, "and he's got put-away stuff. It's just an all-out battle…I feel fortunate to be able to get something off of him." Fortune smiled further when the ball skipped past a hard-charging J.D. Martinez, who was hoping for a play at the plate. Cano scored, and Trumbo reached third on what was scored as an RBI single and a two-base error. It stayed 2-2 until the 12th…when fortune smiled again with that welcome ricochet. "A getaway-day win is always good," Wilhelmsen said. "Extra innings, even better. It's about time some luck happened on us."
Local journalism is essential.
Give directly to The Spokesman-Review's Northwest Passages community forums series -- which helps to offset the costs of several reporter and editor positions at the newspaper -- by using the easy options below. Gifts processed in this system are not tax deductible, but are predominately used to help meet the local financial requirements needed to receive national matching-grant funds.
Subscribe to the sports newsletter
Get the day's top sports headlines and breaking news delivered to your inbox by subscribing here.
---