A&E > Entertainment
Great Northwest Wine: Washington just right for growing merlot
Fri., July 24, 2015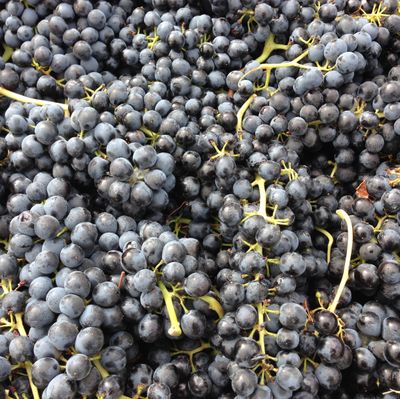 While cabernet sauvignon is the No. 1 wine grape in Washington, the grape that brought the state to prominence in the past 15 years is merlot – and it's still going strong.
Like cabernet sauvignon, merlot is from France's Bordeaux region and is one of its most significant grapes.
In Washington, merlot has found success because of near-perfect conditions. Left to its own devices, merlot will grow out of control, and in regions where soils are rich, that can allow merlot to run wild and turn out wines that are thin and green.
But in Washington, the soils of the Columbia Valley are sandy and low in nutrients. This gives growers deity-like control over the vines, and as a result, merlot shines.
In many cases, merlot is every bit as big as cabernet sauvignon, and its bright fruit and suave tannins make it easy to enjoy.
Here are a number of merlots we've tasted recently. Ask for them at your favorite wine merchant or contact the wineries directly to purchase them.
Boomtown by Dusted Valley 2013 Merlot, Washington, $19: Aromas of cherry wood and medium toast wrap around Bing cherry and chocolate-covered pomegranate. The smooth drink is bright and reminiscent of cocoa-dusted dried cherries and red currant, followed by elegant tannins and touches of toffee and caramel in the finish. (14.6 percent alcohol)
Northwest Cellars 2012 Cordon Grove Vineyard Merlot, Columbia Valley, $24: The nose offers hints of dark chocolate, plums, Western serviceberry, mincemeat spice and gravel dust. On the pour is a sizable delivery of blackberry and Damson plum, backed by a bold yet balanced structure of blueberry seed tannins and pomegranate acidity. (14.1 percent alcohol)
Reininger Winery 2011 Merlot, Walla Walla Valley, $43: This easy-drinking merlot is light on the oak with just 5 percent new wood, which allows for enjoyment of tones hinting at bacon jam, plum sauce, red currant, dark cherry and turmeric. There's a dustiness to the Earl Grey tea tannins and cranberry acidity that lingers through the bright finish. (13.7 percent alcohol)
Kennedy Shah 2012 Merlot, Columbia Valley, $14: This approachable, focused merlot opens with aromas of sweet purple fruit akin to dusty black cherry and black cherry with cocoa. Inside, it's filled with dark plum and currants, backed by blueberry skin tannins. The finish of Aussie-style black licorice provides plenty of length. This brand is part of the Woodhouse Wine Estates' Marketplace tier. (13.8 percent alcohol)
Canoe Ridge Vineyard 2012 Reserve Merlot, Horse Heaven Hills, $20: Inviting aromas of blackberry, ripe plum and Van cherry include baking chocolate, cigar tobacco and chalkboard dust. The pour brings a smooth entry of dark plum, red currant, chokecherry and graham cracker with bright acidity and frontal tannins. Its finish offers notes of minerality and milk chocolate. (14.8 percent alcohol)
Seven Falls Cellars 2011 Merlot, Wahluke Slope, $15: Aromas of lightly roasted coffee, chocolate and vanilla with notes of boysenberry and black cherry lead to flavors of red plum, ripe Bing cherry, graham cracker and a pinch of fresh mint. (14 percent alcohol)
SuLei Cellars 2012 Merlot, Walla Walla County, $28: Plump dark blueberries, cherries on parchment paper and ripe Damson plum aromas are joined by cocoa and black pepper. The juice is hedonistic, dark and toasty with massive levels of those same tones of dark blue fruit. While the tannins assert themselves, there's plenty of fruit to support the structure that's accented by Aussie-style black licorice and horehound. (15.1 percent alcohol)
Henry Earl Estates 2011 Merlot, Red Mountain, $38: This alluring red opens with aromas of dark toast, vanilla and mocha with dusty blackberry and minerality. On the palate, it's rich and luscious with black cherry, dark plum and Western serviceberry flavors as sandy tannins, fresh-ground espresso and blueberry combine for a delicious finish. (14.7 percent alcohol)
Eric Degerman and Andy Perdue run Great Northwest Wine, a news and information company. Learn more about wine at
www.greatnorthwestwine.com
.
Local journalism is essential.
Give directly to The Spokesman-Review's Northwest Passages community forums series -- which helps to offset the costs of several reporter and editor positions at the newspaper -- by using the easy options below. Gifts processed in this system are not tax deductible, but are predominately used to help meet the local financial requirements needed to receive national matching-grant funds.
Subscribe to the Spokane7 email newsletter
Get the day's top entertainment headlines delivered to your inbox every morning.
---