Sports
In brief: Usain Bolt wins 100 meters in Diamond League
Sat., July 25, 2015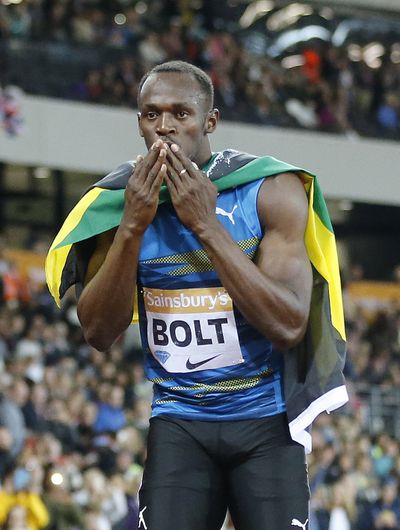 MISCELLANY: Usain Bolt returned to form by winning the 100 meters in the Diamond League at London's Olympic Stadium in 9.87 seconds on Friday.
After a poor start, Bolt struggled to break away from the pack but edged Michael Rodgers of the United States by three hundredths of a second.
The Jamaican equaled his season's best of 9.87, which Bolt had recorded earlier in qualifying.
Bolt has struggled this season with a left leg injury and his fastest 100 time of the season before arriving in London was 10.12.
• Brazilian water polo player sought for alleged sex assault: A Brazilian water polo player who competed in the Pan Am Games is wanted in an alleged sex assault in Toronto, and police believe he has left the country.
Thye Bezerra and a friend were visiting a Toronto woman in her home the morning of July 16 when the woman went to sleep, police said. The 27-year-old water polo player then "entered the victim's bedroom and sexually assaulted her," inspector Joanna Beaven-Desjardins said.
Investigators are seeking a warrant for his arrest across Canada, adding he could be arrested in another country that has an extradition arrangement with Canada.
Beaven-Desjardins said Brazil and Canada do not have such an agreement "at this time." The inspector added that police will be notified of his travel. Police identified the suspect after the team left Toronto.
Brazilian team officials said they did not know if Bezerra had gone to Russia, where the world swimming championships are taking place.
• NCAA says Southern Miss committed violations: The NCAA says Southern Mississippi's men's basketball program and former coach Donnie Tyndall have committed multiple violations, including arranging fraudulent academic credit, impermissible financial aid and obstructing the governing body's investigation.
There were seven alleged Level I violations in the NCAA's 43-page notice.
Tyndall left Southern Miss to coach at Tennessee in 2014.
Arizona keeping Coyotes in desert
HOCKEY: The Glendale City Council has voted unanimously in favor of a restructured arena lease agreement with the Arizona Coyotes, keeping the team in the desert for at least two more years.
The seven-member council voted to approve the deal that replaces a 15-year, $225 million arena management lease signed with IceArizona in 2013.
The new deal cuts Glendale's annual arena management fee to the Coyotes from $15 million to $6.5 million and turns all hockey-related profits over to the team.
• Capitals sign Holtby: The Washington Capitals have signed goaltender Braden Holtby to a $30.5-million, five-year contract.
Holtby had a career season with 41 victories, a 2.22 goals-against average, .923 save percentage and nine shutouts in 73 games. He is the third goaltender to reach 100 wins with the Capitals, joining Olie Kolzig and Don Beaupre.
• Semin joins Canadiens: The Montreal Canadiens have signed Alexander Semin to a one-year contract for $1.1 million. The forward who once scored 40 goals with Washington has spent the last three seasons with the Carolina Hurricanes.
Semin had six goals and 13 assists in 57 games last year. The Hurricanes bought out his contract July 1. Carolina owes the 31-year-old Russian $14 million over the next six years.
Panama, Costa Rica request ref reviews
SOCCER: Panama and Costa Rica have formally asked for reviews of CONCACAF'S referee procedures after both countries had questionable calls go against them late in Gold Cup knockout round games against regional power Mexico, according to a person in CONCACAF with knowledge of the requests.
The person spoke on condition of anonymity because he was not authorized to discuss the matter. CONCACAF had announced that the issue had been added for discussion to the agenda of today's executive committee meeting but did not detail the requests.
In the final minute of extra time in Sunday's quarterfinal, Mexico was awarded a penalty kick with the game tied 0-0 and converted to beat Costa Rica. Then in Wednesday's semifinals, Panama led 1-0 when it was called for a hand ball in the box. Mexico again converted in stoppage time, then went on to win in extra time.
The person said Panama requested investigations into the referee committee and its procedures, the people who assign referees to games, all unspecified "suspicious matches," and referee Mark Geiger.
In a separate letter, Costa Rica made similar requests. It also requested that certain referees not be assigned to its matches in the future.
• FIFA secretary general expected to leave: Jerome Valcke expects to leave his job as FIFA secretary general after Sepp Blatter's successor is elected.
Valcke, however, said it is not because he is responsible for any wrongdoing in the crisis that has shaken the governing body.
The Frenchman has served for eight years as the top administrator at FIFA, which is now at the center of criminal investigations by American and Swiss authorities.
Local journalism is essential.
Give directly to The Spokesman-Review's Northwest Passages community forums series -- which helps to offset the costs of several reporter and editor positions at the newspaper -- by using the easy options below. Gifts processed in this system are not tax deductible, but are predominately used to help meet the local financial requirements needed to receive national matching-grant funds.
Subscribe to the sports newsletter
Get the day's top sports headlines and breaking news delivered to your inbox by subscribing here.
---