News > Nation/World
Louisiana theater shooter known as angry man with radical views
Sat., July 25, 2015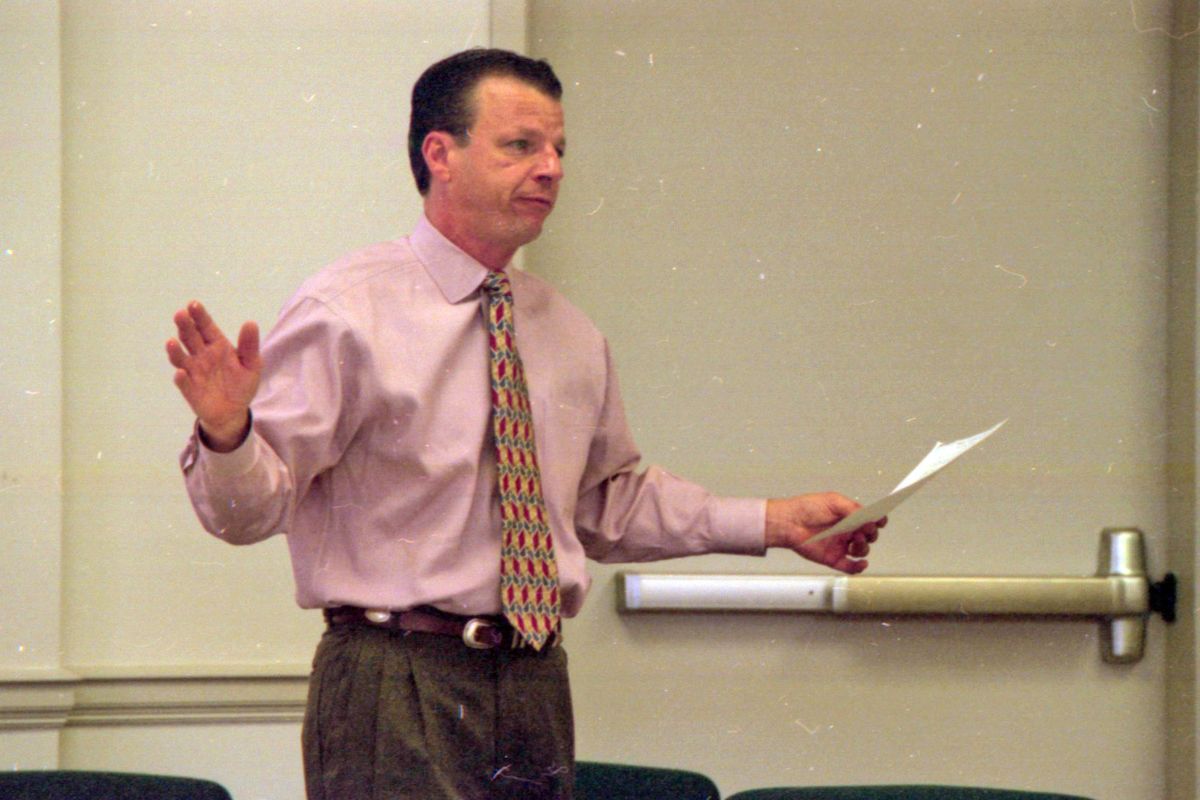 John Russell Houser, then a club owner, speaks at a LaGrange (Ga.) City Council meeting in 2001. Houser's alcohol licenses were revoked that year. Houser killed himself Thursday at a theater in Lafayette, La., after opening fire on moviegoers. (Associated Press)
For decades before he opened fire in a Louisiana movie theater and killed two people, John Russell Houser was known as a man prone to anger, a loudmouth provocateur never afraid to share his opinion.
His family said they feared him so much they hid his guns and had him hospitalized. A local TV host frequently invited him as a guest, knowing he'd be a lightning rod who could light up the phone lines with rants against abortion and working women. In one prominent fight with local officials, he unfurled a 6-foot-by-6-foot banner outside his west Georgia bar picturing a swastika surrounded by the words, "Welcome to LaGrange."
"He was the kind of guy who would say, 'I'm going to get you,' but then again you get that a lot in local politics," said Jeff Hardin, former mayor of Phenix City, Alabama. For years, Houser lived and worked there and neighboring Columbus, Georgia.
Talk-show regular
In the early '90s, he was a regular guest on a local call-in television show where he'd be the conservative Republican pitted against a Democrat. The host, Calvin Floyd, said Houser had radical opinions that included advocating violence against abortion providers, keeping women out of the workplace and fearing a military takeover of civilian government.
"He made a lot of wild accusations," said Floyd, who hosted the show on WLTZ-TV in Columbus for more than two decades. "He could make the phones ring."
Yet Houser had a dark side that went way beyond talk. In 1989, court records say, he was accused of hiring someone to burn down a Columbus lawyer's law office. His wife and other relatives filed papers accusing him of domestic violence in 2008. He was accused of virtually destroying a foreclosed home he was being evicted from in 2014.
In Lafayette, Louisiana, police said Houser stood up during a showing of the movie "Trainwreck" Thursday night and started shooting without a word. Two people were killed and nine were injured; authorities said Houser shot himself to death as officers pursued him in the theater.
"I wasn't a bit shocked that it happened," Floyd said. "As many times as I had him on it was obvious he had a screw loose."
The churchgoing son of a longtime city tax official in Columbus, Houser received degrees in accounting and law but never applied to take the bar exam in Alabama.
Club owner
Houser posted on an online career website that he was an entrepreneur who owned and operated two nightclubs in Columbus and LaGrange in the 1980s and 1990s. But his stint as a club operator ended sourly when he was accused of selling alcohol to minors at Rusty's Buckhead Pub.
In April 2001, the LaGrange mayor and city council voted to revoke all of Houser's alcoholic beverage pouring licenses based on five convictions of selling alcohol to minors in the span of a year from 1999 to 2000, according to a court filing. Houser appealed, but the court found the mayor and council acted correctly.
Houser put up the swastika banner in protest, according to an April 28, 2001, story in the LaGrange Daily News.
He told the newspaper he was "completely against" the Nazi philosophy but chose the symbol because it represents a government's ability to do what it wants.
"The people who used it – the Nazis – they did what they damn well pleased," Houser told the newspaper, accusing police officers of lying on the stand during his trial.
It was not the last time he'd invoke that type of imagery, according to the Southern Poverty Law Center. Heidi Beirich, director of the SPLC's Intelligence Project, said he'd been on the group's radar since 2005.
Last January, he wrote on one online forum: "Hitler is loved for the results of his pragmatism."
He also posted on a forum dedicated to the New York chapter of Golden Dawn, Greece's far-right neo-Nazi political party.
Family disputes
In April 2008, Houser's wife, Kellie, his daughter and others filed court papers seeking a temporary protective order against Houser, saying he had "perpetrated various acts of family violence" and had a history of bipolar disorder.
At the time, records show, Houser was vehemently opposed to the upcoming marriage of his daughter. A judge had Houser committed, but the man told his wife he would continue trying to stop the wedding and his "threatening behavior" once he got out of the hospital.
A police report included with the request for a protective order said Houser believed his daughter and her fiance, who were 23 and 26 at the time, were far too young to wed and that he was mad at his wife for not stopping the marriage.
"Kellie told me that she removed all of the guns from their house in Phenix City … and he should not have one unless he obtained it illegally. She said he has made the statements that this wedding will not happen, although he has not overtly threatened anyone," the report says.
Home foreclosure
Last year, Houser was evicted from his Phenix City home but later returned and caused some damage, including pouring concrete in plumbing pipes and tampering with a gas line, said Russell County Sheriff Heath Taylor.
Norman Bone, 77, had bought the house out of foreclosure for his daughter, Beth Bone. Houser, angry he was being evicted, left it behind completely uninhabitable, they said. Even the fuse box was cemented shut.
The day that Houser was evicted, Norman Bone said he walked into the house to find it was booby-trapped: the gas fireplace logs were removed and the gas starter tube was twisted out and ignited. Paint cans were scattered already.
"He was hoping the house would catch on fire. That's what the investigators told me," Norman Bone said.
Neighbors recalled Houser as being odd but said they never saw signs that he was violent or dangerous or had guns.
Houser flew a large Confederate flag on a flagpole outside his house for a time, said neighbor Rick Chancey, but Houser later replaced it with a smaller rebel battle flag.
By this spring, relatives had lost touch with Houser. In a divorce filing on March 24, Kellie Houser said she didn't know where her husband was.
Police characterized him after the shooting as a drifter who hadn't spent much time in Lafayette. He had been living at least briefly out of a Motel 6; investigators found wigs and disguises in that room and said he tried to blend in with the fleeing crowd to escape the theater before running back inside when he saw officers in front of him. As police made their way in, they heard a single gunshot. Houser lay dead when they entered.
Local journalism is essential.
Give directly to The Spokesman-Review's Northwest Passages community forums series -- which helps to offset the costs of several reporter and editor positions at the newspaper -- by using the easy options below. Gifts processed in this system are not tax deductible, but are predominately used to help meet the local financial requirements needed to receive national matching-grant funds.
Subscribe now to get breaking news alerts in your email inbox
Get breaking news delivered to your inbox as it happens.
---