Sports > Seattle Mariners
Mariners silence Blue Jays in win at Safeco Field
Sat., July 25, 2015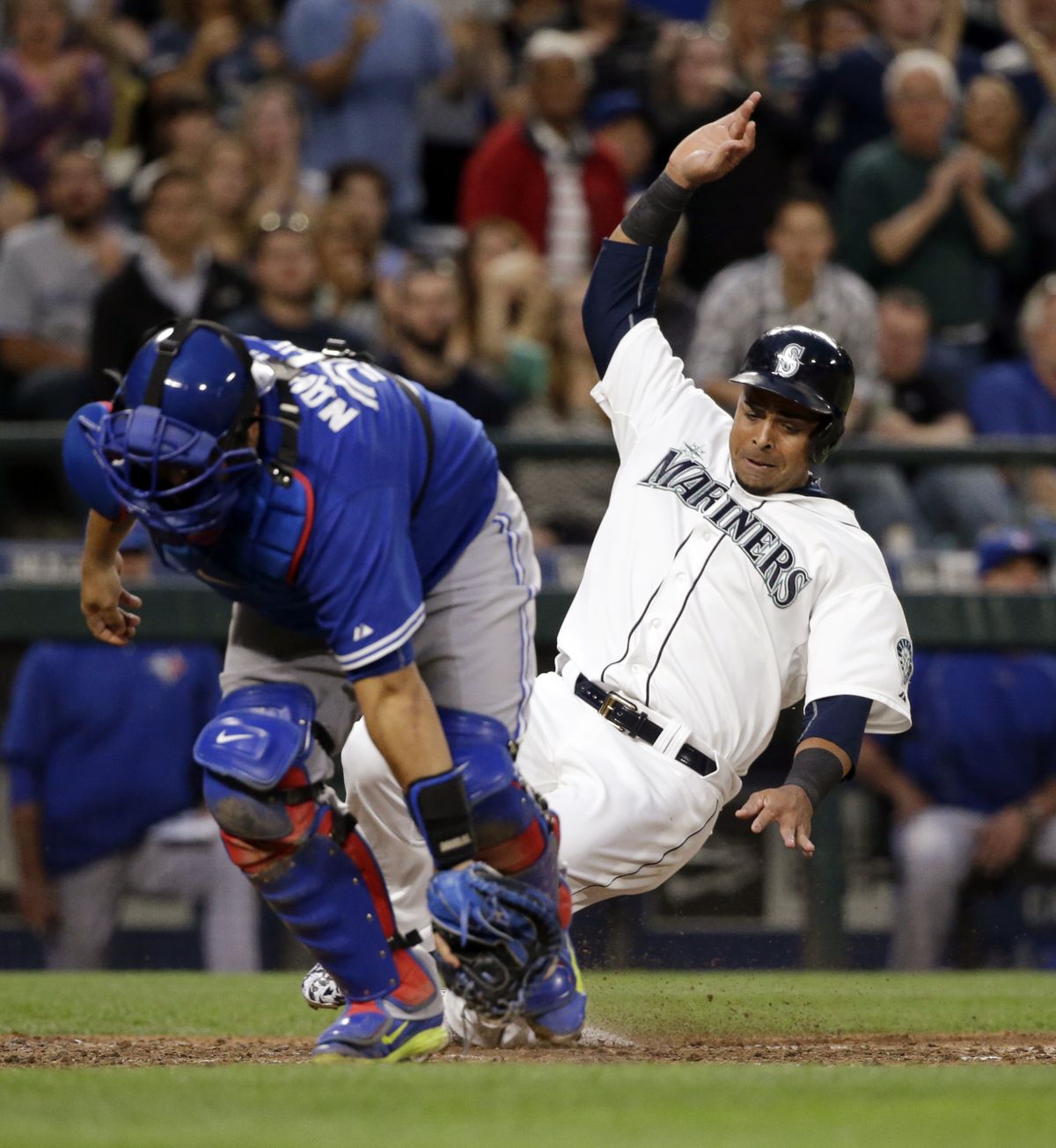 Mariners' Nelson Cruz slides safely into home in the fifth inning as Blue Jays catcher Dioner Navarro reaches for the throw on Friday. (Associated Press)
SEATTLE – Cheers for the visiting team are rarely louder at Safeco Field than when the Toronto Blue Jays are in town, and Friday night's game provided yet another good-natured competition between blue-clad Jays fans – of which there were a few thousand, as usual – and homestanding supporters of the Seattle Mariners.
Toronto fans are a boisterous bunch when in enemy territory – Seattle's proximity to Canada means it's prime real estate for a road trip – and so they filled Safeco with chants of "M-V-P" for star third baseman Josh Donaldson and "Let's go Blue Jays" for, well, the heck of it.
But no amount of enthusiasm could compensate for the fact that Felix Hernandez was pitching against them, and though he yielded a solo home run to Jose Bautista in the sixth, Toronto managed little else against the Mariners' ace in a 5-2 Seattle victory before a bipartisan crowd of 43,328.
A towering two-run homer by Mark Trumbo in the fourth and a two-run triple in the fifth by Robinson Cano – the cleanup spot seems to suit him – paced the Mariners against Toronto starter Marco Estrada.
Cano later scored on a wild pitch, providing the Mariners with a cushion that withstood Bautista's blast off the hand-operated scoreboard in left field.
Hernandez was otherwise stellar, retiring 15 of the 16 batters he faced before Bautista's homer, finishing with seven strikeouts, one walk and six hits allowed in seven innings.
Toronto tallied its first run in unconventional fashion in the first inning. Leadoff man Jose Reyes reached second base on a nubber and a throwing error by Hernandez, then moved to third on a groundout.
It looked as if he'd have to stay there when Edwin Encarnacion tapped a weak grounder to first baseman Logan Morrison. But when Morrison turned his back to amble over and touch first base, Reyes took off, sliding safely across the plate just ahead of Morrison's late throw.
It was a poor display of fundamentals, but not an incurable gaffe. Trumbo made sure of that with a runner on first base and nobody out in the fourth, lifting a pitch from Estrada over the right field fence to give Seattle a 2-1 lead.
An inning later, after Kyle Seager corked a double into the right-field corner and Nelson Cruz reached on a bizarre infield hit that should have been a routine groundout, Cano ripped what turned out to be Estrada's final pitch into the right-center field gap.
Seager jogged home, Cruz steamed around the bases, eventually tumble-sliding safely across the plate ahead of a throw that wasn't all that close, and Cano wound up at third with his first triple of the season.
Mark Lowe and Carson Smith (who earned the save) each pitched a scoreless inning to secure the victory.
Local journalism is essential.
Give directly to The Spokesman-Review's Northwest Passages community forums series -- which helps to offset the costs of several reporter and editor positions at the newspaper -- by using the easy options below. Gifts processed in this system are not tax deductible, but are predominately used to help meet the local financial requirements needed to receive national matching-grant funds.
Subscribe to the sports newsletter
Get the day's top sports headlines and breaking news delivered to your inbox by subscribing here.
---