News > Obituaries
Obituary: Lutz, Vivian E. (Hough)
Age 81
Sat., July 25, 2015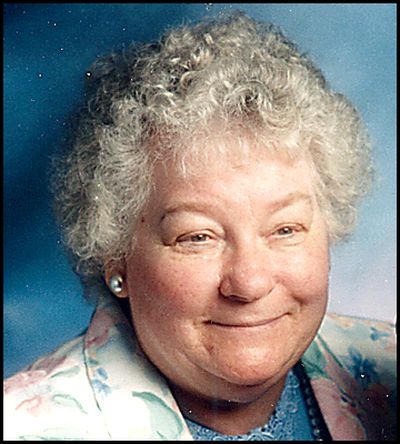 LUTZ, Vivian E. (Hough) (Age 81) July 30, 1933 to April 25, 2015 Vivian passed away peacefully on April 25, 2015, and her ashes were interred with her husband Donald Lutz at Holy Cross Cemetery on May 2nd, 2015.
She was born in Spokane, WA and grew up in the Moran Prairie area.
On September 1, 1951 she married Donald Lutz in Ritzville, WA.
Vivian and Don moved to Lind, WA in 1961 where they raised their family and worked for the J. Boyd Phillips Ranch.
In 1987, they moved to Othello, WA, where Vivian operated a daycare in her home.
In late 2004, they moved to Spokane.
In June 2006, Vivian became a resident at Riverview Terrace Assisted Living.
Vivian loved to cook, quilt, crochet and was an avid reader until she lost her eyesight.
She was active in her church and her faith was very important to her.
Vivian was preceded in death by her husband Donald, mother (Lucile Peters), stepfather (Stanley Hough) and sister (Virginia Street).
She is survived by sons Kenneth Lutz and James Lutz, both of Spokane; daughters Linda Powers, Richland, WA and Teresa Lutz, Portland, OR; sisters Jan Taylor, Richland, WA and Jo Farrell, Cheney, WA; six grandchildren and two great-grandchildren, several nieces, nephews, in-laws, and close family friends.
A life celebration mass will be held on Saturday, August 1st at 3:00 p.m. at the Riverview Terrace Assisted Living Chapel, 1801 E. Upriver Drive, Lower Level.
The family would like to thank the staff at Riverview Terrace for taking such good care of Vivian.
Donations can be made in her memory to: Catholic Charities of Spokane
Local journalism is essential.
Give directly to The Spokesman-Review's Northwest Passages community forums series -- which helps to offset the costs of several reporter and editor positions at the newspaper -- by using the easy options below. Gifts processed in this system are not tax deductible, but are predominately used to help meet the local financial requirements needed to receive national matching-grant funds.
Subscribe now to get breaking news alerts in your email inbox
Get breaking news delivered to your inbox as it happens.
---