News > Nation/World
People: WWE, Hogan part over racial slurs
Sat., July 25, 2015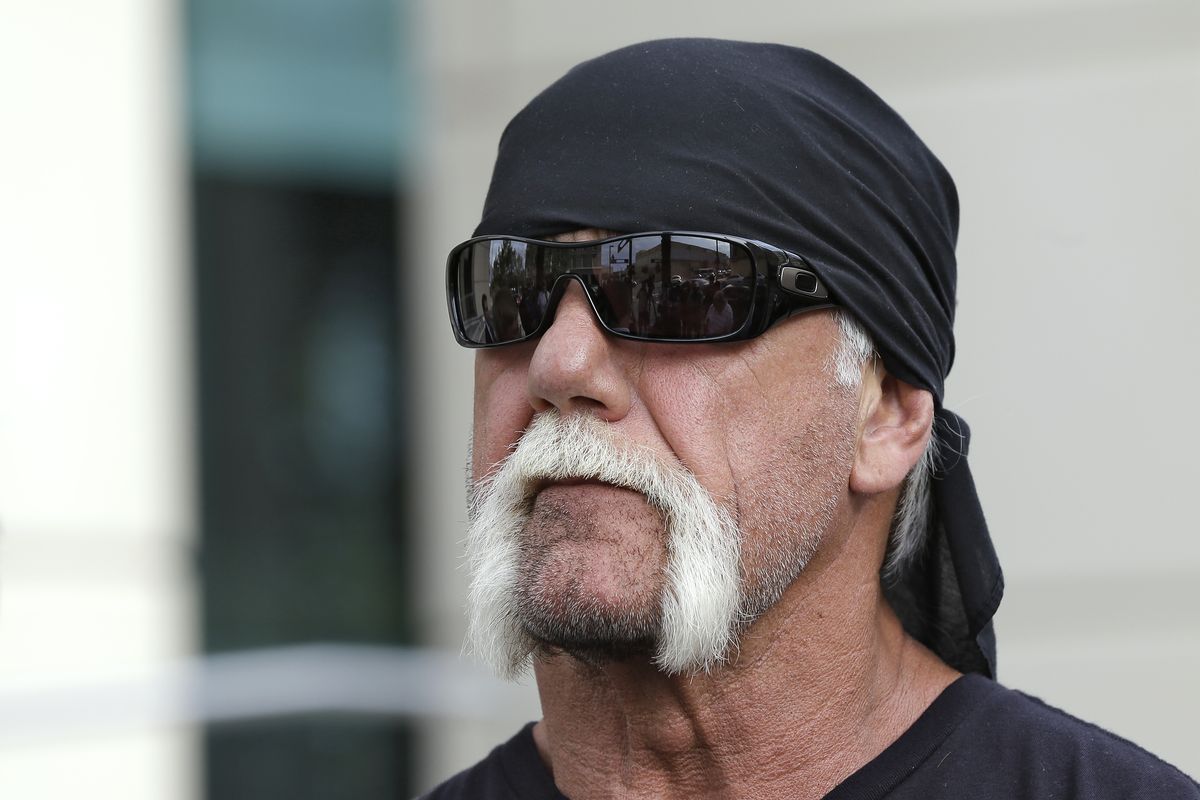 Hogan
World Wrestling Entertainment Inc. has severed ties with Hulk Hogan amid a report that one of the biggest stars in professional wrestling history used racial slurs in a conversation caught on a sex tape.
The company deleted most references to Hogan on its website and issued a statement Friday: "WWE terminated its contract with Terry Bollea (a.k.a. Hulk Hogan). WWE is committed to embracing and celebrating individuals from all backgrounds as demonstrated by the diversity of our employees, performers and fans worldwide."
On Friday, a joint report from RadarOnline.com and the National Enquirer said Hogan had used racial slurs in a conversation caught on a sex video that is the subject of an invasion of privacy lawsuit.
In a statement, the 61-year-old Hogan apologized for using "offensive language" in a conversation eight years ago.
"It was unacceptable for me to have used that offensive language; there is no excuse for it; and I apologize for having done it," Hogan said, calling his departure from the WWE a resignation.
Hogan is currently seeking $100 million from the website Gawker for posting part of the sex tape of him with Heather Cole, the ex-wife of Hogan's one-time friend and radio show host Bubba the Love Sponge Clem.
Gawker, which removed the video from its website under a court order, said it had the right to publish the edited video because Hogan talked in detail about his sex life before the video's release, which made the story newsworthy.
Brown allowed to leave Philippines
Chris Brown finally left the Philippines late Friday, but not without complications. The 26-year-old R&B artist performed at a packed concert in Manila on Tuesday, then wasn't able to leave because a fraud complaint was filed against him and a promoter for a canceled concert last New Year's Eve.
In a series of social media postings during the delay, most of them since deleted, he said "I've done nothing wrong," expressed frustration over being stranded and pleaded to be allowed to leave. Late Friday afternoon, Brown was able to obtain the certificate permitting him to leave.
In its complaint, the Maligaya Development Corp. alleged Brown and promoter John Michael Pio Roda canceled the New Year's Eve concert after being paid in full for a $1 million contract. The organizers said they were told at the time that Brown lost his passport and couldn't make the concert.
Justice Secretary Leila de Lima said state prosecutors will summon Brown for a preliminary investigation into the complaint. Charges will be filed in court if prosecutors find probable cause to charge Brown and the promoter.
The birthday bunch
Actress Barbara Harris is 80. Rock musician Verdine White (Earth, Wind & Fire) is 64. Model-actress Iman is 60. Rock musician Thurston Moore (Sonic Youth) is 57. Actress Illeana Douglas is 50. Actor Matt LeBlanc is 48.
Local journalism is essential.
Give directly to The Spokesman-Review's Northwest Passages community forums series -- which helps to offset the costs of several reporter and editor positions at the newspaper -- by using the easy options below. Gifts processed in this system are not tax deductible, but are predominately used to help meet the local financial requirements needed to receive national matching-grant funds.
Subscribe now to get breaking news alerts in your email inbox
Get breaking news delivered to your inbox as it happens.
---