News > Obituaries
Obituary: Giffin, Arthur Warren, Jr.
Age 92
Wed., July 29, 2015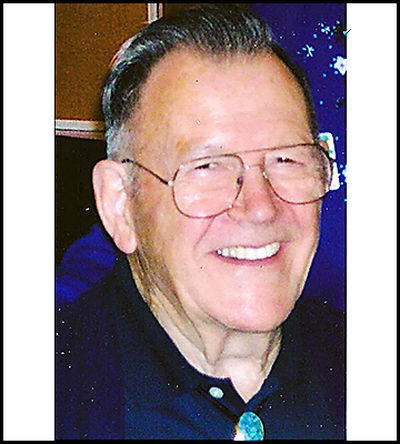 GIFFIN, Arthur Warren, Jr. (Age 92) Arthur Warren Giffin, Jr. peacefully went to his heavenly home on July 26, 2015.
Art was born in Missoula, Montana on December 23, 1922 to Arthur and Lucy (Walterskirchen) Giffin.
He graduated from Missoula County High School on June 5, 1941 where he lettered in football.
He was a proud member of the Golden "M" club.
He worked for Montana Highway Dept.
prior to joining the Navy during WWII.
He took his basic training at Farragut and became a gunnery instructor.
He worked with Washington Dept.
of Transportation from 1948-1952; Stevens County Road Dept.
in the Engineering division from 1953-1955; Whitman County Road Dept.
1956-1966; Okanogan County as County Engineer 1966-1976; Roof Truss, Inc. 1976-1980; and SCAFCO Corp. 1981-2011.
Art married Blanche Elvy Latimer in Oakland, CA in 1944 where he was stationed in the Navy.
They raised two children Delbert Giffin of Boise, ID and Shirley Schmick of Herriman, UT.
When Art was Honorably Discharged from the Navy, the family moved from California and finally settled in Spokane, WA and resided on the South Hill for several years.
After fighting cancer for many years, his loving wife, Blanche, preceded him in death in 1987.
They were married for 43 years.
He met his current wife, Raellen Marie Reed-Dicus, in Spokane, WA where they happily married on May 24, 1992.
Art and Raellen enjoyed many adventures in their 23 years together including traveling the states in their RV, square dancing, fishing, and playing cards.
They also enjoyed bowling together and were members of several bowling leagues over the years.
Art was always excited to tell the story of when he bowled his first sanctioned 300 at the Omak Bowling Lanes on April 9, 1972.
He proudly wore the gold, ruby and diamond ring that was awarded to him from the American Bowling Congress.
He was a Lifetime member of the Elks Club and he was also a member of the Eagles and VFW.
Art is survived by his wife Raellen; children - Delbert (wife Teri) and Shirley (husband Jon); stepchildren - Don Dicus (wife Kimberly) of Nampa, ID and Christine Springsteen (husband Robert) of Spring, TX.
Still surviving are his brothers - John, Joe and Dwight; and sisters - Carol and Melva; as well as nine grandchildren, 10 great-grandchildren and many friends who will miss him dearly.
He was preceded in death by his parents and two brothers Robert and William.
Visitation will be Thursday, July 30, 2015 from 10:00AM to 5:00PM at Heritage Funeral Home.
A Graveside Service will be held Thursday, July 30th, at 5:00pm at Greenwood Memorial Terrace.
In lieu of flowers, memorial contributions may be made to Hospice House of Spokane (South), 121 S. Arthur, Spokane, WA 99202 (509-456-0438 or 888-459-0438) www.hospiceofspokane.org.
Local journalism is essential.
Give directly to The Spokesman-Review's Northwest Passages community forums series -- which helps to offset the costs of several reporter and editor positions at the newspaper -- by using the easy options below. Gifts processed in this system are not tax deductible, but are predominately used to help meet the local financial requirements needed to receive national matching-grant funds.
Subscribe now to get breaking news alerts in your email inbox
Get breaking news delivered to your inbox as it happens.
---