News > Obituaries
Obituary: Griswold, Virginia (Crenshaw) "Ginny"
Age 71
Wed., July 29, 2015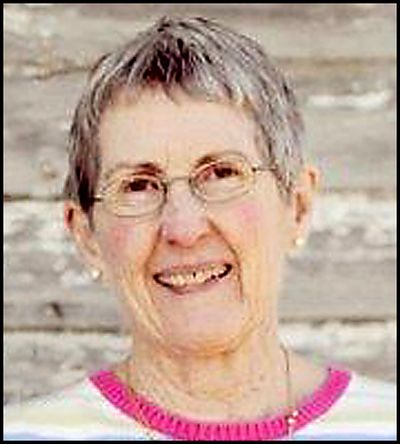 GRISWOLD, Virginia (Crenshaw) "Ginny" (Age 71) Passed away on Thursday, July 16, 2015 in Bozeman after a long battle with Alzheimer's disease.
She was born on April 24, 1944 in Norfolk, VA to William Robins and Eleanor (Pamperin) Crenshaw.
Ginny graduated from Woodrow Wilson High School in Portsmouth, VA and then went on to attend San Diego City College.
Ginny grew up in a proud Navy family, her father and both grandfathers were U.S. Navy Captains and her brother attained the rank of Commander.
On December 21, 1968, Ginny continued the Navy tradition in her family when she married Edson Griswold in Coronado, CA.
She enjoyed volunteering her time at the churches she attended in Boise, ID, Aurora, CO, and Coeur D'Alene, ID.
She served as a food delivery driver for Project Angel Heart in Denver and was a member of PEO Chapters in Denver and Coeur D'Alene.
Ginny's interests included reading books and knitting.
She is survived by her mother, Eleanor Crenshaw of Coronado, CA; husband, Edson Griswold of Bozeman, MT; son and daughter-in-law, William and Maren Griswold of Bozeman, MT; daughter, Karyn Griswold of Denver, CO; brother and sister-in-law, CDR William and Laura Crenshaw of Coronado, CA; and two grandchildren.
She was preceded in death by her father, Capt.
William R. Crenshaw USN (RET).
A memorial service is planned for Saturday, August 8th, at 11:00 a.m. at St. James Episcopal Church in Bozeman.
Interment will occur at the Miramar National Cemetery in San Diego, CA at 1:30 p.m. on Friday, August 21st.
A Celebration of Life reception is scheduled on August 22nd for 2:00 p.m. in Coronado, CA.
Dress for the celebration will be "island casual".
For additional information on these events, please contact Ed at (406) 224-7564 or Margaret at (970) 376-0224.
Should friends desire, memorials in Ginny's name may be made to the Alzheimer's Association - www.alz.org or to Project Angel Heart, 4950 Washington Street, Denver, CO 80216.
Local journalism is essential.
Give directly to The Spokesman-Review's Northwest Passages community forums series -- which helps to offset the costs of several reporter and editor positions at the newspaper -- by using the easy options below. Gifts processed in this system are not tax deductible, but are predominately used to help meet the local financial requirements needed to receive national matching-grant funds.
Subscribe now to get breaking news alerts in your email inbox
Get breaking news delivered to your inbox as it happens.
---