Sports > Seattle Mariners
Stumbling Mariners remain snakebit in loss to Arizona
Wed., July 29, 2015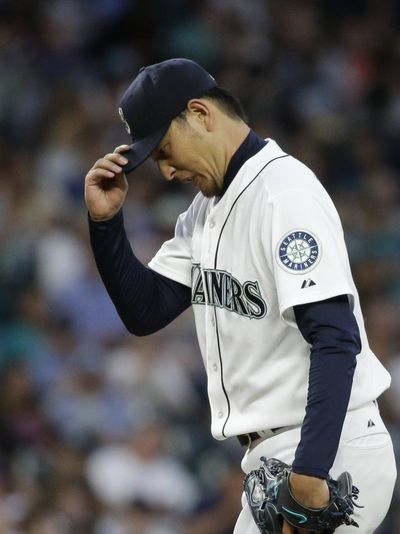 SEATTLE – The omen arrived early Tuesday night in signaling a long evening for the Mariners and right-hander Hisashi Iwakuma when an opponent stole a base.
That hasn't happened with Iwakuma on the mound since 2013.
That steal, by Arizona's A.J. Pollock, turned into a run – the game's first run – and the Diamondbacks proceeded to rough up Iwakuma in an 8-4 victory over the Mariners at Safeco Field.
Iwakuma (2-2) came in on a roll. He had yielded just four runs over his three previous starts, but he gave up six in 5 2/3 innings against the Diamondbacks, who also tacked on a few late runs against the bullpen.
It amounted to another disappointing day in a disappointing season that still has more than two months to run. Also: the Mariners (46-55) now need a victory today from Felix Hernandez to avoid a three-game sweep.
The Mariners had, arguably anyway, the game's top two individual highlights in tape-measure home runs by Mike Zunino (452 feet) and Nelson Cruz (440) against Arizona starter Zack Godley.
Otherwise, though, Godley (2-0) kept the Mariners pretty much in check for six innings before handing a three-run lead to the Arizona bullpen.
Andrew Chafin and David Hernandez worked scoreless innings before Josh Colmenter gave up a run in the ninth before closing out the victory.
In addition to Pollock's steal, another play – or, officially, a no-play – summed up the night. Again Pollock was involved when he hit a high foul pop to the right side in the eighth inning.
First baseman Mark Trumbo drifted under it, or seemed to, but never came close to catching it. It didn't affect the game's outcome in any way beyond applying appropriate punctuation.
Arizona jumped Iwakuma for that early run after Pollock's one-out single in the first inning. Pollock stole second with two outs by sliding around the tag by shortstop Brad Miller.
It the first stolen base against Iwakuma since Sept. 25, 2013, and it turned into a run when David Peralta punched a single to left. (Extra points if you remember the steal was by Kansas City speedster Jarrod Dyson.)
Iwakuma's streak covered 35 starts and 239 base-runners, who were a combined 0 for 9 on stolen-base attempts.
Peralta stung Iwakuma again in the third inning after Paul Goldschmidt's two-out single. Peralta yanked a 1-1 sinker into the left-field corner for an RBI double and a 2-0 lead.
The Mariners trapped Peralta between second and third for the final out, but the run had already scored.
Zunino got one run back in the bottom of the third with a booming upper-deck homer to left on Godley's first pitch. ESPN's tracking showed it to be the longest homer by a Mariner since Wily Mo Pena's 468-footer in 2011.
But Arizona countered with Ender Inciarte's two-out homer in the fifth.
Trailing 3-1, the Mariners missed a chance in their fifth.
Miller led off with a walk, but Zunino's hard grounder turned into a double play. Dustin Ackley singled, and Austin Jackson walked, but Kyle Seager flied to short center.
The Diamondbacks then broke the game open.
Goldschmidt and Peralta opened the sixth inning with singles. Iwakuma struck out Jarrod Saltalamacchia, but Jake Lamb lined a single to right that loaded the bases.
Chris Owings followed with a grounder through the right side. Goldschmidt scored easily, and Peralta did, too, when the throw from right fielder Seth Smith was way up the third-base line.
Iwakuma struck out Oscar Hernandez, but Nick Ahmed's drive to deep center hopped the wall for an RBI double. It was 6-1.
Cruz's moonshot came while leading off the bottom of the inning. It was his 32nd career homer of at least 440 feet, but all it did was cut Arizona's lead to four runs.
Local journalism is essential.
Give directly to The Spokesman-Review's Northwest Passages community forums series -- which helps to offset the costs of several reporter and editor positions at the newspaper -- by using the easy options below. Gifts processed in this system are not tax deductible, but are predominately used to help meet the local financial requirements needed to receive national matching-grant funds.
Subscribe to the sports newsletter
Get the day's top sports headlines and breaking news delivered to your inbox by subscribing here.
---