Sports > Outdoors
Ammi Midstokke: Making memories with friends
Thu., July 30, 2015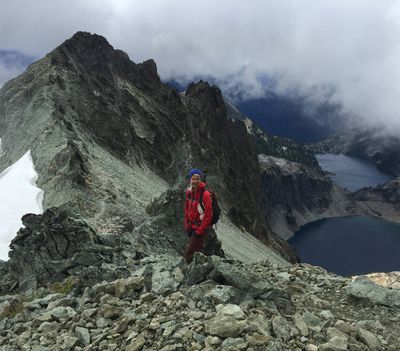 When I first became a runner, I lost all kinds of friends. I lost friends that were tired of hearing about my mile splits. I lost smoke break friends. I lost friends I went out with on Friday nights because I had to get up Saturday for a long run.
I get it. There's nothing really much more obnoxious than someone at the water tank reporting everything from their fuel plan to their bowel status on mile 20. And of course I read enough Runner's World to be a veritable expert on, well, everything.
Then one day I was running and I made a new friend. It was an accident, really. I was lost and it was dusk and I saw in the distance some flash of obscenely bright lycra round a corner. I set off after it hoping they'd run back to the same town I had come from. I'm pretty sure she had the mace can ready.
After introductions and a few more encounters in the woods, we decided to run together. Then we shared stories. And after some time, we began to share memories. Memories of beautiful days, snowy days, memories of butterflies that sat on her shoulder for a mile, memories of raising our children (or escaping them to go running).
In our course of life it would seem common that we redefine ourselves or expand the description of who we are by the things we do. The record keeping of this is done in the memories we make and the memories we share. Those shared memories are the foundation of friendships.
Which is why when I meet new people now, I ask them what they do in their real lives. So often they say "I work at…" but this is not what I mean. Your real life is the one where you make memories, raise children, laugh until you cry, break your leg, marry your love, climb your first peak.
I then judge the new person and decide if I want to stalk them until they become my friend. Do you have some outdoorsy skill that I want to learn or partake in? I probably will laugh loudly at all your jokes and stand too close at the party. Has anyone been bizarrely enthusiastic about your potato salad? That was likely me hoping for an invite to try stand-up paddling with you. Call me.
In the interest of having balance in my life, I try to have a spread of friendships that include all mountain sports and all levels of intimacy. Casual lady ranting: My morning running group. Near death experiences: An ex-boyfriend who's already seen me cry. Life planning: A girlfriend who bags peaks for breakfast and makes my challenges seem like a walk in the park.
This weekend I scaled a mountain with my friend Christi. At various intervals of my life, we have done hard things together. Divorcing? Let's climb Rainier. Quitting your job? Let's go run 90 miles. Over the years we have interlaced the experiences of my life with memories of really living – and some serious suffering because she's impossible to keep up with. You can choose your friends but you can't always choose how fast they are.
The next time you're out making memories, make them with a friend. You might just find yourself a lifetime of kindred spirits and all the joys that come with them.
Local journalism is essential.
Give directly to The Spokesman-Review's Northwest Passages community forums series -- which helps to offset the costs of several reporter and editor positions at the newspaper -- by using the easy options below. Gifts processed in this system are not tax deductible, but are predominately used to help meet the local financial requirements needed to receive national matching-grant funds.
Subscribe to the sports newsletter
Get the day's top sports headlines and breaking news delivered to your inbox by subscribing here.
---
Subscribe and log in to the Spokesman-Review to read and comment on this story