News > Washington Voices
Moksha's world music offers contemplative sound
Thu., July 30, 2015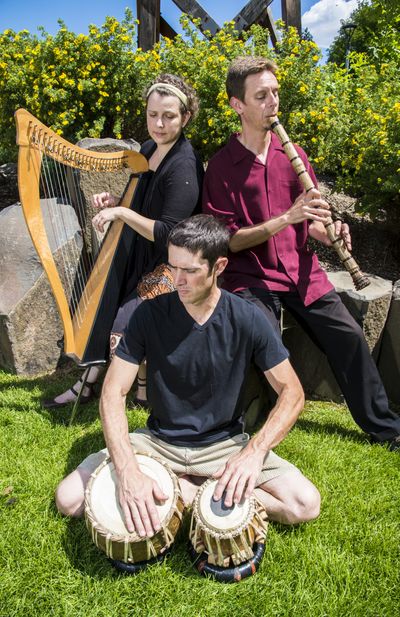 Moksha's instrumental tones, sounds and beats leave a listener with room for thought. The music is like a painting of sound.
The group's name means "freedom from the differentiated, temporal and mortal world of ordinary experience," and its sound is anything but ordinary.
Todd Milne, Ellicia Milne and Aaron Mark make up Moksha. They play world music, a genre that encompasses a mix of musical sounds created by exotic instruments from all over the world.
"Although the modes and finer rhythms of different world music are unfamiliar to the Western listener, we usually try to include some aspect of the music that is familiar; many songs are set to a 4/4 time or similar rhythm that the modern American listener can easily identify with," Mark said. Mark is a percussionist whose repertoire includes the tabla, the wavedrum and the frame drum. He is also the director of Spokane Taiko.
Todd Milne plays the electric bamboo flute (that he makes himself), the Dobro and the guitar. He is also the instigator of Spokane World Music, a "community dedicated to the production and promotion of world music performance, education and exchange in Spokane."
Ellicia Milne plays the harp, the hammer dulcimer and percussion.
Group members also perform solo, as duos, and in larger groups, inviting other world music enthusiasts to join in.
They play wherever and whenever they can, not just to entertain but to inspire.
"One of the great things about world music is that we find many different uses for music beyond the focus of entertainment that is so prevalent in modern society," Todd Milne said. "In many areas of the world, live music practice has been used to accompany nearly every aspect of life: from spiritual to work, healing and motivating."
Recently, the Milnes played on a bench in the healing gardens at Providence Sacred Heart Medical Center. "An elderly couple approached us and thanked us profusely," Ellicia Milne said. "And another woman told us it was the most relaxing lunch hour she had ever experienced."
Their music is relaxing, akin to a walk along a shore, through a cool forest or a desert draped in a blanket of stars. Their music is described on Todd Milne's website as "deeply contemplative and serene, the music permeates the environment and induces a transcendental sense of peace and relaxation," something often hard to find in modern society where burning the candle at both ends is a more familiar sensation than serenity.
They hope others might embrace and even consider tapping a foot to the unfamiliar.
Local journalism is essential.
Give directly to The Spokesman-Review's Northwest Passages community forums series -- which helps to offset the costs of several reporter and editor positions at the newspaper -- by using the easy options below. Gifts processed in this system are not tax deductible, but are predominately used to help meet the local financial requirements needed to receive national matching-grant funds.
Subscribe to the Coronavirus newsletter
Get the day's latest Coronavirus news delivered to your inbox by subscribing to our newsletter.
---
Subscribe and log in to the Spokesman-Review to read and comment on this story