Sports
In brief: Roger Federer loses in French Open quarterfinals
Wed., June 3, 2015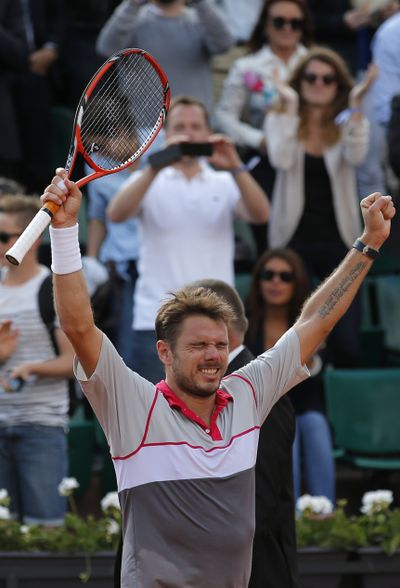 Tennis: Stumbling on his way to the net, Roger Federer dropped his racket and fell to his knees on the red clay in Paris. Hardly the sort of grace and precision the world has come to expect from the 17-time Grand Slam champion.
There were other unusual sights in Federer's 6-4, 6-3, 7-6 (4) loss in the French Open quarterfinals Tuesday against his pal and Swiss Davis Cup teammate Stan Wawrinka.
"I made 30-something errors today. He, maybe, made one," said Federer, exaggerating a bit.
Rarely injured and appearing in a 62nd consecutive major, Federer received treatment on his right hand from a trainer. For years and years a dominant and confident force in tennis, Federer slumped in his changeover chair, head bowed, after falling behind two sets to none. And, according to the ATP, this was the first time since a fourth-round loss at the 2002 U.S. Open – before he'd won a major trophy – that Federer failed to break an opponent's serve once in a Grand Slam match.
"I know that when I play good tennis, when I play my best tennis, I can play so heavy from both sides that it's really tough for the opponent to play," said the eighth-seeded Wawrinka, who will play 14th-seeded Jo-Wilfried Tsonga of France in the semifinals Friday. "That's why Roger was struggling today. It's because I was playing so well."
So long superior to the younger Wawrinka, Federer was defeated for only the third time in their 19 head-to-head matches, and for the first time in five meetings at Grand Slam tournaments.
"I tried many things," Federer said. "Obviously, I was not going to leave the French Open without having tried everything out there."
• Nishikori denied piece of tennis history: Kei Nishikori rallied from two sets down against Tsonga, but his bid to become the first Japanese man to reach the semifinals of the French Open in 82 years fell just short of the mark.
Tsonga eventually came through to win the quarterfinal 6-1, 6-4, 4-6, 3-6, 6-3 on Roland Garros' center court.
The fifth-seeded Nishikori, who had won his four previous matches in straight sets, was hoping to follow in the footsteps of Jiro Satoh, who got to the semifinals of the French Open in 1931 and 1933.
• Ivanovic returns to semifinals: Ana Ivanovic lost her opening match to a 78th-ranked Russian qualifier in her final warm-up tournament before the French Open, so she had low expectations when she packed her bags for Paris.
Now she's in the semifinals at Roland Garros for the first time since she won her sole Grand Slam title on the Parisian clay in 2008. She'll face Lucie Safarova, who beat Garbine Muguruza 7-6 (3).
The seventh-seeded Ivanovic eased past Elina Svitolina 6-3, 6-2.
Woods practices for upcoming U.S. Open
Golf: Tiger Woods played a second practice round at Chambers Bay in University Place, Washington, in preparations for the U.S. Open in two weeks.
Woods was on the course under cloudy morning skies and occasional showers. Woods arrived in the area Sunday night and his practice round on Monday drew curious spectators to the hills overlooking the waterside golf course along Puget Sound. Woods' visit happened to come on the two cloudiest days in the last couple of weeks.
Woods made the trip to the Pacific Northwest before heading to the Memorial in Ohio, his last tuneup before the U.S. Open. Woods hasn't played since The Players Championship, where he finished 69th after shooting 3 over par.
• USC, LSU in NCAA finals: Eric Sugimoto beat Nick Hardy 3 and 1 to lift Southern California past Illinois in the NCAA semifinals in Bradenton, Florida.
Southern California will play LSU in the final today at The Concession Golf Club. Southern California beat Illinois 3-1-1, and LSU topped Georgia 3-1-1.
In the morning semifinals, Southern California beat Texas 3-0-2, LSU topped Vanderbilt 3-1-1, Illinois edged UCLA 3-2, and Georgia beat South Florida 4-1.
American men romp past New Zealand
Miscellany: Rubio Rubin scored twice around goals by Emerson Hyndman and Paul Arriola, and the United States men routed host New Zealand 4-0 in Wellington, New Zealand, to become the first team to reach the second round of the Under-20 World Cup of soccer.
The U.S., 2-0 for the first time in 14 appearances at the tournament, closes the group stage against Ukraine on Friday. The Americans opened with a 2-1 win over Myanmar last weekend.
On a wet and cold day, Rubin put the U.S. ahead in the sixth minute when he tapped in a cross from Bradford Jamieson IV following Hyndman's corner kick.
Hyndman, doubled the lead in the 34th when he scored through the arms of goalkeeper Oliver Sail with a right-footed shot. Hyndman became the first American to score in consecutive matches at the tournament since Jozy Altidore in 2007.
Arriota made it 3-0 in the 58th minute, while Rubin scored the final goal in the 83rd.
Zack Steffen got the shutout for the Americans, who outshot New Zealand 30-11.
• Cosmos defeat Cuba: The New York Cosmos soccer club defeated Cuba's national team 4-1 in Havana in a friendly match that was the first visit to the island by a U.S. professional team since the two countries began their detente effort in December.
Lucky Mksona scored two goals, while Sebastian Guenzatti and Hagop Chirishian each scored one.
Andy Vaquero scored Cuba's lone goal at the 50th minute.
• IndyCar mandates closure panels: IndyCar mandated the use of closure panels to the rear wheel guards for the remaining three superspeedway races after three cars went airborne during preparation for the Indianapolis 500.
The panels will be required for both Chevrolet and Honda and will debut Saturday at Texas Motor Speedway. They also will be used at Auto Club Speedway in California and Pocono Raceway.
IndyCar has tried various different rule changes since Ed Carpenter went airborne on qualifying day for the Indy 500. Helio Castroneves and Josef Newgarden also went airborne in separate incidents.
• Zamboni driver convicted: A Fargo, North Dakota, man who admitted being drunk while operating a Zamboni during a high school hockey game was convicted after the judge rejected his lawyer's argument that the ice-resurfacing machine didn't meet the definition of a vehicle under city code.
Steven James Anderson, 27, was sentenced to nine days in jail, with credit for one day served, and ordered a $1,500 fine, chemical dependency evaluation, and participation in the state's 24/7 sobriety program.
Local journalism is essential.
Give directly to The Spokesman-Review's Northwest Passages community forums series -- which helps to offset the costs of several reporter and editor positions at the newspaper -- by using the easy options below. Gifts processed in this system are not tax deductible, but are predominately used to help meet the local financial requirements needed to receive national matching-grant funds.
Subscribe to the sports newsletter
Get the day's top sports headlines and breaking news delivered to your inbox by subscribing here.
---
Subscribe and log in to the Spokesman-Review to read and comment on this story