Kids receive prosthetic hands fit for superheroes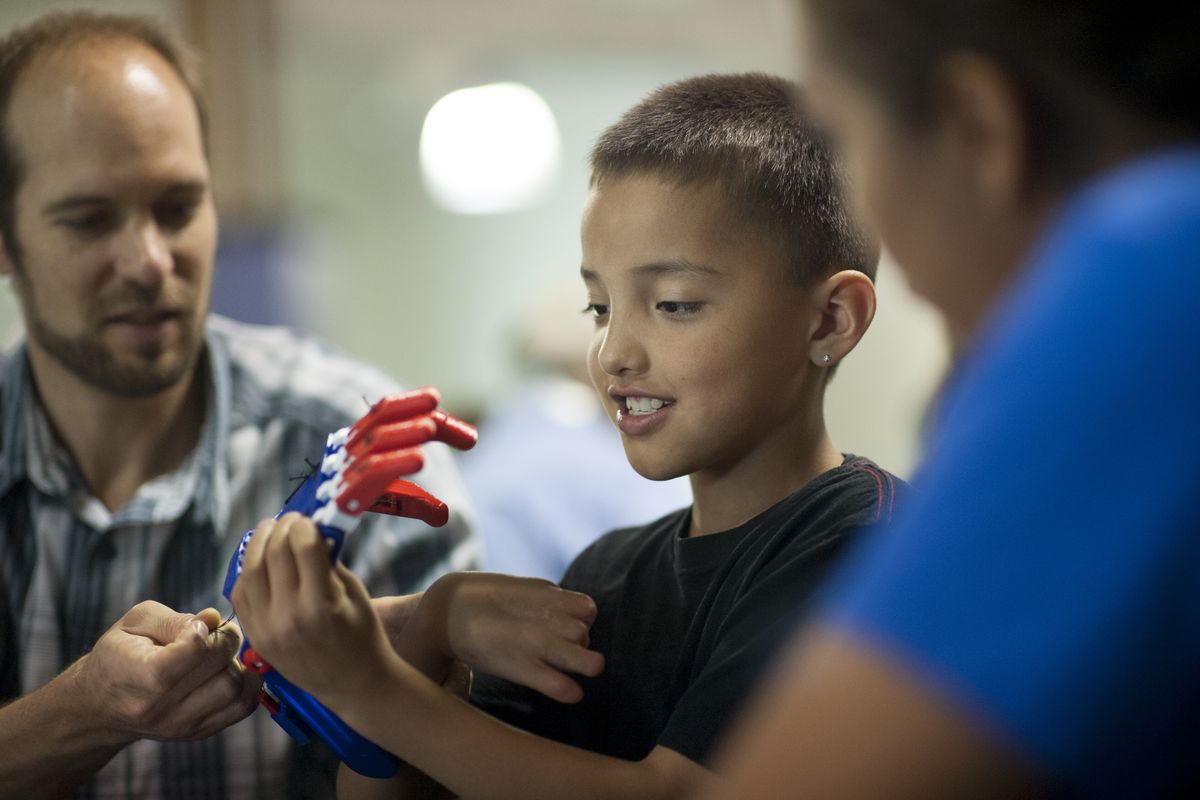 First it was a pair of green fists modeled after the Incredible Hulk's.
Then, Jordan Wilkes found two sets of razor-like Wolverine claws. He settled on a round plastic shield fit for Captain America.
The 6-year-old didn't seem to care that, underneath his superhero costume pieces, he had only six fingers. His right thumb is there, but the fingers on that hand extend only to the first knuckle. Jordan, a kindergartner from Florence, Montana, was born that way. It doesn't stop him from climbing on furniture, playing video games or helping his father work in the backyard.
"He has no problems," David Wilkes said of his son. "He gets around just fine."
Jordan tried out Captain America's shield Wednesday afternoon just before he received his first prosthetic hand – in none other than Captain America's red, white and blue. He was one of three elementary students, each missing part of one hand, who attended a Marvel-themed nonprofit event at the Spokane Arena.
Jordan's new hand looks fit for a hero; before the event, the children picked out hero-inspired color schemes for their prosthetics. He chose Captain America. Kylie Danbrook, 10, opted for Hawkeye's purple and black. And Marcus Lowley, 8, settled on Spiderman's red and blue.
The event was coordinated by Shriners Hospital for Children in Spokane and e-NABLE, a sprawling community of engineers and 3-D printing enthusiasts that originated in Bellingham. The group provided the children with custom-fitted, 3-D-printed prosthetics that will allow them to grasp small objects. The children and their families assembled the hands, which came packaged with easy-to-follow instruction manuals.
Among the volunteers were performers from Marvel Universe Live, a theatrical show that will take the Spokane Arena stage tonight through Sunday. Mandy Aripa said Marcus Lowley, her son, had been anxiously waiting to receive his prosthetic hand for weeks. A second-grader from Plummer, Idaho, Marcus has a hard time grasping things with his right hand. His fingers were amputated at birth after they became tangled in his mother's amniotic bands, cutting off circulation. He has since had three surgeries at Shriners Hospital.
"No one even notices that he has missing fingers – he can do everything," Mandy Aripa said. Marcus is adept with crafts and chemistry sets, she said.
Kylie Danbrook also stays active despite the under-grown fingers on her left hand. The fifth-grader from Fort Benton, Montana, said she loves to ride her horse, Buddy, and play basketball and volleyball. Her father, Lloyd Danbrook, said she learned to ride a bike with the aid of a custom handlebar attachment but no longer uses it.
"You'd be amazed at the stuff she can do," he said.
The free prosthetic hand from e-NABLE will help Kylie decide if she wants a more expensive model later on. Some high-end prosthetics cost more than $30,000, and children may outgrow them quickly.
"I think this is a good option for her to see if this is something she wants in the future," her father said.
Ivan Owen, of Bellingham, was pursuing a hobby when he laid the foundation for e-NABLE. An artist, prop maker and self-taught engineer, Owen built his first mechanical hand in 2011. He later acquired a 3-D printer.
Owen designed a hand and uploaded the plans to the Internet. The result is a cheap and customizable prosthetic that can be made anywhere. Today, the e-NABLE community includes more than 5,000 volunteers around the world, sending 3-D-printed prosthetics to such places as Nepal, which recently was devastated by earthquakes, and war-torn Syria, said Jen Owen, e-NABLE's communications manager.
Also volunteering at Wednesday's event were three students from Spokane Valley Tech who printed additional prosthetic hands to send to Nepal. Logan Wolkey, Chris Tveit and Connor Codd, each 17, learned advanced engineering skills in Salvatore Lorenzen's class.
"This is an opportunity to use those skills to help others," Lorenzen said.
---