Sports > Outdoors
Record-low water season brings early flow cuts at Post Falls Dam
Tue., June 9, 2015
The spigot has been cranked down on the Spokane River at Post Falls Dam in the past four days, leaving the whitewater rafting season high and dry and fish managers in a sweat.
In what's stacking up to be the lowest water season since records have been kept, Avista Utilities has reduced flows to meet legal requirements to fill Lake Coeur d'Alene to summer level.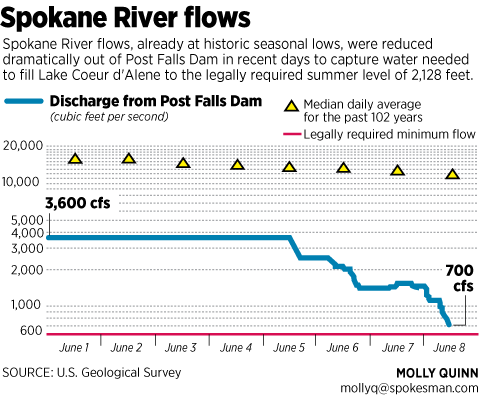 But the river is taking a hit sooner – and faster – than normal because this season's low snowpack may not otherwise provide enough water to fill the lake, officials said.
Avista announced Thursday that the flows through Post Falls Dam would be reduced during the weekend from 3,600 cubic feet per second to 1,400 cfs.
However, the flows continued to plunge on Monday down to 700 cfs.
Area rafting companies say the flow reduction ends the Spokane River whitewater season, although other types of river trips will continue.
"The snowpack is pretty much gone," said Patrick Maher, Avista hydro operations engineer.
The updated National Oceanic and Atmospheric Administration April-to-July water supply forecast for Lake Coeur d'Alene is 37 percent of normal.
"Lost Lake up in the St. Joe drainage usually has snow into July, but right now it's almost gone," Maher said Monday. "Everything about water supply is about as low as it's ever been."
Flows out of Post Falls Dam had been maintained at a minimum of 3,600 cfs through Thursday to maintain enough water to cover wild redband trout nests as required by federal dam relicensing guidelines.
But the relicensing guidelines also require Avista to maintain the summer elevation of Lake Coeur d'Alene near 2,128 feet. The level had been raised to within 3 inches of summer pool in May, but the lake level has been lowered since then to maintain minimum flows for fish.
Idaho and Washington fish managers approved Avista's request to begin reducing flows two days earlier than is normally allowed.
Like so many other seasonal things in nature this year, even the Spokane River's trout fry are ahead of normal, said Randall Osborne, Washington Department of Fish and Wildlife fisheries biologist.
"They appeared to be off their nests and swimming so we don't think the early reductions were all that critical to the fish," he said.
Fish managers will keep track of river flows and temperatures and curtail fishing in some way if trout become too concentrated at aquifer recharge areas and vulnerable to anglers, he said.
"We'll take measures if it gets to that point," he said.
"There are potential environmental impacts to low flows," said Rachael Paschal Osborn, the Spokane water-law attorney who led the 2008 effort to secure minimum flows for Spokane Falls. "On the other hand, we're having this horrible water year and this is what we're going to see all summer long. There's no real answer to that."
Osborn said she's concerned that the cities and counties have not delivered a public message about municipal water usage.
"The river is fed by the aquifer," she said, noting that the cold-water recharge is what keeps Spokane River trout alive when flows are low and warm. "When we pump from the ground, it lowers the aquifer and takes cold water from the river. We need to be conserving water during summer, especially this year."
Northwest Whitewater, a local group of rafters and kayakers, announced Monday that it had canceled its Friday night Spokane River floats.
"I've been boating on the river since about 1980 and I've never seen these levels in June," said Paul Delaney, the group's organizer. "Flows of 700 cfs are something we wouldn't expect until late July. In good snowpack years, we've had 10,000 cfs in mid-July."
"It's kind of killing us locally," said Peter Grubb, owner of ROW Adventures based in Coeur d'Alene.
"Normally in the month of June we offer the Spokane River as a whitewater trip down through the Bowl and Pitcher and the Devil's Toenail (rapids). The preferred level is above 3,000 cfs. It's a lot less fun at 2,300 cfs.
"We'll continue to run from downtown Spokane to T.J. Meenach Bridge, but it will be more rock dodging than rafting."
Josh Slanagan, who's in his first season as the new owner of Wiley E. Waters rafting company based in Spokane, said the flow reduction has cut a month off his normal whitewater season.
Both companies continue to offer whitewater day trips on other rivers, such as the Clark Fork in Montana, and ROW also is running whitewater on the Moyie in Idaho.
ROW will offer more flatwater kayaking trips on the Spokane River, Grubb said.
Slanagan said companies can customize low-flow trips to give families a chance for the kids to play in the water and enjoy rafting games, "but the whitewater enthusiasts are up a creek."
Avista expects that Post Falls will operate at minimum discharge requirements of 600 cfs for a significant period this summer. 
"We're about 6 inches below summer level at the lake," Maher said Monday. He expects the lake to be up to summer level in about two weeks.
Once Lake Coeur d'Alene is at summer level, Avista will operate the gates at Post Falls Dam to maintain the level, he said.
If the inflow into the lake, mainly from the Coeur d'Alene and St. Joe rivers, is not enough to maintain the lake level and still allow 600 cfs out of Post Falls Dam, the lake level potentially could be affected in order to keep an absolute minimum of 500 cfs flowing from the dam, Maher said.
"If it came to that, we'd have to start drawing down the lake," he said.
Local journalism is essential.
Give directly to The Spokesman-Review's Northwest Passages community forums series -- which helps to offset the costs of several reporter and editor positions at the newspaper -- by using the easy options below. Gifts processed in this system are not tax deductible, but are predominately used to help meet the local financial requirements needed to receive national matching-grant funds.
Subscribe to the sports newsletter
Get the day's top sports headlines and breaking news delivered to your inbox by subscribing here.
---
Subscribe and log in to the Spokesman-Review to read and comment on this story