Tour Deshais: Reporter begins bike ride across Washington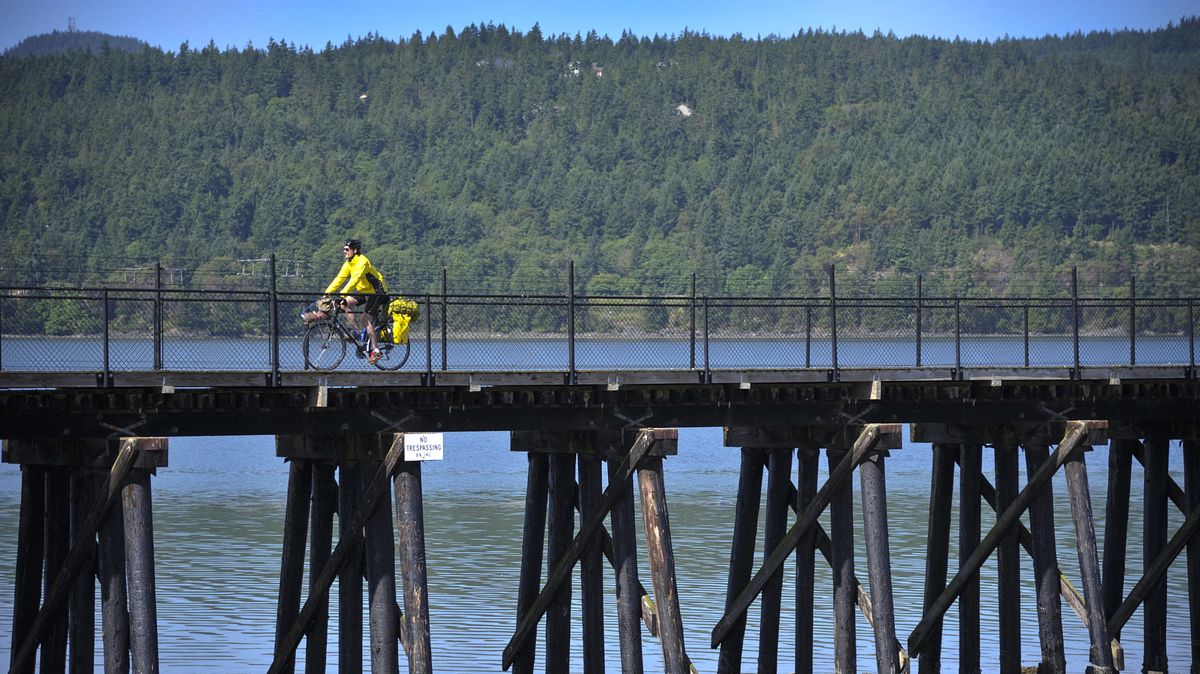 ROCKPORT, Wash. – That didn't take long.
About 7 miles after I pulled away from the Anacortes Ferry Terminal, I met Kris Lytton, a legislator in the state House who represents the area.
Good timing, since most of my anxieties about my 416-mile trip had dissolved under the sunshine and pleasant ride through this Puget Sound burg. All except one: What possibly could I write about day after day? The miles I cover and the elevation I gain will bore most people, and my descriptions of pavement can only go so far.
But there was Lytton, and as we spoke, my final worry went away. There will always be people to talk to.
We stood on the Tommy Thompson trestle above Fidalgo Bay and she told me of the town's effort to extend its bikeways, and the push to have this first bit of U.S. Bicycle Route 10 be a paved, off-street trail.
"This is just the beginning," she said, not just of Anacortes' work, but also about Route 10. "It's a wonderful opportunity to see our wonderful backyard. It's just utopia."
Now, 61 miles in and with my tent pitched at Howard Miller Steelhead Park in Rockport, I couldn't agree more.
I start this trip with one intent: to travel by bike on Route 10 across the state. The route, though long dreamed of, was made official just last year. Every town and county along its hilly, winding way signed off on the route, many of them with the notion that bike travelers – and their wallets – were more than welcome.
From Anacortes to Newport, generally following state Highway 20, the route has plenty of challenges and pleasures for cyclists, including the North Cascades, Methow Valley and Colville National Forest.
But it also offers plenty to the towns it rolls through, many of which came of age during the heady days when ore and lumber spilled from the hills with little resistance.
According to the Outdoor Industry Association, Washington could see $650 million spent by bike travelers every year. For struggling places like Concrete and Sedro-Woolley, those dollars might make a difference.
Washington is not the only state to see this potential, even if it was the first to designate a U.S. bike route this side of the Mississippi. Idaho and Utah recently joined the pack, and now there are 18 states with established routes recognized by both their state transportation department as well as the federal Department of Transportation. Nearly 9,000 miles of U.S. Bicycle Routes have been named, and a total of 50,000 miles – a vast network blanketing the nation – have been mapped out.
In this context, my 61 miles are nothing, even if they really felt like something.
I felt it as I wound my way around Fredonia and through Burlington, and watched the hills and factory stacks of the Sound recede in my rear-view mirror.
I felt it as I pedaled through Lyman and Hamilton, watching grand old buildings call for my attention.
I felt it in Sedro-Woolley, when I got lunch and my bike turned into a magnet. A man named Mike expressed his envy and wished me luck. Another man named Pat said, "You've got a nice bike," and then scared me with horror stories about climbing Washington Pass.
But it was back in Anacortes when I really felt it. Lytton handed me her phone and John Pope was on the line.
"Why are you riding," he asked after we talked a bit, and I told him a lot of credit goes to him. As a volunteer with the advocacy group Washington Bikes, Pope made Route 10 a reality.
"John Pope spearheaded this and really worked on it," Barb Chamberlain, executive director of the organization, told me days before I left.
Pope rode the route, gathered letters of support from jurisdictions along the way and mapped it out. The map in my hands, put out by the Adventure Cycling Association, is based on Pope's travels.
That means the route I rode today – and will follow for the next nine days – is Pope's route.
As I chatted with him on the trestle, I knew I'd be stressed again during my ride, like when I'm pumping up Loup Loup and Sherman passes. But Pope led the way. So did the three cyclists who camped in my site last night, as my neighbor in her RV told me, and the German guy riding across the country who stayed the night before.
I'm just following them.
---