Rachel Dolezal postpones meeting with NAACP board in Spokane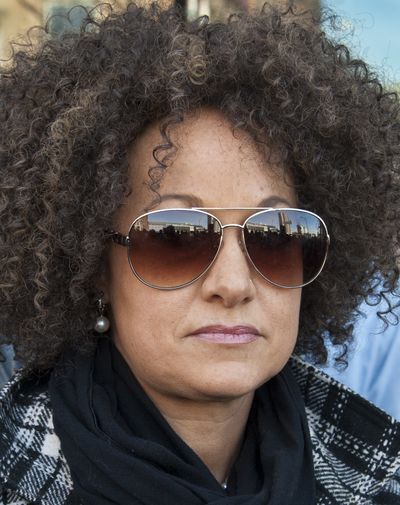 Rachel Dolezal notified Spokane NAACP members today that a meeting scheduled to take place Monday has been postponed. The meeting was to have allowed Dolezal, the organization's president, to address the growing controversy over the disclosure that she has falsely been portraying herself as black for years. The short message said, "Due to the need to continue discussion with regional and national NAACP leaders, tomorrow's meeting is postponed and will be rescheduled for a later date. We appreciate your patience and understanding at this time." About an hour later, board member Lawrence Burnley emailed Dolezal and NAACP members to say that he doesn't believe Dolezal has the authority to postpone the meeting. "I don't see any language in the by-laws that empowers you, or any one member, to arbitrarily cancel/postpone tomorrow's meeting," wrote Burnley, chairman of the chapter's executive committee. Burnley notes that the executive committee is scheduled to meet today. "I'm puzzled by your decision to arbitrarily cancel/postpone the meeting without input from the executive committee which is scheduled to meet today," he wrote. "…It seems to me that it would be prudent to allow for or invite your executive committee to weigh in on a decision such as this." Another NAACP member said Sunday that Monday's meeting will go on as scheduled. That hadn't been publicly announced yet. Dolezal said in a prepared statement late Friday that she would address the controversy at the Monday meeting, and that both she and the executive committee would make statements. "I have discussed the situation, including personal matters, with the Executive Committee," she said. "I support their decision to wait until Monday to make a statement." Dolezal has given only brief interviews since her family disclosed last week that she is not black. She was elected president of the local NAACP chapter about six months ago. Dolezal also teaches at Eastern Washington University and is chairwoman of the city of Spokane's police ombudsman commission. On Friday the national office of the NAACP issued a statement supporting Dolezal: "One's racial identity is not a qualifying criteria or disqualifying standard for NAACP leadership," wrote Michelle Nealy, a spokeswoman for the national chapter in Baltimore, Maryland. Nealy also said, "NAACP Spokane Washington Branch President Rachel Dolezal is enduring a legal issue with her family, and we respect her privacy in this matter." Freda Gandy, executive director of the Martin Luther King Jr. Family Outreach Center in Spokane, said today she is angry the NAACP is backing Dolezal, and that Dolezal's actions are inexcusable. "Ethically I don't really know how they can say she can be an effective leader when she has lied to an entire community," Gandy said in an interview with The Spokesman-Review. She also said she's angry that only dues-paying NAACP members will be allowed to ask questions about the controversy at the general membership meeting. "The NAACP, in my opinion, feels like she only needs to answer to them," Gandy said. "She forfeited that right when she became a community leader. That means she answers to all of us, me and you." Gandy said she doesn't know Dolezal well but did book her as one of the speakers for this year's Martin Luther King Day parade and service. Gandy has worked for the MLK Family Outreach Center for 16 years. Prior to Dolezal becoming president of the local NAACP chapter, Gandy said she didn't know Dolezal or her work.
This story is developing and will be updated.
---