A&E > Entertainment
Rachel Dolezal told student that ex-husband forced her to live as a white woman
Mon., June 15, 2015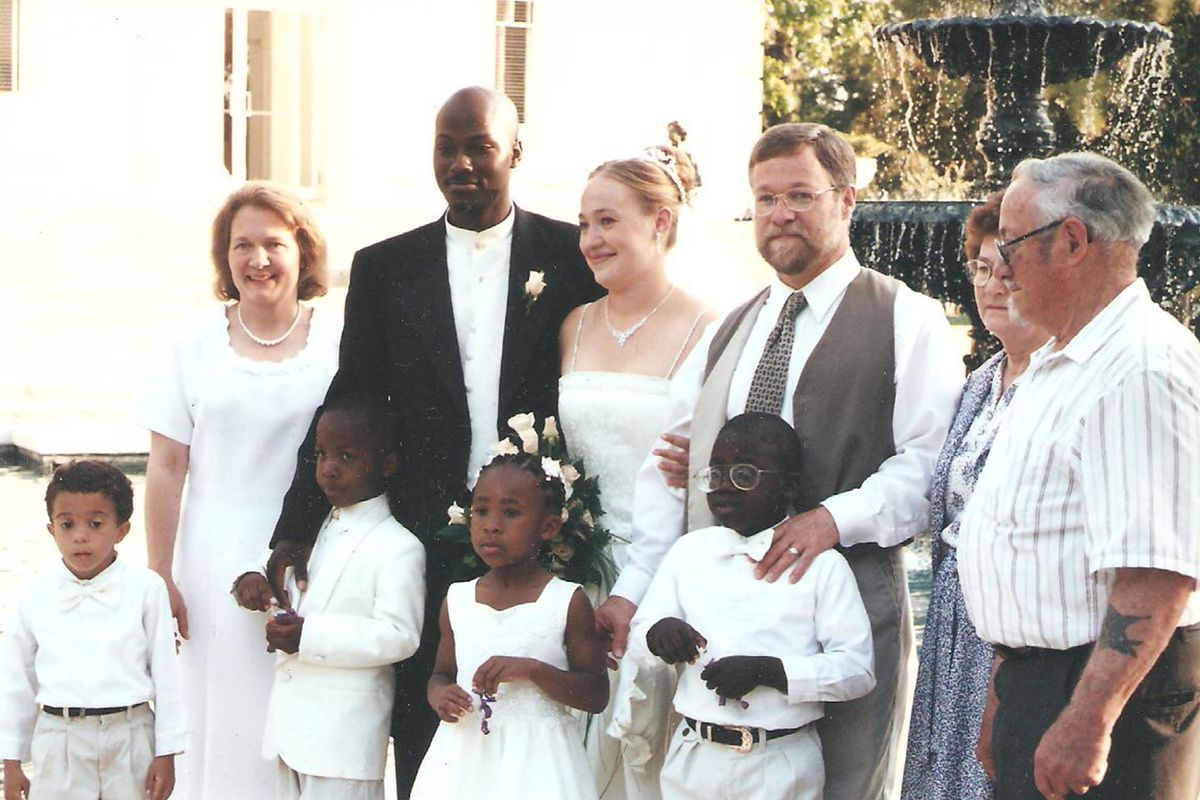 Rachel Dolezal poses for a photo with her family during her wedding reception in May 2000 in Jackson, Miss. Dolezal has since divorced Kevin Moore. Pictured, back left to right, are Rachel's mother Ruthanne Dolezal, Moore, Rachel Dolezal, Larry Dolezal (Rachel's father), Peggy and Herman Dolezal (Rachel's grandparents). Front row, left to right, are Ezra, Izaiah, Esther and Zachariah, Ruthanne and Larry Dolezal's adopted children.
In a series of interviews last year Rachel Dolezal told an Eastern Washington University art student that her ex-husband expected her to look like a white woman. "She said it was this very oppressive experience where she had to deny her blackness," said Lauren Campbell, who is black. Campbell filmed the interviews with Dolezal and posted the five-part interview Friday to "show a side that I felt wasn't being covered," Campbell said Monday. The videos deal broadly with Dolezal's professed experience as a black woman. Dolezal, the now-former president of the Spokane NAACP, is white, according to her family. But she has portrayed herself as a black woman for years, including as an adjunct instructor in Eastern Washington University's Africana Studies program. Said Campbell, "She'd brought up this ex-husband and sort of painted this picture of him being abusive of her, and forcing her to live as basically white-presenting." Dolezal's ex-husband, Kevin Moore, is black. Attempts by The Spokesman-Review to reach Moore have been unsuccessful. The remarks about her marriage occurred after the filming ended, Campbell said. She said Dolezal told her that her ex-husband asked her to bleach her hair, straighten it and keep her skin light. The interviews occurred long before Dolezal's family released a wedding picture of the couple with Dolezal looking as she described.
Campbell, who was a visual communication design student, filmed Dolezal as part of her senior art exhibition focusing on the experiences of women of color in Spokane. EWU faculty recommended that Campbell ask Dolezal to be part of the project. "Whenever I do anything that has anything to do with racial (stuff) people said, 'You have to talk to Rachel Dolezal,' " Campbell said. At one point Campbell asked Dolezal, "What is normal as it relates to black women?" Campbell said she didn't directly ask Dolezal if she was black, but the implication was clear. At one point during the interview Dolezal tells Campbell how as a young girl she'd use brown crayons when she drew self-portraits. Her teachers would tell her to use the peach-colored crayon instead. "I remember having anxiety whether I would choose peach or brown," Dolezal said. Later Dolezal recalls choosing where to sit in the cafeteria while an undergraduate student at Belhaven University in Mississippi. "From the first day in the cafeteria in undergrad there was one black table and all the rest were white tables," Dolezal said. "So I went and sat at the black table because, you know, that looked more like my family. It was like making a choice again." Campbell said some of Dolezal's remarks made her uneasy and the whole experience left "a bad taste in my mouth." She didn't invite Dolezal to her exhibition's premiere.
Local journalism is essential.
Give directly to The Spokesman-Review's Northwest Passages community forums series -- which helps to offset the costs of several reporter and editor positions at the newspaper -- by using the easy options below. Gifts processed in this system are not tax deductible, but are predominately used to help meet the local financial requirements needed to receive national matching-grant funds.
Subscribe to the Spokane7 email newsletter
Get the day's top entertainment headlines delivered to your inbox every morning.
---