News > Spokane
As Rachel Dolezal played her game, many of us played along
Wed., June 17, 2015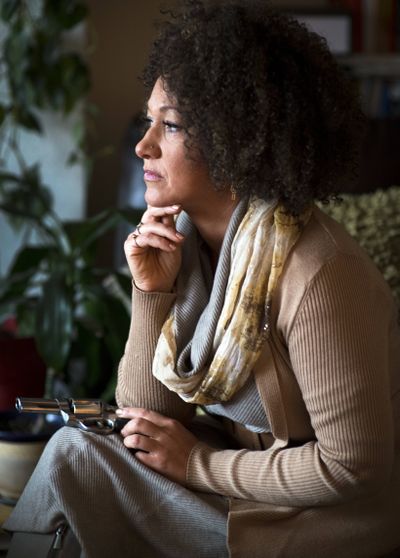 At the end of February, I saw a social media post about a package of racist, seemingly threatening letters that the head of Spokane's NAACP chapter said she had received.
I reached out to Rachel Dolezal, and she agreed to an interview at her home. I asked her about the 20-page package – which included gun-range target imagery and a photo of a lynching – and looked at cellphone photographs of the materials, which had been turned over to police. Police were investigating it, had assigned it to a major crimes detective, and said they were taking it seriously.
During the interview, a small handgun sat on the coffee table in Dolezal's living room. Afterward, Spokesman-Review photographer Colin Mulvany asked her if she would hold the gun for a photograph.
She suggested getting her other gun.
Her bigger one.
The next morning, my column – a credulous report about the letters and her history of reported hate crimes – ran on the front page, with a lead photograph of her holding her bigger gun. In light of what we know now, this was a mistake. But what has nagged at me for weeks was the sense that it was a mistake given what I knew then – nothing concrete, but a continuous sense that there was something hinky about the report or about Dolezal, and that her tendency to race into the spotlight and juice up details – to get the bigger gun – should have influenced me more than it did.
It's easy to see this now. But some of it was there to see beforehand, too, and a whole lot of people knew it, whispered about it, rolled their eyes, shrugged their shoulders, rationalized and ignored. Some of that was because many of the questions around her were – and remain – suggestive but not proven. Many people have concluded she faked all of her reported hate crimes – an understandable leap, but one that is not nearly borne out by inconclusive police reports. Some of the restraint was, no doubt, born of the sensitivity that surrounds issues of race, and especially here, given our region's history and whiteness. And some came from a desire to protect and nurture the goals that Dolezal appeared to be trying to advance – a desire not to undercut work toward human rights and equal justice.
Unfortunately, that is exactly what has happened. This has been a gift to those who already believed that racism is a con, a political dream come true. A race hoaxer! Their barely disguised glee at the downfall of a civil rights leader has been loud and repugnant, locally and nationally. And it will cast a shadow now on hate crimes and discussions of racism in Spokane.
So it is not an idle question for those of us who helped move the story along while waving away the smoke: While Dolezal was "passing," did too many of us give her a pass?
•
The morning my column on the hate mail appeared, several people contacted me to tell me they believed I had been duped. Bamboozled. Some of these folks exhibited retrograde racial attitudes that helped me dismiss their claims. But several of these voices were nothing like that at all, including a couple of former journalists. Most of the questions had to do with Dolezal's history of inconclusive reports of hate crimes. But one told me: "I don't even think she's black." I recall that he almost whispered as he said it.
I did not pursue that question at all. I didn't even take it seriously, honestly. I spent time talking to people and reporting and worrying – perhaps more worrying than work – about the legitimacy of the hate crimes Dolezal has reported in Spokane and Coeur d'Alene over the past several years. But I did not consider delving into the question of her racial identity until the day before the Coeur d'Alene Press broke the story, rendering the point moot.
These questions were bubbling up among more than one journalist in the region; they were being driven, at least in part, by information unearthed by a private investigator. I spoke to him on the condition that I not reveal his identity, and I know that he has done so with other reporters in the region. He would not say who he's working for, though Dolezal has suggested that it's connected to a criminal case against her brother in Colorado in which she may figure as a witness, and that's why her parents have come forward at this point.
In any case, it was his probing into Dolezal's background, and what he says he found, that motivated me to reconsider the question of her racial identity. That has presumably been a factor in the interest of other reporters, as well.
There is nothing wrong with that, as long as journalists are confirming and checking sources, and as long as the truth is the final object. In this case, there remains no doubt that Dolezal has lied about who she is – lies that include not simply the words she has said, but an entire public projection – while using the lies to enlist people and attention for her cause.
Kurt Neumaier, an alternate board member of the Kootenai County Task Force on Human Relations, believes that a lot of people have wanted to simply ignore the questions. He says he brought concerns to the task force board recently, urging them to act in some way on the widespread concerns about the many claims she has made that "don't pass the smell test." Dolezal worked as an educator for the Human Rights Education Institute – which is separate from but linked to the task force – and Neumaier said she publically misrepresented her role with the group, among other concerns.
Task force co-founder Tony Stewart and Christie Wood, current board chairwoman, have said they don't recall Neumaier doing this. He insists he did, and he provided me with email messages showing that he had also discussed the issue with another board member. Whatever happened at board meetings, Stewart, Wood and everyone with any history or background on Dolezal have been aware of the whispers.
Neumaier believes that if people who hired her and worked with her had done a better job of vetting her and not ignoring suspicions, she would not have risen in Spokane the way she has. If that's true, similar criticisms apply to plenty of others, from the city of Spokane to Eastern Washington University to journalists.
"Now she's in a position to do real damage," he said last week.
That's the question now: How much damage? Leaving her post as the head of the NAACP was a good first step – it was the least she could do. In the months ahead, people who support the organization's mission should double down on helping it in any way they can – overwhelm the damage with positivity.
Though the city investigation into her application to serve on the Police Ombudsman Commission is ongoing, there is no way she can continue in that role. Spokane must have an unimpeachable leader on that panel. After the community's yearslong battle to achieve some measure of independent police oversight, the process is at a crucial juncture – at the peak of reforms that are creating real change in the justice system, but a moment that is also dangerously open to complacency.
Dolezal simply cannot lead, or even participate in, that effort. She can't credibly lead anything in Spokane. There may have been a moment last week – maybe – when she might have done or said something, when she might have explained herself. There might have been a way – possibly, if you stretch your imagination – when she could have spoken to the people in Spokane, the people who followed her, listened to her, demonstrated for her, and tried to give them what she owed them: an explanation, an apology, a something.
Instead, she got on a plane to New York City to be on national TV.
•
I interviewed Dolezal about the package she said she received on March 2, and the column ran the following morning. Some of what I reported in there was pretty clearly newsworthy, however the case would unfold: The head of the NAACP had made this report to police and police were investigating.
But there were ways in which I accepted Dolezal's version of past events and added emphasis to the column that a journalist operating with the proper skepticism would not have – and I think these excesses are representative of the ways that many have dealt with Dolezal: by downplaying and dismissing reasons to be skeptical in a way that left her own narrative of events standing unchallenged.
My column included her own summary of her hate-crime history, essentially, when it could have noted the circumstances more factually: She has made several reports to police, which have been inconclusive. I also used her story to springboard into my own sermonizing on race and racism in our region. And we as a newspaper, in running that photograph on the front page – something I did not object to – gave it a level of attention that, no matter how much we qualified it, lent the report credibility.
The credibility of Dolezal's report is now in question, obviously. Police investigative files indicate that the initial package of mail Dolezal received did not appear to go through normal postal channels, and one can infer that it was likely placed there by someone with a key. (Some media reports have claimed that police have "concluded" this, and at the risk of seeming to split hairs, I would urge caution about that. The police reports do not make any conclusion whatsoever, and they are silent on certain issues, including the fact that several other people in town received postmarked mail that appeared to be from the same sender, including me.)
As with other police reports Dolezal has made, this one dead-ended. Given all that we know about her now, it must be looked at with great suspicion.
But some of us had reason to show more skepticism earlier. More caution and restraint. In her interviews, in her public speaking, in the way she presented herself, in her Web biographies, in her demonstrations and efforts to attract attention, Dolezal slipped and slid on the facts, and goosed everything upward.
Even when her racial identity was unquestioned, we knew that. She always went for the bigger gun. I, for one, should have seen it earlier.
Shawn Vestal can be reached at (509) 459-5431 or
shawnv@ spokesman.com
. Follow him on Twitter at @vestal13.
Local journalism is essential.
Give directly to The Spokesman-Review's Northwest Passages community forums series -- which helps to offset the costs of several reporter and editor positions at the newspaper -- by using the easy options below. Gifts processed in this system are not tax deductible, but are predominately used to help meet the local financial requirements needed to receive national matching-grant funds.
Subscribe now to get breaking news alerts in your email inbox
Get breaking news delivered to your inbox as it happens.
---