News > Spokane
Former Rep. Susan Fagan settles ethics complaint, reimburses state for funds
Fri., June 19, 2015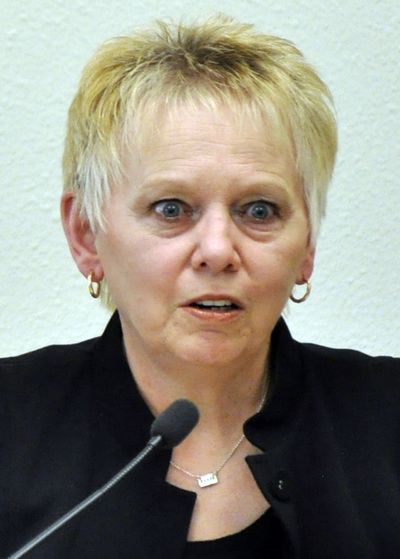 OLYMPIA – Former Rep. Susan Fagan has agreed to settle a complaint with Legislative Ethics Board that she repeatedly violated rules by receiving public funds for personal or political expenses. 
The Pullman Republican, who resigned in April as the ethics investigation was concluding, reimbursed the state a total of $836 for expenses she illegally claimed on House expense accounts and paid the board $4,782 for the costs of investigating the complaint. In agreeing to those payments as part of a settlement to close the case, she denied she exhibited "general untruthfulness," as the investigator contended.
 "While I do not agree with the assertion in the investigative report that I engaged in a pattern of untruthfulness, as I had no intent to violate the Ethics Act, I do recognize that those reimbursements found to be incorrect were caused by me and me alone, and I accept full responsibility for my actions," she says in the stipulation.
In a statement emailed to reporters later in the day, she wrote that she did not give her expense accounts the attention they deserved but "at no point did I try to derive personal gain from expense reimbursements."
The board released a 26-page report that details a series of trips between January and September 2014 which Fagan told her assistants to list for reimbursement in two accounts the House has for various expenses. One reimburses members for legislative expenses, including trips outside the district related to legislative business, but is capped at $5,500 a year. The other reimburses members in geographically large districts like Fagan's in southeast Washington, for trips on legislative matters that are at least 50 miles one-way within the district; it doesn't have a dollar limit.
The report contends Fagan was reimbursed for trips listed on expense accounts for meetings that did not occur or which she did not attend; for trips she claimed were legislative business but were actually personal or campaign related;  and for trips she said were inside the district and long enough to be reimbursed from the unlimited account but were actually for meetings outside the district and didn't qualify for that account.
The report also shows that earlier this year before she resigned, Fagan reimbursed the House a total of $650 for eight trips she improperly claimed in 2014. She also asked the clerk's office to shift some $1,100 in expenses from one account to the other. As part of the stipulation with the Ethics Board, she agreed to another $186 in reimbursements.
Fagan announced in late April that she was resigning as of May 1, two days into the first special session. By delaying the resignation until the first of the month, she was eligible for health insurance coverage in May.
Mary Dye, of rural Pomeroy, was appointed to fill the position on May 8.
Local journalism is essential.
Give directly to The Spokesman-Review's Northwest Passages community forums series -- which helps to offset the costs of several reporter and editor positions at the newspaper -- by using the easy options below. Gifts processed in this system are not tax deductible, but are predominately used to help meet the local financial requirements needed to receive national matching-grant funds.
Subscribe now to get breaking news alerts in your email inbox
Get breaking news delivered to your inbox as it happens.
---