News > Spokane
New NAACP president: Dolezal's actions shouldn't derail group's mission
Sat., June 20, 2015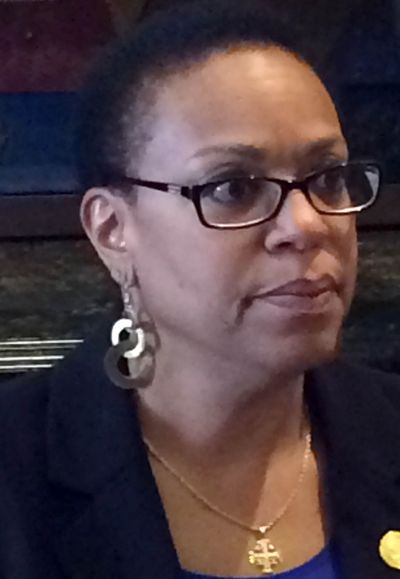 Naima Quarles-Burnley, the new president of the Spokane NAACP chapter, acknowledged Friday that the community is hurt and angry about the actions of the chapter's former president, Rachel Dolezal.
Dolezal resigned as president and was removed from Spokane's Police Ombudsman Commission this week after it became known that she had been lying about her race for years by pretending to be black.
"We cannot allow the actions of one individual to derail the work of many," Quarles-Burnley said.
The public firestorm surrounding Dolezal has been a distraction from the work of the NAACP, she said.
"We want the focus back on the issues at hand," she said. "For us, it's not about Rachel, it's about the work. She will have to answer for her own actions."
In the interests of mending its relationship with the community, the NAACP is inviting the public to a special meeting at 7 p.m. June 29 called Community Conversation: Moving Towards Healing. The meeting will be at Holy Temple Church of God in Christ, 806 W. Indiana Ave.
"We want to assure people that we stand for integrity," Quarles-Burnley said. "We've been here for 95 years, and we will work together so that the legacy will continue."
Local journalism is essential.
Give directly to The Spokesman-Review's Northwest Passages community forums series -- which helps to offset the costs of several reporter and editor positions at the newspaper -- by using the easy options below. Gifts processed in this system are not tax deductible, but are predominately used to help meet the local financial requirements needed to receive national matching-grant funds.
Subscribe now to get breaking news alerts in your email inbox
Get breaking news delivered to your inbox as it happens.
---