Sports
Harvey enjoys his Magic moment
Ex-EWU star didn't work out for Orlando
Sat., June 27, 2015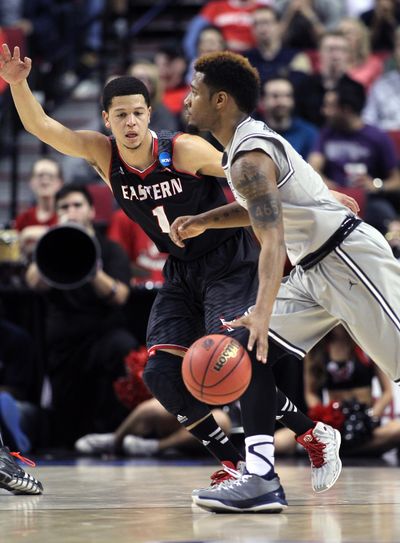 All the physical and mental work did little to prepare Tyler Harvey for the drama of NBA draft night.
"It was just a surreal moment," Harvey said Friday morning, the day after the Orlando Magic made him the 51st pick in this year's draft. "You just never know when your name is going to get called."
Or by whom. The former Eastern Washington University guard worked out for 10 teams since making himself eligible on April 1, but the Magic weren't among them.
"Honestly, you work out for all these teams and you still don't know what's going to happen," said Harvey, who is only the third Eagle to be selected in the draft.
However, earlier this week, Harvey met the Orlando front office – via Skype. "I think I spoke with all of them," Harvey said Friday from Los Angeles.
That included Magic general manager Rob Hennigan, who must have been impressed. "An interesting guy," Hennigan told the Orlando Sentinel after selecting Harvey.
"He's a very proven shooter, a very capable offensive player. He has a really good feel for the game. I think (he's) just a pretty sophisticated offensive player and someone who we feel has a chance to make our team because of that," Hennigan said.
Harvey said he hopes to hit the floor running, "shooting the ball and showing my energy and help win games," he said.
Harvey's next stop, is Orlando, but Disney World isn't on the itinerary. Harvey will fly to Florida on Monday to meet the staff and prepare for the NBA summer league, which begins July 4.
The weeked gives Harvey a few days to soak in the moment, which he enjoyed with family in Torrance, California. Four years ago, Harvey was without a college scholarship offer and walked on to join coach Jim Hayford at Eastern.
"I am very happy for Tyler," Hayford said. "He has worked so hard, and I know as he learns about the next level he will work only harder."
Harvey is a known commodity as a scorer. He led Division I with a 23.1 scoring average while shooting 43.1 percent from 3-point range and made 85.2 percent of his free throws.
That skill set was attractive to the Magic, who were just 25th out of 30 NBA teams in scoring last year, averaging 95.7 points per game. They were 16th in 3-point shooting (34.7 percent), with forward Channing Frye leading the team and ranking 18th in the league (39.3 percent, 120 of 304).
Evan Fournier was the team's top 3-point shooter from the guard position, ranking 31st in the league at 37.8 percent (85 of 225).
Eight-year NBA veteran Rodney Stuckey, who plays for the Indiana Pacers, and Ron Cox are the only previous NBA draftees from Eastern. Cox was a sixth-round draft choice by the Cleveland Cavaliers in 1977, but did not play in a regular-season NBA game.
Local journalism is essential.
Give directly to The Spokesman-Review's Northwest Passages community forums series -- which helps to offset the costs of several reporter and editor positions at the newspaper -- by using the easy options below. Gifts processed in this system are not tax deductible, but are predominately used to help meet the local financial requirements needed to receive national matching-grant funds.
Subscribe to the sports newsletter
Get the day's top sports headlines and breaking news delivered to your inbox by subscribing here.
---