This column reflects the opinion of the writer. Learn about the differences between a news story and an opinion column.
Opinion > Column
Doug Clark: 'Old Stereo Guy' offers good home for vintage audio equipment
Sun., June 28, 2015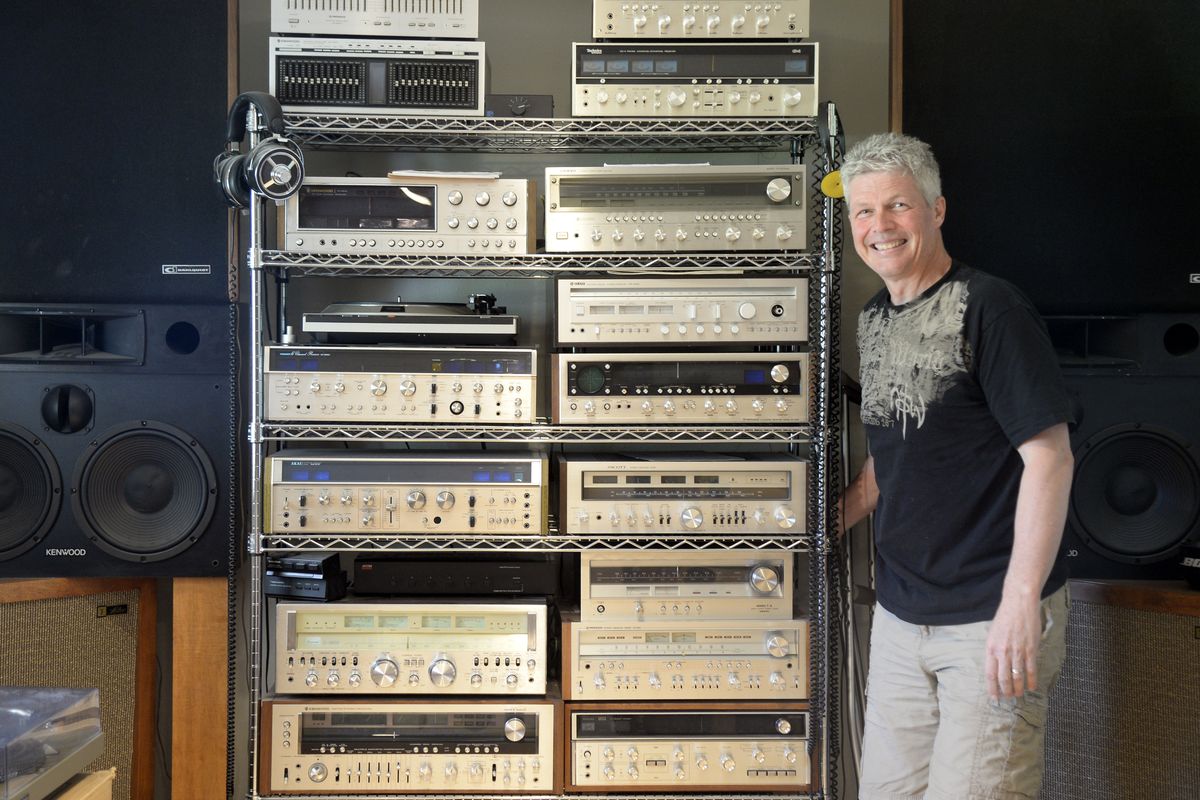 Gary Sauther, who buys and sells classic stereo equipment, also collects the best of the 1970s hi-fi equipment and listens to them in his basement. He poses Friday with his collection at his Spokane Valley home. (Jesse Tinsley)
VINTAGE AUDIO GEAR.
Paying cash.
Top dollar paid – pre-1980 only.
Amps, receivers, turntables, tape decks, speakers – some consoles.
Call today! (509) 868-9022.
I've seen the ad in our classifieds section a hundred times. And every time I see it, the same images come to mind.
First it's the late 1960s. I'm up in my best friend's South Hill bedroom after a day of being bored out of my socks at high school.
My brainiac pal is demonstrating the cool receiver that he built from a kit. He puts a Creedence Clearwater album on his turntable and cranks John Fogerty's inimitable voice up to a window-rattling volume.
"Born on the Bayou, Born on the Bye-yooooo … "
Next it's the mid-1970s. My old man calls me down to our basement rec room to listen to the stereo setup he bought after months of study: United Audio turntable. Sherwood tuner. Advent speakers.
He's sitting in a recliner, enjoying his big band music.
"Cup your ears," he tells me.
I laugh. He pays a thousand bucks for a stereo and thinks he still needs to improve the sound.
"Sure, dad," I tell him, rolling my eyes and putting my C-shaped palms around my ears. "Anything you say."
Nostalgia is a powerful force. Thinking about the record players and stereo rigs that played our favorite music triggers a flashback to, say, the day we first heard the Beatles' "Abbey Road" album or maybe Michael Jackson's "Thriller."
"It's fun," says Gary Sauther. "It's Memory Lane stuff. You go back and enjoy those old times again."
Sauther, as you probably guessed, is the man behind that prolific ad. He also answers to "The Old Stereo Guy," which is the eBay handle he uses to sell vintage audio gear and parts.
Calling the number from that ubiquitous ad led me to a beautiful home in Greenacres where I met Sauther and his wife, Robin.
For several years now, Sauther, 54, has been buying and selling sound equipment that many members of the earbuds generation wouldn't recognize.
When I was growing up you needed at least three basic components to enjoy your favorite tunes: a turntable, a receiver (a box that houses an amplifier and a tuner) and a pair of speakers.
It was a bit bulky. It took wires. You needed some knowhow and a little patience to get everything set up right.
But once you were finished, the sound quality was arguably warmer than today's compressed digital music.
Perhaps spurred by the success of "Mad Men," Sauther says there's a huge resurgence of interest in vinyl records and retro audio systems.
Turntables, for example, are hot commodities. "We can sell as many as we get," he says.
Sauther, who also owns a software company, says his audio love began as a hobby but grew into a 20-hour-a-week side job.
After some friendly chitchat, my hosts took me downstairs to see what Sauther calls his "Wall of Sound."
Wow.
Stacked on shelving at the end of a room are at least 15 vintage receivers that Sauther has collected over the years. His goal is to acquire the top high-end receiver from each of the companies that count.
"All the good stuff was built in the 1970s," he says, mentioning names like Marantz and Denon and Kenwood and Pioneer and …
Sauther has hooked his receivers to three pairs of must-have speakers, a turntable and a multiple CD changer.
It's an audiophile's dream.
Raised in the Spokane Valley, Sauther points to junior high as the time he fell in love with audio equipment.
Sauther laughs. "I must've talked about it a lot," he says, adding that a girl he knew penned, "Good luck with your stereo store," in his high school yearbook.
While attending Gonzaga University, Sauther landed a dream job working nights and Sundays in a RadioShack. Whenever the shop was empty, Sauther experimented with the audio gear, learning how it all worked.
"It was pretty sweet," he adds.
His technical talents eventually led him to create accounting software that, he says, is still widely used by retail furniture companies. That business success gave Sauther the freedom to pursue his childhood passion.
The newspaper ad, he says, produces a couple of calls a day in the spring. The numbers fall off during the summer, but Sauther continues his hunt for old gear through garage sales.
Some items go into his collection. He puts the rest up for sale. After making sure the items are in good working order, that is.
"You have to know how to repair this stuff," he says.
For stereo novices Sauther wrote "Vintage Audio Buying For Us Regular Folks!" The 10-page handout uses humor to define all the necessary terms.
Under the term "High Filter," for example, Sauther's guide states:
"Don't worry. You can still get looped while listening to that old Doobie Brothers record. This feature doesn't affect that kind of high."
The bottom line? It takes about $500 to purchase a decent, reliable sound system. A high-end setup will go for at least twice that much.
It's not all that complicated.
The same rules apply to buying vintage audio gear as they do to buying a classic car: Shop around and research what you're getting into.
What brands sound best?
"Marantz has that warm tube sound," says Sauther, who has listened to thousands of combinations. "Yamaha tends to be more clean and precise – but people hear differently."
One thing is certain.
Ever since he paid $100 for his first receiver back in 1974 (a J.C. Penney model he still has), Sauther has been hooked.
Which is why he fully understands why some sellers have such an emotionally difficult time letting go of their old stereo equipment, even if it's been sitting unused for years in a basement.
"I tell them it's going to a good home," says the Old Stereo Guy.
"You can see the relief on their faces. It's like they know they're sending their kids off to a good college."
Doug Clark is a columnist for The Spokesman-Review. He can be reached at (509) 459-5432 or by email at dougc@spokesman.com.
---
---