Sports
WSU women win Pac-12 tournament opener
Cougars slips past Kelly Graves, Oregon
March 5, 2015 Updated Thu., March 5, 2015 at 9:48 p.m.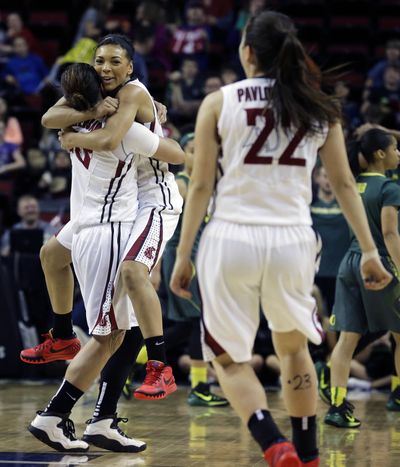 SEATTLE – Oregon's Lexi Peterson launched a 3-pointer that went in, but the buzzer had already sounded and Lia Galdeira's career day carried Washington State to a 66-64 win Thursday in the first round of the Pac-12 tournament at Seattle's KeyArena. The junior guard poured in 34 points and the Cougars needed every one of them to beat the Ducks, who were led by Jillian Alleyne's national-best 22nd double-double (18 points and 18 rebounds). "I saw the red on the scoreboard before she released it," coach June Daugherty said of the last shot. "But it was a heck of an effort by Lexi Peterson." The Cougars (17-13) advance to play No. 9 Arizona State (26-4) on Friday at 11:30 a.m. Washington State lost to the Sun Devils 78-64 on the road Jan. 5. The second-seeded Sun Devils received a bye into today's quarterfinal game. "We haven't seen them in a long time," Daugherty said. "We didn't play our best basketball down in the desert. But I think we're going to be up to it and we're looking forward to the rematch." For just a moment Thursday, the Cougars were able to enjoy the win over the Ducks. Three games between these teams this season were decided by a total of 6 points. "Back in my day, it was a barn-burner. That's what they called it," Daugherty said. "Lia put on the Superwoman cape … and had a career high." When she left the court, Galdeira high-fived WSU fans and raised her arm in victory as she jogged into the locker room. "I just took what the defense gave me," Galdeira said. "I was just focused on getting a win and playing for (seniors) Tia (Presley) and Shay (Dheensaw)." Oregon (13-17) came into the game after having knocked off No. 19 Stanford on Sunday, which was the highlight of Kelly Graves' first year as coach after leaving Gonzaga last year. "It was a fun game in terms of runs," Graves said. "But we met a good basketball team with an elite-level basketball player. Once (Galdeira) gets in a rhythm, even the bad looks become good to her because the basket becomes really big for her." The Ducks shot a blistering 64 percent from the field in the first half when the teams traded the lead six times. Oregon made runs of 12-2 and 9-0 and led by as many as nine points. But freshman forward Louise Brown hit a last-second 3-pointer to pull WSU within 38-33 at the half. Trailing 44-38 in the second half, Galdeira hit two consecutive 3-pointers and freshman Calia Hailey hit one to tie the game. Hailey made a layup to give WSU a 46-44 advantage with 15:19 left in the game and the Ducks never regained the lead. However, Peterson scored four straight points and Drea Toler hit a layup with 1:05 to go to bring the Ducks within 66-64. But Toler missed a layup with 9 seconds to go and Galdeira got the last of her team-leading six rebounds. She was fouled and missed the front end of a one-and-one, giving Oregon one last chance. Peterson's shot came late and sent the Cougars into the quarterfinals. Peterson scored 12 for Oregon and she had eight rebounds. Freshman guard Lexi Bando, a former Gonzaga recruit, scored 11. Katelyn Loper, of Post Falls, scored eight points and grabbed four rebounds for the Ducks. Mariah Cooks scored 10 points for the Cougars and Presley (Gonzaga Prep) had a tough day shooting (3 for 11), but still managed 10 points. "It's the best feeling ever," Presley said after the win. "I'm just so proud of how hard the girls battled tonight." The Cougars shot 42.2 percent from the floor for the game and scored 26 points off of 17 Oregon turnovers, but the Cougs lost the rebound battle 36-27. "It was a game of possessions," Daugherty said. "Every one was so precious."
Local journalism is essential.
Give directly to The Spokesman-Review's Northwest Passages community forums series -- which helps to offset the costs of several reporter and editor positions at the newspaper -- by using the easy options below. Gifts processed in this system are not tax deductible, but are predominately used to help meet the local financial requirements needed to receive national matching-grant funds.
Subscribe to the sports newsletter
Get the day's top sports headlines and breaking news delivered to your inbox by subscribing here.
---