Sports
Grip on Sports: Hoops awards out of control
Sun., March 8, 2015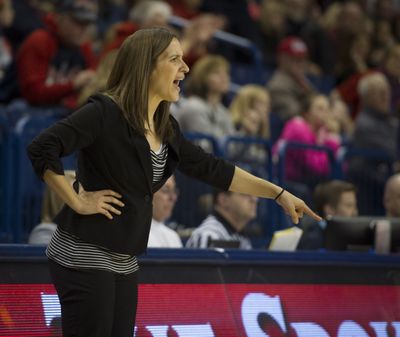 Wednesday: The college basketball regular seasons are about over. Which means before we can get to the meat of the schedule, the NCAA tournament, we have to endure awards season.
The West Coast Conference got a jump on everyone yesterday when it announced its all-conference teams and other assorted awards, leading to a bunch of "what-the-heck-were-they-thinking" comments on social media. Gonzaga fans were ecstatic about the men's awards – as well they should be with the school sweeping every major honor – and disgruntled about the women's – tri-coaches of the year has to be some sort of joke, right? 
The first bone of contention for many, including this guy, is the expansion of first-team honors. Fifteen folks making up the first team, as is the case in the Pac-12? Really? Heck, the WCC picks 10 and that's twice as many as needed.
There are five players on a basketball floor for each team, right? So there should be five players on a first team, five more on a second team, five more on a third team if you want to go there. Five at a time. That's it.
But, Vince, deserving players will be left out. No, they won't. Make a decision. Vote. Pick five. Then, by definition, those are the five most deserving players. Heck, pick the five best overall or pick by position if you want.
Yes, maybe the first team might have been Kevin Pangos – the WCC's player of the year – and Kyle Collinsworth, Kyle Wiltjer and Stacy Davis and Brad Waldow. That would mean last year's star, Tyler Haws of BYU, is left off. Przemek Karnowski and Santa Clara's Jared Brownridge too.
So? Second-team is pretty darn good. What's wrong with deciding who is best and who is second-best? And don't get me started on the conference splitting the women's coaching award three ways. Really?
Didn't Gonzaga win an 11th consecutive title with a first-year coach? I've heard a million times how hard it is to replace a legend and that's exactly what Lisa Fortier did – at least she replaced a guy who had won 10 consecutive titles. And she did it while having to replace an all-league backcourt, made even tougher when the recruit earmarked to handle a big part of that followed the old coach down the road.
But that wasn't enough to earn the award by herself. Nope. Two coaches of teams that finished three games behind the Zags in the standings shared the award. Thirty percent of the conference's coaches were picked. Why stop there? Why didn't every coach in the conference just get a trophy, like a third-grade soccer league? 
Friday: This time of year it's easy to look out the back window and see plants beginning to bloom. It's an annual symbol of rebirth, of hope. Personally, it doesn't compare in the hope category to watching Nelson Cruz launch a hanging breaking ball about 400 feet down the left-field line.
I'm sorry to say, but I'm of two minds when it comes to Cruz. The bomb he hit yesterday was of the type that not only carried a quarter-mile but also carried hope. Hope of success, something the M's came oh so close to tasting last season.
Cruz's sculpted build, the power behind that bomb, also carries something. The taint of performance-enhancing drugs. It's no secret Cruz failed a drug test. He sat out much of a season less than two years ago. He's a proven, well, there's no way to sugarcoat this, cheater.
Yes, he's paid his penalty. He's missed his time. He's now back in baseball's good graces and is being tested regularly. But if the last 20 years has taught us anything, it's taught us that somewhere there is a chemist who has already concocted something new, something undetectable, something helpful in building mass or maintaining it or in helping it regenerate after a tough workout.
I'm not saying Cruz, or anyone for that matter, is still using PEDs and is beating the tests. All I'm saying is we can't rely on the drug police to catch everyone if only because the rule-breakers always seem a step ahead.
When Cruz steps into the batter's box, digs in and launches a high fastball deep into left-centerfield this season, the fan in me will rejoice. The cynic in me – which overpowered and subdued the fan long ago – will be skeptical, waiting for the next spike to drop. And hoping it doesn't, at least until the M's win a World Series.
Local journalism is essential.
Give directly to The Spokesman-Review's Northwest Passages community forums series -- which helps to offset the costs of several reporter and editor positions at the newspaper -- by using the easy options below. Gifts processed in this system are not tax deductible, but are predominately used to help meet the local financial requirements needed to receive national matching-grant funds.
Subscribe to the sports newsletter
Get the day's top sports headlines and breaking news delivered to your inbox by subscribing here.
---
Subscribe and log in to the Spokesman-Review to read and comment on this story