Fifty shades of cabbage: A versatile St. Paddy's favorite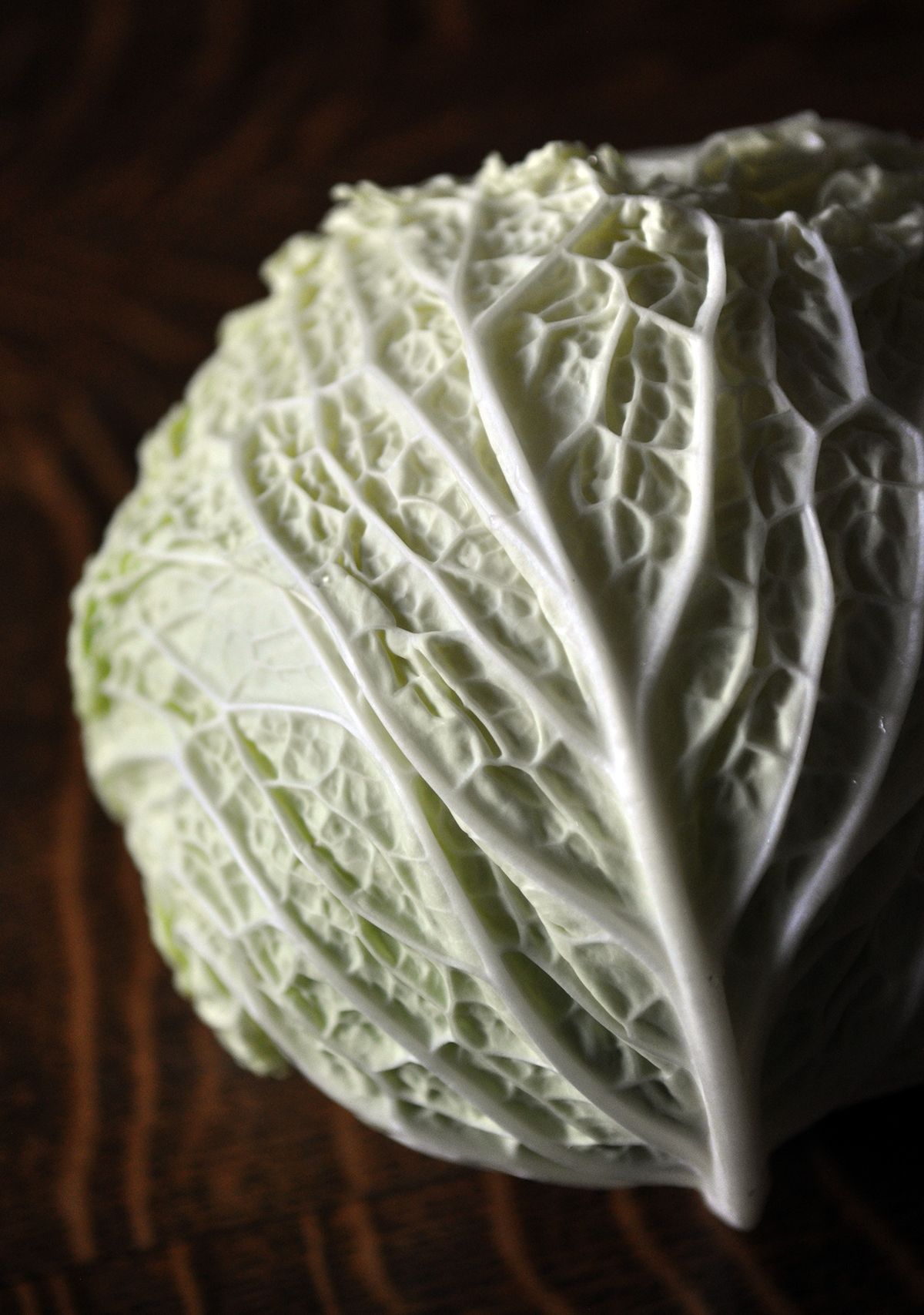 Cabbage doesn't seem like the sexiest vegetable.
Round, cheap and readily available, the cold season crop is the underappreciated cousin of newly fashionable Brussels sprouts. There's nothing particularly mysterious, alluring or exotic about it. And, especially recently, it's been overlooked in favor of trendier greens: arugula, romanesco, kale, Brussels sprouts, or kale sprouts, a hybrid of both kale and Brussels sprouts.
Cabbage's distinctive odor might have something to do with its unpopularity. When cooked, it has a pungent and pervasive, slightly sour, sulfur-y smell. Like that guest who doesn't quite know when to leave the party, the scent likes to linger – even with all of the windows and doors open, inviting it out.
Still, there's hope for the humble head of cabbage – and not just on St. Patrick's Day, when the staple of traditional Irish cooking is prepared with corned beef.
It is possible: Cabbage could make a comeback.
Long a favorite taco topper for its cool crispness, cabbage has plenty of redeeming qualities. It's versatile, plentiful, healthful and low in calories. Perhaps best of all, it's low-cost.
Heads usually weigh about 2 pounds. And cabbage typically costs about 75 cents per pound.
Demand increases during March, prompted by St. Paddy's and the promotion of that aforementioned Irish-American staple: corned beef and cabbage.
Americans ate the most cabbage in the 1920s, when the per capita consumption was 22 pounds, according to the Agricultural Marketing Resource Center at Iowa State University. That dropped to its lowest estimation of 7.5 pounds in 2003. For the last 10 years or so, cabbage consumption has been relatively stable at an average of 8.3 pounds per person.
Commonplace in Russian, German, Irish, Hungarian and Slovakian cooking, cabbage conjures images of urban immigrant neighborhoods in early 20th-century America.
Cabbage has long been peasant food: filling and inexpensive – all of those nutrients at such low prices. High in fiber and Vitamin C, cabbage is also a good source of Vitamin K, Vitamin B6, folate and manganese. It's also naturally fat-free. One cup of chopped cabbage has only 22 calories.
Buttery soft when cooked, wide and sturdy cabbage leaves can be used as wraps for soft fillings such as ground pork, beef or lamb and rice. Eaten raw, cabbage provides a satisfying crunch. Use it in place of lettuce on burgers and sandwiches. Shred it for coleslaw or salads. Add it to soups or stir-fries.
You could even make your own sauerkraut. These days, that kind of do-it-yourself fermentation is less peasant and more slow-food artisanal – in other words, something to be celebrated.
Tall and leafy, oval-shaped Napa cabbage is good for rolls and wraps. If you want to get fancy, use Savoy cabbage – which looks veiny and kind of brainy but has sweet, tender leaves – in place of plain old green, which can be a little bit bitter and rubbery.
Even basic red – which really looks deep purple – looks more enticing and, maybe somehow, even a little glamorous.
Colcannon and more
Colcannon marries two traditional Irish ingredients: potatoes and cabbage.
After that, it appears there are really no rules. Recipes vary from region to region. Celebrity chefs offer gourmet versions with ingredients such as pancetta and gorgonzola.
It seems as long as you have mashed potatoes and cabbage or a combination of cabbage and other leafy greens, you're OK.
Recipes typically include milk or heavy cream or both. Others call for as many as two entire sticks of butter. Some also use bacon or ham; others use neither. Rachael Ray specifies Canadian bacon. Martha Stewart's recipe uses Savoy cabbage along with leeks, milk and nutmeg.
It seems you can be as basic – or get as fancy – as you'd like. Add sautéed cabbage to your favorite recipe for mashed potatoes and call it good. Or, add shaved carrots for a pop of color and caramelized onions and chives for additional flavor.
Many recipes say it doesn't matter what kind of leafy green you include and recommend kale or chard along with cabbage. Others call for puréeing parsnips or cauliflower along with the potatoes and using freshly chopped parsley for garnish.
Seasonings are usually simple – just salt and pepper – although some recipes also call for a pinch of mace. Perhaps the simplest recipe comes from Gourmet magazine via epicurious.com; it requires only four ingredients: potatoes, cabbage, scalded milk and butter.
After browsing numerous recipes online, plus the one below from Kevin Dundon's 2013 Irish cookbook, I came up with my own version based on what was in my fridge and pantry. I like Dundon's recipe because it's simple and doesn't call for a whole lot of butter and heavy cream – just enough to moisten up the mixture. I didn't use bacon like he does because I didn't have any on hand. Instead, as a substitute for that smoky and rich flavor, I sautéed chopped Savoy cabbage in a tablespoon or two of reserved duck fat and used the remaining butter for topping.
I also tripled the amount of cabbage; ¾ cup just didn't seem like enough for 5 potatoes, especially compared to the other recipes. Measurements came in across the board – 1 ½ pounds cabbage, ½ head cabbage, 3 cups cabbage – but all called for a larger amount than Dundon's recipe. Since I considered cabbage the star of the show this time of year, I upped the number.
Next time, based on what I have available, I might do it differently. Meantime, here's Dundon's original recipe, plus a note on a variation, and a few other cabbage-centered dishes.
Colcannon Mash
From "Modern Irish Food" by Kevin Dundon
"I love eating this year round and have been known to eat a large bowl with just a knob or pat of butter and a big spoon," Kevin Dundon wrote in the introduction to this recipe.
5 potatoes
4 tablespoons butter
Salt and black pepper
4 tablespoons heavy cream
1 3/4 ounces back bacon, finely chopped
3/4 cup green cabbage, finely chopped
Cover the potatoes with cold water in a saucepan and add a pinch of salt. Bring to a boil, then simmer for 15to 20 minutes or until the flesh is tender when pierced with the point of a knife. Drain in a colander, then peel potatoes while they are still hot. Mash potatoes until smooth. Add 3 tablespoons of the butter and season with salt and black pepper to taste.
Meanwhile, heat the cream in a saucepan. Just as it comes to a boil, pour it into the mashed potatoes and beat well.
Fry the bacon and cabbage in a saucepan with the remaining butter for 5 minutes until softened. Add to the mashed potatoes and mix well.
Keep warm until ready to serve.
Yield: 4
Note: Dundon offers a similar recipe for Chive Mash which features 4 potatoes, 2 tablespoons butter, 4 tablespoons chives, no bacon – as well as the other ingredients salt, pepper, heavy cream – from the recipe above. The instructions are the same except the chives are incorporated uncooked with a wooden spoon just before serving.
Roasted Cabbage with Bacon
From thekitchn.com
1  head green or Savoy cabbage, outer leaves removed
Olive oil
Coarse kosher salt and freshly ground black pepper
4 slices thick bacon, 6 to 8 ounces
Heat the oven to 450 degrees. Cut the cabbage into quarters and slice the bottom of each quarter at an angle to partially remove the stem core. Cut each quarter in half again so you have eight wedges. Lay these down on a large roasting pan or baking sheet and drizzle very lightly with olive oil. Sprinkle generously with salt and pepper.
Cut each slice of bacon into small strips and lay on top of the cabbage.
Roast for 30 minutes, flipping the cabbage wedges once halfway through. If the edges aren't browned enough for your taste after 30 minutes, put them back in for 5-minute increments until they are.
Serve immediately; the wedges cool down fast.
Serves: 4 to 6 as a side
Five-minute Indian-style Cabbage
From herbivoracious.com
1 tablespoon vegetable oil or ghee (clarified butter), or mustard oil, or more to taste
1 tablespoon black mustard seeds
1/2 teaspoon cumin powder
1/2 teaspoon turmeric powder
1/4 teaspoon cayenne pepper
1 teaspoon salt
1/2 head green cabbage, cored and sliced into quarter-inch ribbons
Lemon juice, for garnish (optional)
Chopped cilantro, for garnish (optional)
Heat a large skillet or wok over a medium-high flame. Add the oil, wait 10 seconds, and immediately add the mustard seeds. As soon as they start to pop, add the rest of the spices and any optional ingredients and stir-fry for 10 more seconds. Move quickly here so you infuse the flavor in the oil but don't burn them.
Add the cabbage and salt, and stir-fry until crisp-tender or tender, your preference. Taste and adjust seasoning. Garnish with cilantro and/or lemon juice.
Note: Additional optional seasonings, to taste, include garlic, ginger, unsweetened shredded coconut, fresh chilis or dried chili flakes and garam masala.
Serves: 4 as a side
Cole Slaw with Wasabi-Spiked Mayo
From www.sassyradish.com
If Napa cabbage is your favorite, or you want to do a mix of green and red cabbages – by all means, play around and see what tastes and textures suit you best. Likewise, the addition of wasabi powder is purely optional as not everyone likes to have their slaw with a kick.
One 3 to 3 1/2 -pound green cabbage
1 large carrot, shredded on the coarsest grating side
3 scallions, white parts only, chopped
1/2 cup mayonnaise
1 teaspoon wasabi powder, use more or less to taste (optional)
1 teaspoon wasabi mayonnaise
1/2 cup pickle relish
1 tablespoon Dijon mustard
2 tablespoons freshly squeezed lemon juice
Kosher salt to taste
Freshly ground black pepper to taste
Wash and dry your cabbage and remove the outermost leaves. Cut the cabbage in half with a sturdy, sharp knife. Remove the dense core by cutting the wedge on both sides. Quarter each of the halves and slice each quarter into thin ribbons about 1/8-inch thick.
Whisk together the mayonnaise, wasabi powder, relish, mustard and lemon juice.
Place your shredded cabbage, carrot and scallions in a large bowl (or two large bowls, as was the case with me), pour the dressing over it, and toss to coat evenly throughout. Season with salt and pepper, toss again, taste, season again if necessary, and toss again if seasoning for the second time.
Cover the slaw and chill (or refrigerate) until ready to serve. Ideally, if you're serving the slaw in the afternoon, you've made the slaw in the morning, so the flavors will sit together and meld. Toss once more before serving.
Serves: 8 to 10
Stir-Fried Pork and Napa Cabbage with Ginger Sauce
From "Light & Healthy" from America's Test Kitchen
For the sauce
1/2 cup low-sodium chicken broth
1/4 cup low-sodium soy sauce
2 tablespoons Chinese rice cooking wine or dry sherry
1 tablespoon sugar
2 teaspoons cornstarch
1 tablespoon grated fresh ginger
For the stir-fry
2 teaspoons corn starch
2 teaspoons all-purpose flour
2 teaspoons low-sodium soy sauce
2 teaspoons Chinese rice cooking wine or dry sherry
1 1/2 teaspoons toasted sesame oil
1 1/2 teaspoons water
1 (12-ounce) pork tenderloin, trimmed of all visible fat and sliced into quarter-inch strips
4 teaspoons canola oil
3 scallions, minced
3 garlic cloves, minced
1 tablespoon grated fresh ginger
4 carrots, peeled and cut into 2-inch-long matchsticks
1/2 head Napa cabbage, cored and shredded into 1-inch-wide pieces (5 cups)
For the sauce: Whisk all ingredients together in bowl; set aside.
For the stir-fry: Whisk cornstarch, flour, soy sauce, rice wine, sesame oil and water together in bowl until smooth, then stir in pork until evenly coated. In another bowl, combine 1 teaspoon canola oil, scallions, garlic and ginger.
Heat 1 teaspoon canola oil in 12-inch nonstick skillet over high heat until just smoking. Add pork, breaking up any clumps and cook without stirring, for 1 minute. Stir pork and continue to cook until lightly browned, about 1 minute longer; transfer to clean bowl.
Add remaining 2 teaspoons canola oil to now-empty skillet and return to high heat until shimmering. Add carrots and cook until crisp-tender, 3 to 4 minutes. Stir in cabbage and cook, stirring constantly, until cabbage is slightly wilted and crisp-tender, about 2 minutes.
Clear center of skillet, add scallion mixture and cook, mashing mixture into pan, until fragrant, about 30 seconds. Stir scallion mixture into vegetables.
Return pork, with any accumulated juices, to skillet. Whisk sauce to recombine, then add to skillet. Cook, stirring constantly, until sauce is thickened, about 30 seconds. Transfer to platter and serve.
Serves: 4
Cabbage Rolls with Plum Sauce
From "New American Table" by Marcus Samuelsson
1 head white cabbage, cut in half, leaves separated
1/2 pound ground beef
1 pound ground pork
1/2 pound ground lamb
2 garlic cloves, minced
1 teaspoon ground cumin
1/2 teaspoon ground cardamom
4 mint leaves, chopped
2 teaspoons chopped marjoram
2 tablespoons soy sauce
1/2 cup cooked couscous
2 teaspoons salt
3 tablespoons olive oil
2 tablespoons unsalted butter
3 tablespoons maple syrup
Plum sauce (see recipe below)
Preheat oven to 350 degrees.
Bring a large pot of salted water to boil. Add the cabbage leaves, reduce the heat and simmer until tender, about 5 minutes. Remove from heat and rinse with cold water. Set aside to drain.
Combine beef, pork, lamb, garlic, cumin, cardamom, mint, marjoram, soy sauce, couscous and salt in a large bowl. Mix thoroughly with your hands until well blended.
Brush a baking sheet with olive oil. Place ¼ cup of meat mixture in the center of each cabbage leaf and roll the leaf around the filling, tucking in the ends. Secure with a toothpick. Arrange the cabbage rolls on a baking sheet and bake for 20 minutes.
While the rolls are baking, melt the butter and maple syrup in a small sauté pan over low heat. After the cabbage rolls have baked for 20 minutes, pour the butter mixture over the cabbage rolls. Bake for another 40 minutes. To serve, pour the plum sauce over the cabbage rolls.
Yield: 18 rolls
Plum Sauce
From "New American Table" by Marcus Samuelsson
2 tablespoons unsalted butter
2 tablespoons olive oil
2 garlic cloves, finely chopped
Zest and juice of 1 lemon
1 red onion, finely chopped
1/4 teaspoon ground cumin
1/4 teaspoon ground ginger
1 tablespoon maple syrup
1 cup chicken stock
2 tablespoons Asian plum sauce
Salt and freshly ground black pepper
1 teaspoon chopped mint
4 plums, cut into quarter-inch pieces
Heat the butter in a small saucepan over medium heat until the butter is a nut-brown color. Set aside.
Meanwhile, heat the olive oil in a medium sauté pan over medium heat. Add the garlic, lemon zest and red onion and sauté until softened, about 4 minutes. Add the cumin, ginger and maple syrup and stir to coat. Cook until caramelized, about 2 minutes. Add the chicken stock, plum sauce and lemon juice, bring to a boil and reduce by half, about 10 minutes. Season with salt and pepper.
Whisk in brown butter and add the mint and plums. Serve immediately.
OlyKraut's Eastern European Sauerkraut
From "Fermenting Vegetables" by Kirsten K. Shockey and Christopher Shockey
This recipe is based on one that OlyKraut founding member Kai Tillman learned from her grandmother. OlyKraut is a small, artisan, Good Food Award-winning kraut company based in Olympia.
For tips and troubleshooting, visit Kirsten K. Shockey's blog at www.fermentista.us.
5 pounds cabbage
1 large yellow onion
2 to 3 carrots
1 tart apple
Juice of 1 grapefruit
3 to 4 tablespoons unrefined sea salt
Sprinkling of caraway seeds
Slice the cabbage and onion into a large bowl. Grate the carrots and apple into the bowl, then add the juice and salt and sprinkle on the caraway seeds.
Using your hands, mix everything together, then pack it into a crock, placing a primary follower – such as an outer cabbage leaf – over the mixture, pressing down on the vegetables with your fist or tamper to release brine and leaving about 4 inches of head space. There should be some brine visible on the top of the vegetables when you press. During fermentation, press to maintain brine coverage.
Weight, cover and store on a shelf in 55 to 75 degrees.
The kraut is done when the color resembles cooked cabbage, the veggies have softened but retain crunch, flavors have mingled, and cabbage tastes sour and pickle-y.
Ladle kraut into smaller jars and tamp down. Pour in any brine that's left. Tighten the lids, then store in the refrigerator. This kraut will keep, refrigerated, for 1 year.
Yield: About 1 gallon
---