Sports
Von Hofe leads Eastern into Big Sky tourney title game
Sat., March 14, 2015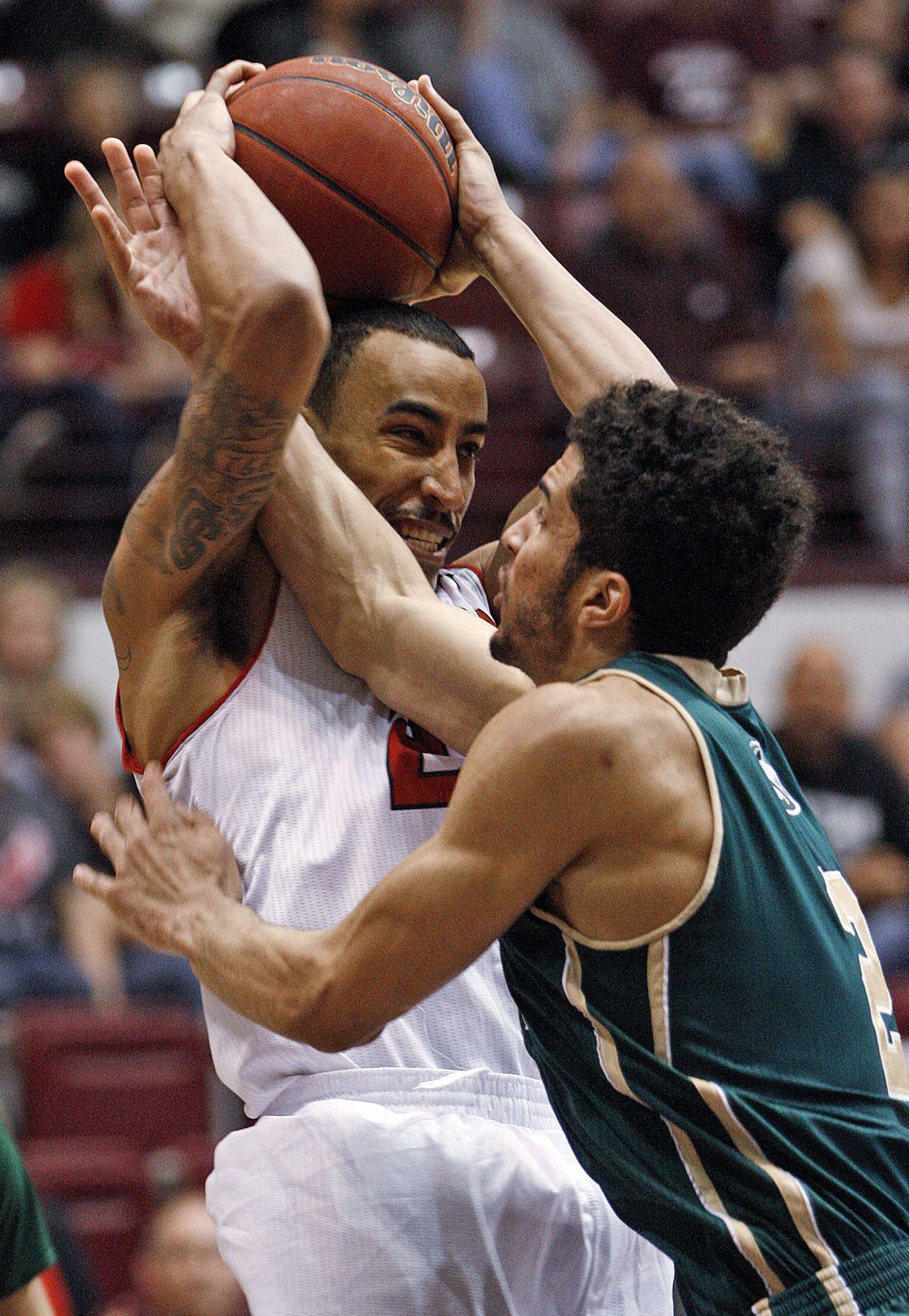 Eastern Washington guard Drew Brandon, left, fends off Sacramento State guard Cody Demps. (Associated Press)
MISSOULA – Late in the game, during a timeout, Felix Von Hofe broke into a smile.
It was as wide as the basket looked all night to the Eastern Washington sharpshooters in a 91-83 victory over Sacramento State on Friday in the semifinals of the Big Sky tournament.
Amazingly, the Eagles did it with their biggest gun shoved in its holster by an opponent that wasn't going to let Tyler Harvey beat them.
And he didn't. The nation's leading scorer finished with nine points, or 33 fewer than he had the day before against Idaho.
"You can do that, but you're not going to stop the whole Eastern Washington team," coach Jim Hayford said after EWU's winningest team in 30 years moved within one win of the school's second trip to the NCAA tournament.
The Hornets couldn't slow down Von Hofe, a sophomore forward from Australia who, in almost two seasons, hadn't scored more than 12 points in a game.
He had 17 by halftime on Friday, staking the Eagles to a 15-point lead that grew to 26 before Hayford went to his bench. The Hornets (20-11) rallied, but never got the deficit into single digits until 35 seconds were left on the clock and the Eagles fans were celebrating at Dahlberg Arena.
They'll be back tonight. The Eagles will play for the conference title against host Montana, which edged Northern Arizona 61-59 in Friday's nightcap. Tipoff is at 6 p.m. PDT.
After the game, Von Hofe said, "It's always easy to get shots like that when a team puts a huge amount of pressure on a superstar like Tyler."
To which Hayford replied, "We've never used the term 'superstars,' " Both laughed.
The Eagles (25-8) came out firing, hitting five of their first six shots and taking a 15-6 lead. The real fireworks began after Sac State closed to 28-22 with 6:25 left in the half.
Von Hofe and Bogdan Bliznyuk hit 3-pointers from the side, and Von Hofe came back with another off a deft pass from Bliznyuk that made it 37-24 with 4:12 left in the half.
"Guys were getting me the ball in the right spot, it really felt good out of my hand and I wanted to keep shooting it," said Von Hofe, who finished with 23 points on 7-of-8 shooting from 3-point range.
The lead grew to 20 before the Eagles settled for a 49-34 lead. At that point, Eastern was shooting 60 percent from the field and a ridiculous 64 percent from beyond the arc.
"We had really, really good preparation when we played Sacramento State at our place at the midpoint of the season," Hayford said. "Our players understood how to attack their switching defenses and all the things we needed to do."
Eastern showed its versatility. Held scoreless in the first half, Harvey opened the second with a layup. Big Sky Most Valuable Player Mikh McKinney hit a 3 to close the gap to 12, but Eastern went on an 18-4 run – punctuated by the last of Von Hofe's seven 3-pointers – to lead 71-45 with 14:48 to play.
During one stretch, the Eagles made 16 of 17 shots from the field.
Finally, the Hornets were forced to spread their defense, opening the lanes for Venky Jois. He finished with 19 points, including four slam dunks, and a team-high six rebounds. Bliznyuk finished with 16 points.
Notes
The Eagles advance to their sixth championship game in school history, having won one of the previous five games. Eastern was the champion in 2004, and runner-up in 1990, 2001, 2002 and 2003. … Eastern is making its 13th Big Sky Conference tournament appearance in 28 years as a member of the league, with a record of 10-11 in its 21 games. … The Eagles made their ninth appearance in the semifinals where they are now 6-3.
Montana 61, Northern Arizona 59: Jordan Gregory scored 21 points, including the game-winning layup with less than a second remaining, to give the Grizzlies the victory over the Lumberjacks.
Gregory's basket with 0.4 seconds left came after Kris Yanku, who had 26 points for fourth-seeded Northern Arizona, tied the game with a pair of free throws with eight seconds left.
Local journalism is essential.
Give directly to The Spokesman-Review's Northwest Passages community forums series -- which helps to offset the costs of several reporter and editor positions at the newspaper -- by using the easy options below. Gifts processed in this system are not tax deductible, but are predominately used to help meet the local financial requirements needed to receive national matching-grant funds.
Subscribe to the sports newsletter
Get the day's top sports headlines and breaking news delivered to your inbox by subscribing here.
---