This column reflects the opinion of the writer. To learn about the differences between a news story and an opinion column, click here.
Opinion > Column
Doug Clark: Making the most of Free Cone Day takes resolve, Rolaids
Tue., March 17, 2015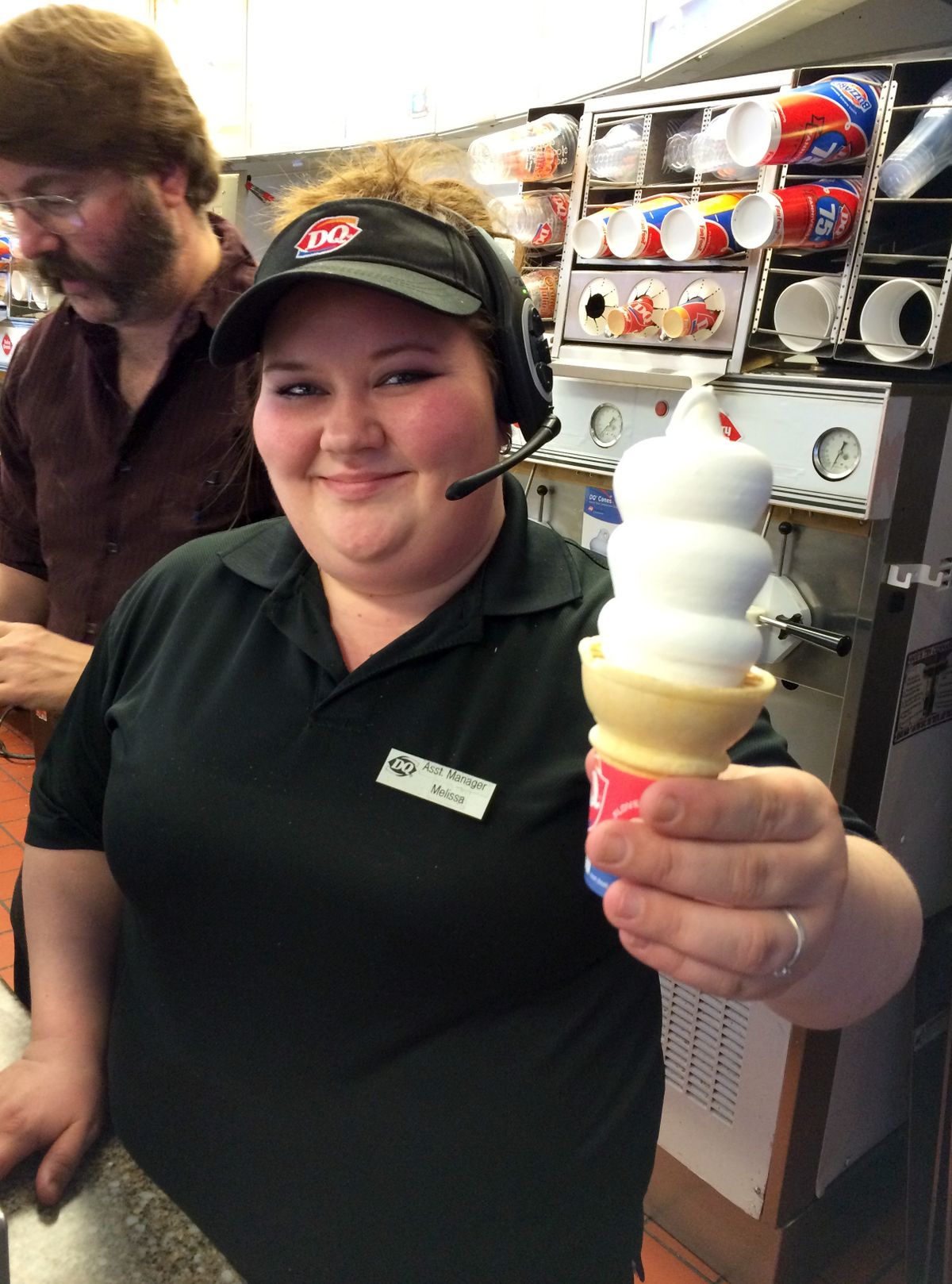 Melissa Young, assistant manager of the Coeur d'Alene Dairy Queen, hands me my first free cone. (Doug Clark)
Paper towels.
Check.
Handi Wipes.
Check.
Airsick bags.
Check.
Any general will tell you that planning is the key to a successful military operation. And so it was for my Monday sneak attack on the area's Dairy Queens that I have dubbed, "DQ or DOA."
The goal is fiendishly simple: Eat one free cone at every Dairy Queen in the region and live to tell about it.
On Monday, Dairy Queens across the land gave away vanilla cones in celebration of their 75th anniversary.
According to an L.A. Times story, Dairy Queen's historic moment came when DQ founder Sherb Noble, owner of three ice cream parlors, discovered the wonders of soft-serve ice cream from J.F. McCullough and his son. "The first Dairy Queen opened in Joliet, Ill., in 1940. There are now more than 6,000 stores in more than 18 countries," the article reported.
That's all fine and dandy. But whoever dreamed up this giveaway tried to outfox ice cream hogs like me with a "one cone per customer" edict.
How naïve. My research shows nine Dairy Queens in the Spokane-Coeur d'Alene area, which makes nine free cones for Dairy Queen Doug, in other words.
"You can do that in your sleep," I tell myself.
I aim my truck east and prepare for battle.
"Here you go," says Melissa Young, assistant manager for my first stop, the Coeur d'Alene Dairy Queen.
She offers a generous three-tiered cone for the taking, which I quickly take.
Oh, baby.
I have a DQ confection addiction. I was hooked the first time I walked into one of these dens.
Dipped cones. Peanut Buster Parfaits. Blizzards. Dilly Bars …
But nine cones in a row?
Serious doubts began leaching my confidence after I scarfed the first cone in two minutes flat.
"Maybe there really can be too much of a good thing," I tell myself.
"Nawww," I answer as I head for the freeway.
The following excerpts are from my Dairy Queen Diary. I wrote it in case I didn't make it and my editors had to reconstruct the last several hours before I exploded.
12:22 p.m. – Drive-thru window on Seltice Way, near Post Falls. I tell DQ workers Jenny Ramos and Matt Ross about my quest. They laugh. "You'll probably be sick of them by the third or fourth," warns Ross.
12:30 – Number two cone is down for the count as I head to Rathdrum. Good memories, Rathdrum. My lovely wife, Sherry, and I bought our first home here years ago.
12:32 – No Dairy Queens when we lived there. Trust me, I would've remembered.
12:41 – The Dairy Queen is across the street from Lakeland Junior High School. The person ahead of me in the drive-thru takes enough time yakking into the speaker to order dinner for Athol.
12:43 – Finally at window. Jessica Blain, a cheerful young woman, gives me a cone. Odd. The third cone doesn't taste nearly as yummy as the first two.
12:44 – I think I felt a cramp.
12:50 – Having serious doubts about sanity. Must be how Ben Stuckart feels on City Council nights.
1:23 – At Dairy Queen on East Trent. "Stop Global Whining" is the bumper sticker on the white Suburban ahead of me. Kameron "with a K" Wagoner gives me cone number 4 and tells me to "enjoy your day." Easy for you to say, pal.
1:41 – The Pines DQ looms ahead. "Too soon," I sob. "Too soon." Jody Aalvik gives me my fifth free cone. Why must they all be so happy?
1:55 – I'm definitely getting my second wind as I pull up to the Dairy Queen on east Sprague near Sullivan. At the window, Robert Hayek is the first worker to ask if I'd like to contribute to the Children's Miracle Network Hospitals. This is the charity of choice for the giveaway. How can I say no? I trade Robert a twenty for my sixth free cone.
2:20 – Familiar territory, the DQ on Wellesley. Subtract all the times I've pigged out here and I'm Brad Pitt's body double. Danielle Vaughan greets me at the window. She tells me she knew I was coming. Apparently there's some sort of Amish Mafia among Dairy Queen owners and word travels fast.
2:30 – Inside NorthTown. I find the DQ near Sears. Carla Medina not only gives me my eighth free cone but a free sticker and bracelet that reads #LOVEmyDQ. I don't want to tell this nice lady that I left my DQ love about three or four stops ago.
2:55 – Final Destination. (Wasn't that a movie about death?) Anyway, I'm at the Francis Dairy Queen, the last DQ on my list. If I've missed any I don't want to hear about it.
3:01 – After a long wait in line, Shaelah Stone gives me free cone No. 9. What a deal: I got 9 free cones and it only took 92 miles and a $20 donation. I guess it's time to beat cheeks for home and write this fast. I hear there's pork chops for dinner.
Doug Clark is a columnist for The Spokesman-Review. He can be reached at (509) 459-5432 or dougc@spokesman.com.
---
---