Sports
Eastern Washington men will try to use size of big Hoya to Eagles' advantage
Tue., March 17, 2015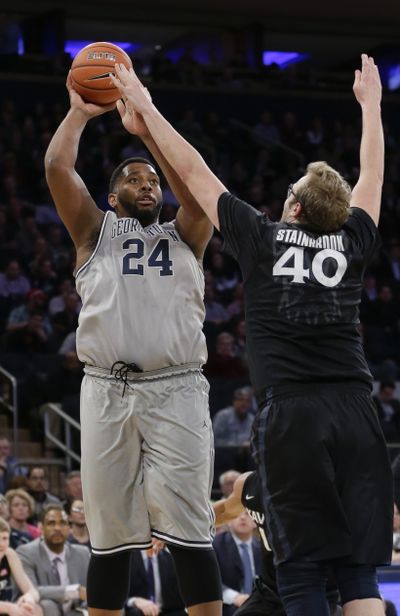 If basketball is about matchups, Eastern Washington will have a big problem – or a big opportunity – in its second-round NCAA men's tournament game against Georgetown.
His name is Joshua Smith, a 6-foot-10, 340-pound center, who according to Eagles coach Jim Hayford, will play tortoise to Eastern's hare when the teams play Thursday night in Portland.
But wait – didn't the tortoise win that legendary race?
Fortunately for the Eagles, steady doesn't always win the race in the NCAA tournament, where Eastern's racehorse style could reduce Smith from a tower of strength to a plodding bystander.
Or as Eastern forward Ognjen Miljkovic puts it, "He seems slow to me, so I think I can take advantage of him."
The Eagles will need to do that on offense, taking advantage of Smith's lack of quickness. On the other end, 6-8, 230-pound Venky Jois may struggle to contain the mountain man.
Smith, a Seattle-area native who played at UCLA before transferring in 2012, averages 11.1 points and 5.9 rebounds, and shoots 62.6 percent from the field. He's also subject to fatigue.
"That's going to be the battle of wills," Hayford predicted. "Can he impose his will on this side of the court and then can we take advantage of that on the other side? And can we make the game fast enough to negate that strength, or can they slow the game down enough to exploit that strength?" Hayford said.
"That's the story: How do our rabbits compare to their turtle?" Hayford said.
Of course, the Hoyas didn't go 20-11 and tie for second in the Big East Conference without a little athleticism. Junior guard D'Vauntes Smith-Rivera, a 6-3, 214-pounder, is an NBA prospect because of his versatility: he averages 16.2 points, four rebounds and three assists, and is the Hoyas' biggest outside shooting threat.
The Eagles (26-8) have a bigger one in national scoring leader Tyler Harvey, who's also the most prolific 3-point shooter in the country.
"That's cool," Hayford said. "We're in the NCAA tournament against a team like Georgetown and we have firepower at the same position they have."
The Hoyas also have some athletic wings in Jabril Trawick and L.J. Peak, who probably will be deployed to slow Harvey.
"We've got to be urgent and we've got to pay attention to detail," Trawick, a senior guard, said Sunday after the brackets were announced.
"We can't come out slow because every team in the tournament, they're playing for something. They're excited to be in the tournament, so we've just got to be ready," Trawick said.
Eastern has another thing to worry about: the "Princeton Offense," which Georgetown runs under coach John Thompson III.
Hayford calls it "Trickery disguised in patience and intelligence. The outside sets up the inside and the inside sets up the outside."
And if you're not paying attention, you've just given up a backdoor layup. If you're too preoccupied with not getting embarrassed, "they have shooters who make you ask, 'how did that guy get so wide-open behind the 3-point line.' "
Speaking of which, the Hoyas don't shoot the 3 very often (521 attempts, ranking 267th in Division I), or very well (34.7 percent, ranking 156th).
Eastern ranks eighth in both categories (shooting .403 in 832 attempts), but Hayford admits that Georgetown may have been shooting against tougher opposition: as a conference the Big East ranked second in RPI.
The bigger question, Hayford said, is "understanding when and why they shoot 3s when they do."
Local journalism is essential.
Give directly to The Spokesman-Review's Northwest Passages community forums series -- which helps to offset the costs of several reporter and editor positions at the newspaper -- by using the easy options below. Gifts processed in this system are not tax deductible, but are predominately used to help meet the local financial requirements needed to receive national matching-grant funds.
Subscribe to the sports newsletter
Get the day's top sports headlines and breaking news delivered to your inbox by subscribing here.
---