News > Spokane
Careywood, Idaho, residents fight for local post office
Thu., March 19, 2015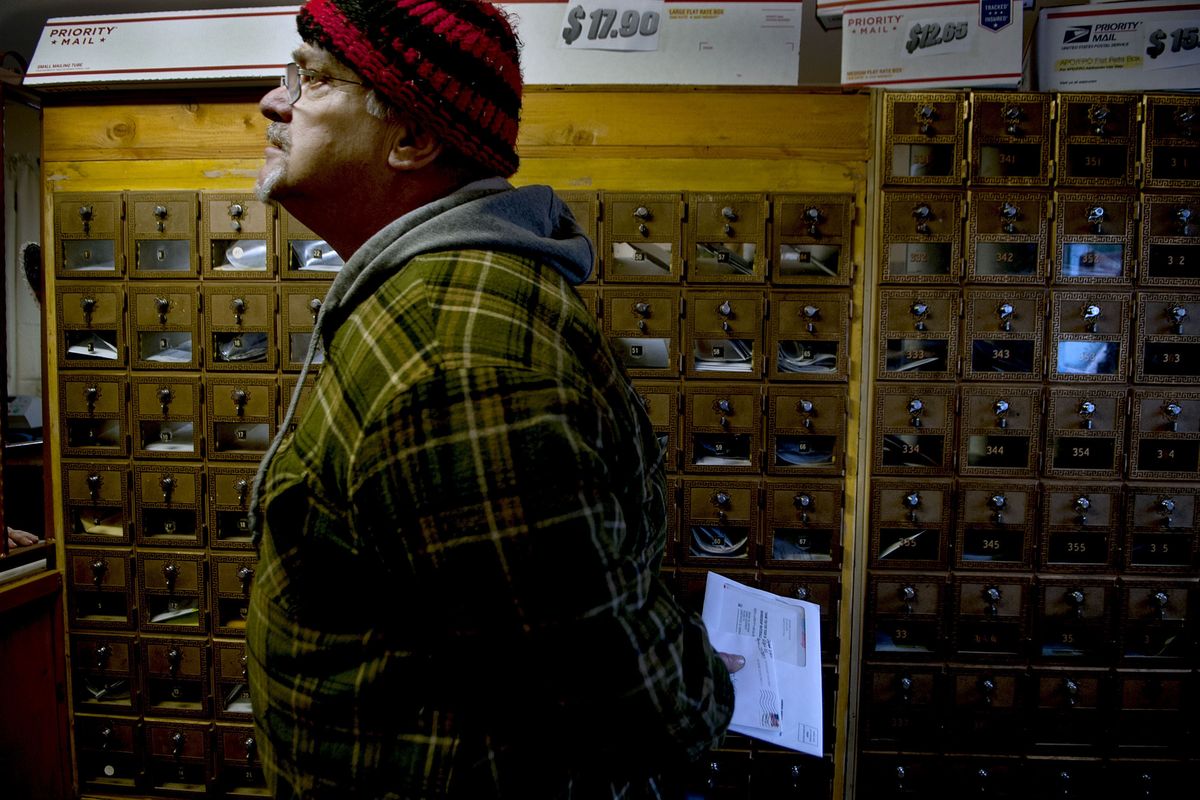 Kerry McKerracher picked up his mail at the Careywood, Idaho, post office on Wednesday. The U.S. Postal Service said it will close the tiny post office north of Athol, Idaho, along U.S. Highway 95 on March 31. (Kathy Plonka)
Carrie Bartelt greets each customer by name when they open the squeaky door to the modest post office in Careywood, an unincorporated community between Coeur d'Alene and Sandpoint.
People know each other in this pastoral end of Bonner County. If they don't, they get acquainted and chew the fat when they stop in to pick up their mail or ship a package. They chat about the weather, their March Madness brackets and rumors the county will close the dump site up the road.
"It's the hub of what's left of the community," said Bartelt, who contracts with the U.S. Postal Service to operate as a postal retail unit.
Careywood has had a post office for more than 100 years, and it has been in the same building since 1933. But the days are numbered for this rural gathering spot. The Postal Service plans to shutter the post office at the end of the month, citing the cost of the contract and Idaho's plans to someday widen U.S. Highway 95.
"The irony of this is that Carrie has brought in successful entrepreneurship to the post office, and the reward for that is to be hammered into oblivion," said Bill Hardy, a retired college professor who has lived in Careywood for seven years. "It's just cruel."
After the previous contract operator retired last summer, Bartelt took over and set about making changes. She painted the building inside and out, improved the lobby layout, added free wi-fi plus copy and fax services, began taking credit and debit cards, and sublet the other side of the building for a small grocery store. She also opens earlier, stays later and works through lunch.
"We increased sales 40 percent in six months," Bartelt said. "Complaints are down."
The Postal Service granted her a six-month contract starting last October, and she expected to be able to renew it this year. Instead, she received notice Feb. 20 that the contract would be terminated. The 120 P.O. box customers were informed they could pick up their mail in Athol, seven miles to the south, or transfer to a post office in Cocolalla, Sagle or Bayview.
Mary Taylor, who lives right across the highway, said she and her husband use the Careywood post office regularly for their Christmas tree business. She doesn't look forward to the extra time it will take for service.
"You go to Athol you'll be waiting in line," Taylor said. "It's awful busy."
Athol, which is in Kootenai County, is a 15- to 20-minute round-trip drive for most Careywood residents, he said. In cold months many people won't make the trip, which includes the slope at Granite Hill.
"For the people who live here, this is really more than just an inconvenience," Hardy said. "Especially in winter you don't want to go traveling down this road every day. It's too dangerous."
Postal Service spokesman Ernie Swanson said Bartelt's expected contract payment "far exceeded what we had been paying the previous contractor and was in excess of the amount of money that facility takes in. We told her we just couldn't do business that way."
Bartelt, who previously worked as a mortgage broker and owner of a 7-Eleven in California, said her compensation initially was based on her actual costs, including the rent she pays the previous contractor, who still owns the building.
"I would have lowered my bid now because my overhead has changed," she said. "I'm not out to gouge the post office. Those were fixed costs that I couldn't change. But they never even came to me to ask me to put a bid in."
Swanson said the exchange over the six-month contract last year set the stage for the agency's decision.
"We came away from that feeling that there was no room for further discussion," he said. "That's when we decided to not renew or tend the contract."
Bartelt and her supporters also point out that a widening project along that stretch of highway is nowhere near beginning.
Jerry Wilson, project development engineer with the Idaho Department of Transportation, wrote in an email to Bartelt that no projects have been approved for the next five years, and that he estimates it would be 10 years or more before the state widens U.S. 95 through Careywood.
Swanson said state transportation officials "weren't that definitive about a timeline" when the Postal Service spoke with them.
Nearly 500 Careywood residents have signed a petition to save their post office, and they've enlisted the help of U.S. Sen. Mike Crapo, whose staff met Wednesday with a Postal Service representative in Washington, D.C., to discuss the matter.
"The bottom line is we can't think of a single reason why this post office should be closed," Hardy said. "It's not out of the way, it's not expensive. There's just no justification."
A few other regulars who stopped in Wednesday morning talked about what it means to them to have a post office where they live.
"Without it there is no community," said Kerry McKerracher, a resident for almost 20 years. "There used to be a restaurant, there used to be a bar, there used to be a fire hall."
Tam Judy, a retired therapist whose family has farmed in the area since right after World War II, said Careywood once had a community club and a school as well.
"As each thing closes, there's a little less sense of community and cohesiveness here," Judy said.
"The timing on this whole thing is just mean," she added. "Rather than letting her know back last summer before she invested her time and her life and her hopes and future into setting up this post office, they let her do all of that and now send a letter with no forewarning saying it's curtains."
Local journalism is essential.
Give directly to The Spokesman-Review's Northwest Passages community forums series -- which helps to offset the costs of several reporter and editor positions at the newspaper -- by using the easy options below. Gifts processed in this system are not tax deductible, but are predominately used to help meet the local financial requirements needed to receive national matching-grant funds.
Subscribe now to get breaking news alerts in your email inbox
Get breaking news delivered to your inbox as it happens.
---