Gonzaga-George Washington matchup promises to entertain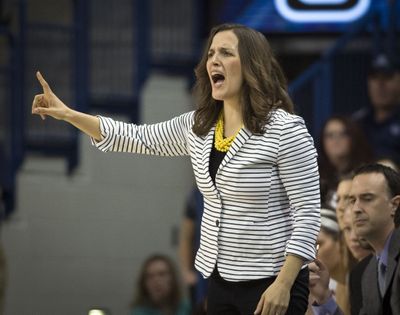 CORVALLIS, Ore. – Throw out the seeds. All indications point to a barn burner when the Gonzaga and George Washington women's basketball teams square off today at the NCAA tournament.
Both the sixth-seeded Colonials and the 11th-seeded Bulldogs dominated their conferences. Both have tenacious defenses that fuel fast breaks and both have huge post players who can control most opponents in the paint.
No. 19 George Washington (29-3) and Gonzaga (24-7) both shoot 43 percent from the floor while holding their opponents to 36 and 38 percent, respectively.
"Some of their strengths aren't exactly ours, but they are a lot similar," Gonzaga coach Lisa Fortier said. "There are some areas we do better. They are a better rebounding team. We need to be intensely ready for that."
The Colonials average 13.9 rebounds better than their opponents, the best margin in the country. But Gonzaga only averages about seven fewer (40) rebounds a game.
"After watching film, we see a lot of similarities," George Washington coach Jonathan Tsipis said. "The NCAA tournament is so much about matchups. These are two teams that play a fan-friendly, exciting brand of basketball."
The Colonials haven't played at the tournament since 2008, but this marks George Washington's 16th appearance.
The Atlantic 10 regular-season and tournament champions rode the play of 6-foot-4 Jonquel Jones and 6-2 forward Caira Washington, both all-conference selections.
Jones averages a double-double every time she steps on the court. She led the Colonials with 15.5 points and 12.4 rebounds (sixth nationally). Washington scored 12.4 points a game while averaging 7.8 rebounds.
Jones and Washington said they need to be ready for Gonzaga's front court that includes 6-5 Shelby Cheslek, 6-4 Sunny Greinacher and backup center 6-5 Emma Wolfram.
"They are a really tall team," Jones said. "They are definitely going to be a challenge at all positions. We know we will have to do well to advance to the next round."
The winner of today's game will play Saturday against the winner of the No. 14 seed, South Dakota State (24-8), and third-seeded and host Oregon State (26-4).
Gonzaga is playing in its seventh consecutive tournament and eighth overall. While the teams have never met, the Bulldogs and Colonials did play common opponents this season.
Both programs' biggest wins this year came against Dayton (25-6), but the Colonials (RPI 11) had to beat the Flyers three times.
The first time the teams met was at Dayton (RPI 13), which was picked to win the Atlantic 10. The Flyers were also riding a 31-game home winning streak that was tops in the nation at that time, Tsipis said. The Colonials won 69-66.
"The resolve and consistency we had in that game gave us great confidence," Tsipis said.
Gonzaga (RPI 39) opened the season with a 75-65 win over the Flyers, which tallied four of its six losses to the teams playing in this game.
"It's nice to see what they did against a common opponent," Fortier said. "But we don't put a lot of weight into that."
Greinacher, a senior forward who leads the Bulldogs with 13.7 points a game, expects to get a full helping of Jones and Washington in the game.
"You never know how it's going to go. I can't wait for it," she said. "We definitely are going to leave everything on the court."
While both teams use different styles to accomplish a lot of the same things, Fortier said the outcome will come down to whether Gonzaga can execute on basketball's biggest stage.
"There are a lot of areas where we think we can be successful against them," she said. "We are not just happy to be here."
---