Sports > Seattle Mariners
Jones, Romero among 11 sent to Mariners' minor league camp
Sat., March 21, 2015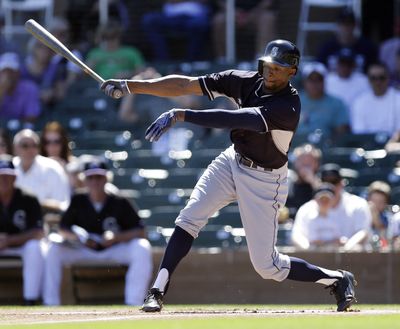 PEORIA, Ariz. – Reality hit Friday in Mariners camp when the club moved 11 players, including outfielders James Jones and Stefen Romero, and shifted their gear to the minor league clubhouse.
None of the moves were notably unexpected, although the M's tellingly trimmed their candidates for the second lefty in the pen by dispatching Lucas Luetge and Rafael Perez.
The Mariners optioned six players on the 40-man roster optioned to Triple-A Tacoma: Jones, Romero, Luetge, catcher John Hicks, first baseman Jesus Montero and shortstop Ketel Marte.
Five players in camp as non-roster invitees were reassigned to minor league camp: Perez, right-hander Justin Germano, veteran outfielder Franklin Gutierrez and infielders D.J. Peterson and Pat Kivlehan.
The moves leave 39 players in big league camp, including nine non-roster invites. Clubs must trim rosters to 25 players by opening day.
The moves with Luetge and Perez leave David Rollins, Tyler Olson and Joe Saunders as the primary candidates for duty as the bullpen's second left-hander.
Rollins rates an edge because of circumstances: He is a Rule 5 pick from Houston, which means he can't be sent to the minors this season unless he clears waivers and the Astros decline to pay a $25,000 reacquisition fee.
Olson and Saunders are in camp as non-roster invites and can be sent to minor league camp at any point.
"I've said I'd like to have two lefties," McClendon hedged. "That doesn't mean that I'm locked in to taking two lefties. I think everything is still open on that."
Even so, he also reiterated his previous statement that competition for the spot has been sufficient to merit keeping a second lefty reliever in addition to Charlie Furbush.
Rotation plans: Nothing is official, but the Mariners appear to be lining up their rotation for the regular season.
Felix Hernandez is starting today against the Cubs in Mesa and is, in McClendon's words, "99.9999 percent" likely to start the opener on April 6 against the Los Angeles Angels at Safeco Field.
So draw your own conclusions from this:
James Paxton will follow Hernandez and start Sunday against Texas at Peoria Stadium. Hisashi Iwakuma will pitch Monday in a simulated game to avoid facing the Angels in Tempe.
Erasmo Ramirez will replace Iwakuma as the starter against the Angels. (McClendon wants to keep Iwakuma away from L.A. prior to the season-opening series.)
J.A Happ is slotted for Tuesday's game against San Diego at Peoria Stadium, and Taijuan Walker's next start will be Wednesday night against the Cubs at Peoria Stadium.
A Hernandez-Paxton-Iwakuma- Happ-Walker alignment would provide the Mariners with a right-left-right-left-right mix.
Walker isn't a yet a lock.
Lefty Roenis Elias started Friday against the Rangers and is next scheduled to pitch Thursday in a split-squad game against Kansas City in Peoria.
Mariners 4, Rangers 4
Top prospect Alex Jackson crushed a game-tying homer to right-center field in the eighth inning Friday after the Mariners blew a 3-2 lead in the seventh.
Jackson, 19, was the Mariners' top pick in last year's draft.
Plus: Mike Zunino spent the day as the designated hitter and responded with a pair of homers.
`His solo shot in the fourth inning tied the game at 1-1, and his two-run drive in the sixth, which refused to hook foul, provided the Mariners with a 3-2 lead.
Minus: The head-banger duo from the club's ad campaign, Charlie Furbish and Tom Wilhelmsen, had tough days.
Furbush fumbled an attempted sacrifice bunt and failed to get an out with two on and none out in the fifth. He later walked in a run.
Wilhelmsen surrendered a one-run lead in the seventh by giving up a two-run homer to Moreland.
Local journalism is essential.
Give directly to The Spokesman-Review's Northwest Passages community forums series -- which helps to offset the costs of several reporter and editor positions at the newspaper -- by using the easy options below. Gifts processed in this system are not tax deductible, but are predominately used to help meet the local financial requirements needed to receive national matching-grant funds.
Subscribe to the sports newsletter
Get the day's top sports headlines and breaking news delivered to your inbox by subscribing here.
---