News > Spokane
Taking charge: First-year women's coach Lisa Fortier puts stamp on Zags
Fri., March 27, 2015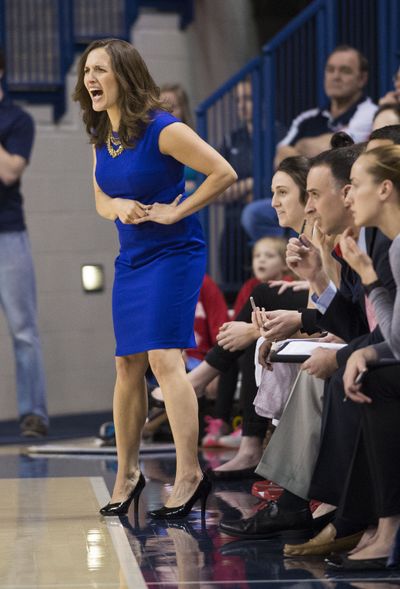 A near sellout crowd stayed behind Feb. 19 and cheered as the Gonzaga women each climbed the ladder to cut down a piece of the net.
Athletic Director Mike Roth stood at midcourt of the McCarthey Athletic Center as first-year basketball coach Lisa Fortier walked up and cut down the last strand after a record 15-0 run that earned the team's 11th consecutive West Coast Conference championship.
"She made me look like a genius," Roth said, as he watched.
Roth chose to pass the program's torch to a career assistant after former coach Kelly Graves took an Oregon job in April. Despite some early losses, Fortier led Gonzaga back to the Sweet 16 and out of Graves' shadow.
While Fortier, 33, gave every outward appearance of control and confidence as she led her team into the season, she was anything but on the inside.
"With my first coaching job, I wanted to be successful right away," she said. "It's a challenge coming in after a program builder and someone who has done such a great job as Kelly has. I'm really happy about how our team responded to that and a new coaching staff."
But she also noted: "We still have some work to do."
Fortier and the No. 11 seed Gonzaga Bulldogs (26-7) take on No. 2 seed Tennessee at 4 p.m. Saturday in the Spokane Arena for the NCAA tournament's Sweet 16.
It's a matchup of a first-year coach versus a program that has made every one of the 34 NCAA women's tournaments in history and won eight of them under legendary coach Pat Summitt, who stepped down in 2012 with early-onset Alzheimer's disease.
The Lady Vols (29-5) have been led for the past three seasons by coach Holly Warlick, a longtime assistant under Summitt and her 1,089 wins.
Fortier was an assistant for all of Gonzaga's seven-consecutive berths to the tournament, including four Sweet 16s and one Elite Eight in 2011 when the Bulldogs also played in Spokane before falling to Stanford.
But she also grew up idolizing former Tennessee players like Chamique Holdsclaw, Tamika Catchings and Kellie Jolly.
"They have been the face of women's basketball for a long, long time. It's exciting," Fortier said. "But if you talk too much about who they are, that will probably make you more nervous. So I'm more worried about talking to the team about what players they have, how we can stop them and what we can do against them."
Obliterating the shadow
Fortier coached nine years, in two stints, under Graves and they remain friends and talk often.
"But it's just not easy to follow someone who has those big shoes," she said. "I tried to move past it. But there were people who were wondering how it was going to go."
Fortier said she didn't really feel like the Bulldogs were her team until after the first game against No. 22 Dayton.
"That game we had played a horrible first half," she said. "I didn't know it at the time, but I found out later the team had a meeting at halftime. They wanted to win the game for me."
The Bulldogs went into the break trailing 33-22. But after the meeting to support Fortier and her staff, Gonzaga exploded for 53 second-half points for a 75-65 win.
"You love your players and you want them to love you," Fortier said. "We, as coaches, would do anything for them. It's really gratifying to know they have your back."
Along the way, Gonzaga lost games early in the year against American, Iowa, Washington State and Northwestern, as the team adjusted to new guards and the new staff, which includes Fortier's husband, Craig, Jordan Green and Stacy Clinesmith.
"All three coaches have been so great with their suggestions," Fortier said. "They have been great with our players."
Craig Fortier came to Gonzaga after working as an assistant for the Eastern Washington men's team.
"It's been so great having (Craig) on the same schedule as me," said Fortier, who gave birth to the couple's third child last July. "Winning and losing, he's fixed in. It's been especially helpful in this first year."
After the early losses, Gonzaga ripped off the record 15-0 start to conference before losing three of their last four games and sweating out an at-large bid into the tournament.
After two huge wins over No. 6 seed George Washington and third-seeded Oregon State, the Zags have made their own history for a team that is now fully Fortier's.
"I learned a ton from Kelly. But I'm my own person and I have my own ideas on how to do things," she said. "To see our team playing so well the last two games and see them reaching some of their goals … is awesome. Success makes you feel better about things."
But the success doesn't eliminate all doubt. Asked what she would have done differently her first year, Fortier groaned.
"Only about a thousand things," she said. "Every time afterwards, I question whether I should have called this timeout or we should have set that defense. Was I too hard on this player or too nice to this one? I should have kept a list of every little thing I could have done different.
"But, it all works out in the end, it seems."
Local journalism is essential.
Give directly to The Spokesman-Review's Northwest Passages community forums series -- which helps to offset the costs of several reporter and editor positions at the newspaper -- by using the easy options below. Gifts processed in this system are not tax deductible, but are predominately used to help meet the local financial requirements needed to receive national matching-grant funds.
Subscribe now to get breaking news alerts in your email inbox
Get breaking news delivered to your inbox as it happens.
---