Sports > Gonzaga basketball
Zag families know about being in zone
Sun., March 29, 2015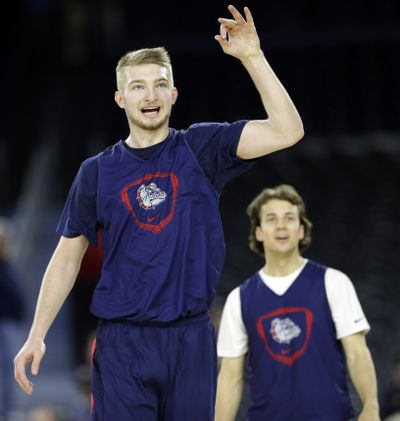 HOUSTON – Gonzaga freshman forward Domantas Sabonis can picture his parents in Lithuania and his siblings in Spain watching the Zags' NCAA tournament games in the early morning hours.
"The one in Seattle (last Sunday) wasn't that bad. It was midnight there. A lot of times it's maybe 2 or 3 in the morning," Sabonis said. "My dad watches the games, my mom falls asleep."
Przemek Karnowski can relate. The junior center says there are two time zones inside the family home in Torun, Poland: local time and Przemek's-game-is-starting time. Gonzaga's 74-62 win over UCLA on Friday night ended just before 2:30 a.m. in Poland.
"My dad watches all the games," said Karnowski, whose mom, Wieslawa, played college basketball. "He has to work at 7 and he stays up until 5:30 sometimes watching the games. I respect that and I'm still like, 'Oh my goodness, how does he do that?' He says he's basically living in the American time zone and he'll probably go back to the Polish time zone in about a week or two."
Gonzaga's borderless recruiting has brought international talent that has elevated the program. Recent rosters featured Canadians' Kelly Olynyk and Robert Sacre and Germany's Elias Harris. In addition to Karnowski and Sabonis, the current team includes Canada's Kevin Pangos and Dustin Triano.
From afar, those families have to figure out a way to keep up with their kids. It's fairly easy for the Canadian imports. Regular-season and postseason games are routinely available on television. For families overseas, it often requires some creativity.
Sabonis said his older brothers showed his parents how to access the games. Sometimes that's via livestreams on the computer, sometimes that's by purchasing a basketball-specific TV package. Sometimes they tape games and view them the next day.
"My brothers taught them how to set it up at first," said Sabonis, noting his parents are a bit technologically challenged. "I guess now they're able to do it by themselves, I don't know how."
Bill and Patty Pangos have joined their son for the Zags' postseason run. They watched the first two games in Seattle and then returned to Spokane to be with Kevin and older sister, Kayla, a graduate intern at Gonzaga. Continuing a family tradition, Bill and Kevin spent some late-night hours in the gym, father rebounding as son works on his game.
The Zags are one win from advancing to the Final Four and firming up the Pangos' family travel itinerary.
"Indianapolis, that's the direction home," Pangos said. "That would be perfect for them."
Family Sabonis
Sabonis isn't shy about calling his father, legendary player Arvydas, for advice but the conversations don't always involve basketball.
"He always helps me out," Sabonis said. "He tells me to keep my head high, keep working and everything will come out the way you want it."
Family outings draw a lot of attention back home.
"Everybody knows who he is," Sabonis said. "If you walk around with him, sometimes it's embarrassing for the whole family when you go to the mall, 'Hey, there's Sabonis.' "
Sabonis has watched videos of his dad's games.
"I love everything about it. How big he was and how he could move, shoot and pass," Sabonis said. "Some passes I'm like, 'How did he even see it? Or, Why would you even pass it there?' And it comes out good.
"He still plays with his buddies 5-on-5, but half-court. He loves it."
Smooth transition
Administrative assistant Alex Hernandez is moving on after the season, but he wants to prolong his entrance into the business world as long as possible.
"This is the way you want to go out, on top, right?" said Hernandez, whose wife, Jenny, is a former Zags soccer player who was teammates with assistant coach Brian Michaelson's wife, Sarah.
Hernandez's business venture will involve "green smoothies, whole raw food blended, juicing. I've been into it the last three years, making recipes and getting products lined up."
Hernandez, a tough, undersized wing with a knack for scoring around the basket on GU's 2001-02 squads, has been on the staff for seven years.
"He always lightens up the room and brightens everybody up," guard Kyle Dranginis said. "At same time he gets us pumped up on the sideline (with flying shoulder bumps)."
Said Hernandez: "I'm going to miss it a lot; I love being part of a team."
Local journalism is essential.
Give directly to The Spokesman-Review's Northwest Passages community forums series -- which helps to offset the costs of several reporter and editor positions at the newspaper -- by using the easy options below. Gifts processed in this system are not tax deductible, but are predominately used to help meet the local financial requirements needed to receive national matching-grant funds.
Follow along with the Zags
Subscribe to our Gonzaga Basketball newsletter to stay up with the latest news.
---