Zags falter in stretch, denied Final Four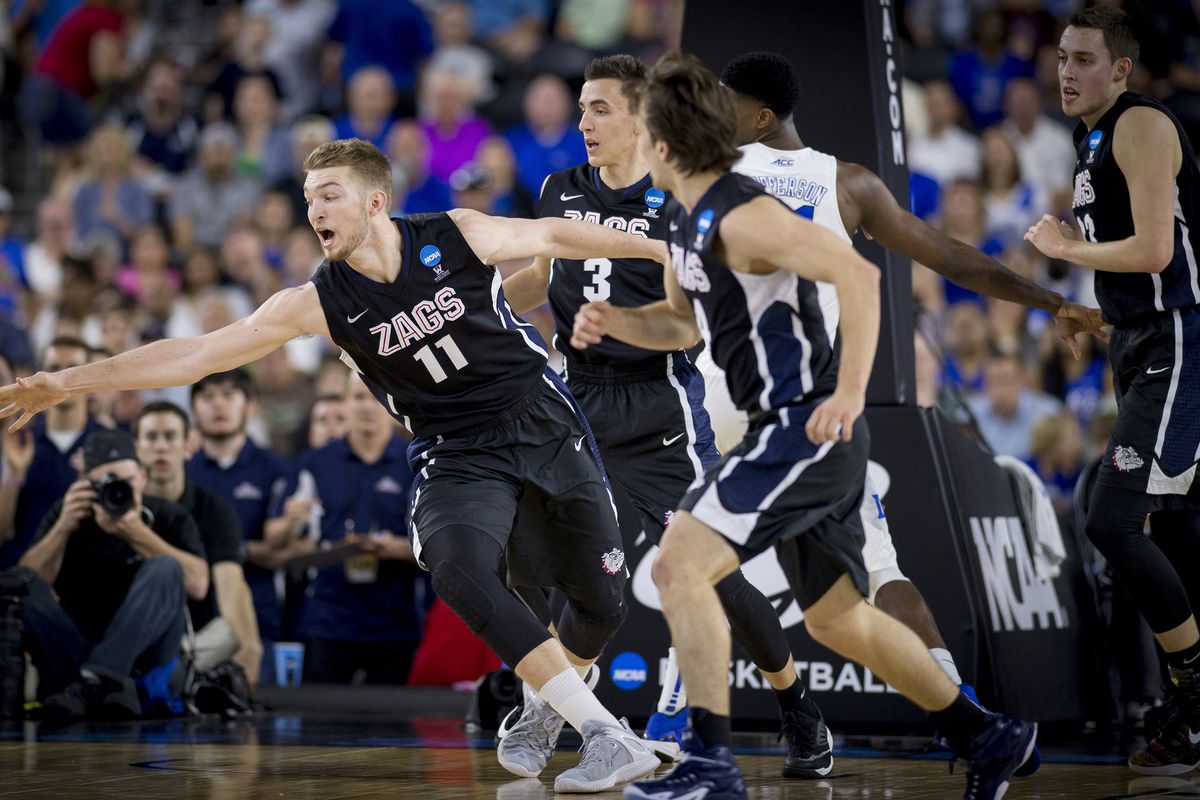 HOUSTON – Gonzaga's Road to the Final Four hit a detour with four-plus minutes left.
The Zags' offense, so dependable all season but inconsistent during several costly stretches against Duke, stacked up empty possessions. Duke did what Duke has done so often in big NCAA tournament games, delivering at both ends of the floor.
The top-seeded Blue Devils executed in crunch time and pulled away for a 66-52 Elite Eight victory in front of 20,744 Sunday at NRG Stadium, ending Gonzaga's record-setting season.
The second-seeded Zags (35-3) didn't reach the No. 1 ranking of the 2013 team but they set a school record for wins and matched the 1999 team by reaching the Elite Eight.
"It's really tough when you have all the confidence in the world that we belong in the Final Four," junior forward Kyle Wiltjer said. "We just weren't able to get there. That's the tough thing about sports, someone has to lose."
Duke (33-4) will face Michigan State in the Final Four in Indianapolis. It's the Blue Devils' 12th Final Four under coach Mike Krzyzewski.
"I'm proud of my guys because we beat a hell of a team," Krzyzewski said. "Our defense over the last 16 minutes was spectacular, not good."
Gonzaga's 52 points and eight assists were season lows. The Zags shot better from the field (44 percent to Duke's 37.5), but made just 2 of 10 3-pointers and 13 turnovers led to 17 Blue Devils' points.
Duke committed only three turnovers, one when it let the shot-clock expire in the closing seconds.
"They were flying around, making it tough, but we got some really good looks," Gonzaga senior wing Byron Wesley said. "When they doubled the posts we were able to cut to the basket and get layups. When they switched on guards we were able to attack the basket. We just weren't able to make shots."
The Zags, who trailed by as many as 11 in the first half, opened the second half with a 12-3 run to take a 38-34 lead. Four players contributed to the run, capped by Wesley's three-point play with 16:21 left.
Gonzaga didn't score again until Kyle Dranginis' layup with 10:50 remaining, ending a streak of eight scoreless possessions. Duke built a 52-44 lead with the help of two 3-pointers by Matt Jones, who came in averaging 5.9 points. He made 4 of 7 treys and finished with 16 points, one shy of his career high.
"We cross-matched with (Wiltjer) when these teams go small and athletic," Gonzaga coach Mark Few said. "He stepped up and hit shots."
The Zags battled within 53-51 inside the 5-minute mark as Przemek Karnowski, saddled with first-half foul trouble, had a pair of baskets and Kevin Pangos scored in transition.
Wiltjer missed a layup that would have tied the score and it went downhill from there. Freshman forward Justise Winslow scored seven straight points, including a dagger 3 that bumped Duke's lead to nine with 2:49 left.
Gonzaga scored one point in the final 5:40. The Zags didn't make a field goal in the last 6:30. Pangos, who rarely found free space against Quinn Cook's adhesive defense, missed an open 3 and Wiltjer misfired on an off-balance 6-footer.
"It felt good and everything coming out of my hand," said Pangos, who was limited to four points. "Obviously if it went down it would have been a big one. We didn't get baskets or stops. We just couldn't get the ball in the basket at the end."
Duke spread the floor, ran clock and hit free throws to close it out.
Wiltjer scored 13 of his team-high 16 in the first half. Wesley added 10 points and five rebounds. Domantas Sabonis stepped up with Karnowski on the bench in the first half, scoring seven of his nine points.
"They were just denying a lot and making it tough," Wiltjer said of Duke's second-half defense. "They were packing the paint so it was hard to drive in there."
Winslow and Jones each scored 16 points for Duke. Tyus Jones, named the South Region's most outstanding player, had 15 points and six assists.
---