News > Spokane
Online scavenger hunt rewards those who know Spokane's buildings
Wed., May 6, 2015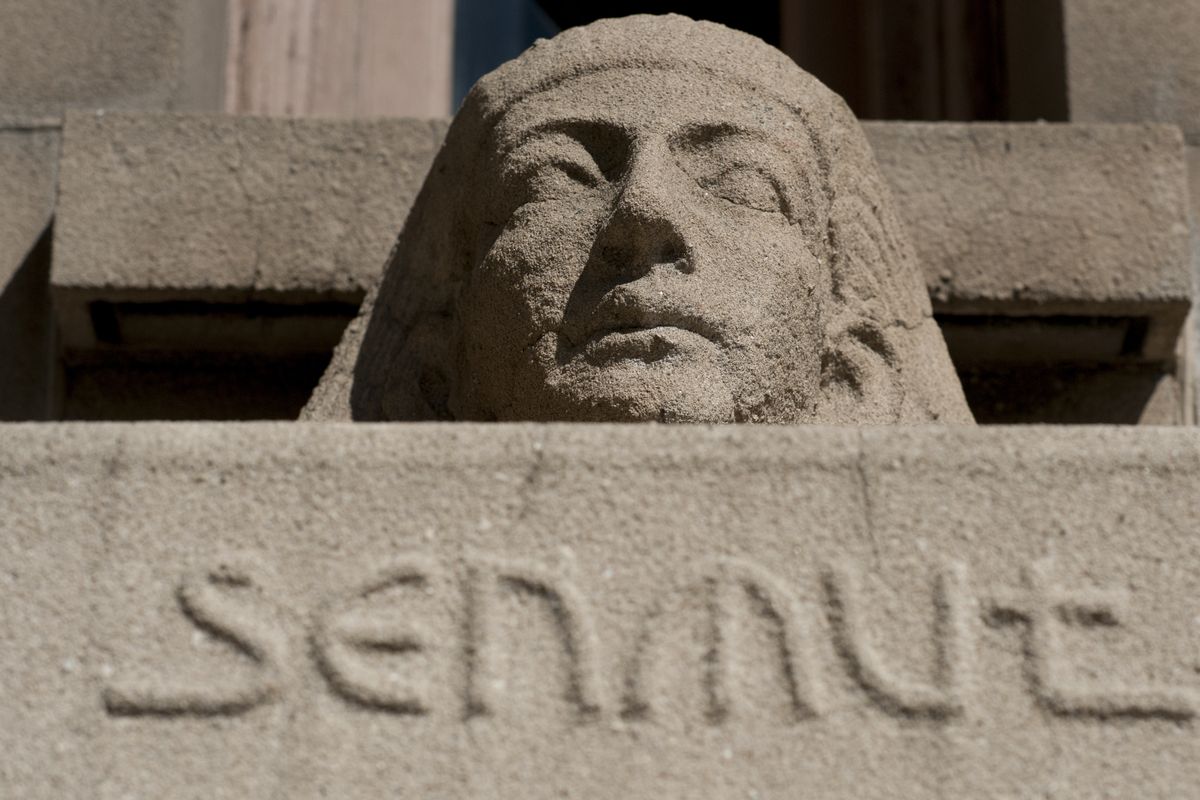 One of the clues for the Spokane Historic Preservation Office's scavenger hunt, which the office is conducting to celebrate National Preservation Month.
Historic preservation officials have come up with an interactive way to celebrate National Preservation Month in Spokane: an online scavenger hunt for people to identify historic facades and decorative elements around the community.
Participants can submit entries through a form at http://historicspokane.org/scavenger-hunt and be included in drawings for historically themed prizes.
It's not necessary to have a perfect score, but participants should make an effort to complete the form, said Megan Duvall, city-county historic preservation officer.
Some of the images on the website will be easily recognizable. Others may be a bit more obscure.
Here's the chief clue: Ten of the locations are part of a downtown walking tour of historic buildings.
The entry deadline is May 31.
Prizes include a climb to the top of the Spokane County Courthouse tower, a visit to the penthouse in the Paulsen Building and a look behind the scenes in the Campbell House. A fourth prize is admission to the Spokane Valley Heritage Museum inside the historic Opportunity Town Hall.
"We wanted to do something exciting and big," said Emily Vance, a temporary seasonal employee with the Spokane Historic Preservation Office.
The goal is to generate interest in the architectural history of Spokane and get people out on the street looking at their heritage, she said.
Vance said she, Duvall and others hatched the idea for the scavenger hunt and Vance created it.
"We want to get people downtown to look," Duvall said. "Most of it is to get people thinking of buildings in a new way."
In addition to the scavenger hunt, the preservation office has a new field trip app for mobile devices that includes more than 300 historic sites in the area. The Google app runs in the background of the device and provides an alert when the device is near one of the sites.
Local journalism is essential.
Give directly to The Spokesman-Review's Northwest Passages community forums series -- which helps to offset the costs of several reporter and editor positions at the newspaper -- by using the easy options below. Gifts processed in this system are not tax deductible, but are predominately used to help meet the local financial requirements needed to receive national matching-grant funds.
Subscribe now to get breaking news alerts in your email inbox
Get breaking news delivered to your inbox as it happens.
---