News > Spokane
Then and Now: Burgan's store now a new hotel
Mon., May 11, 2015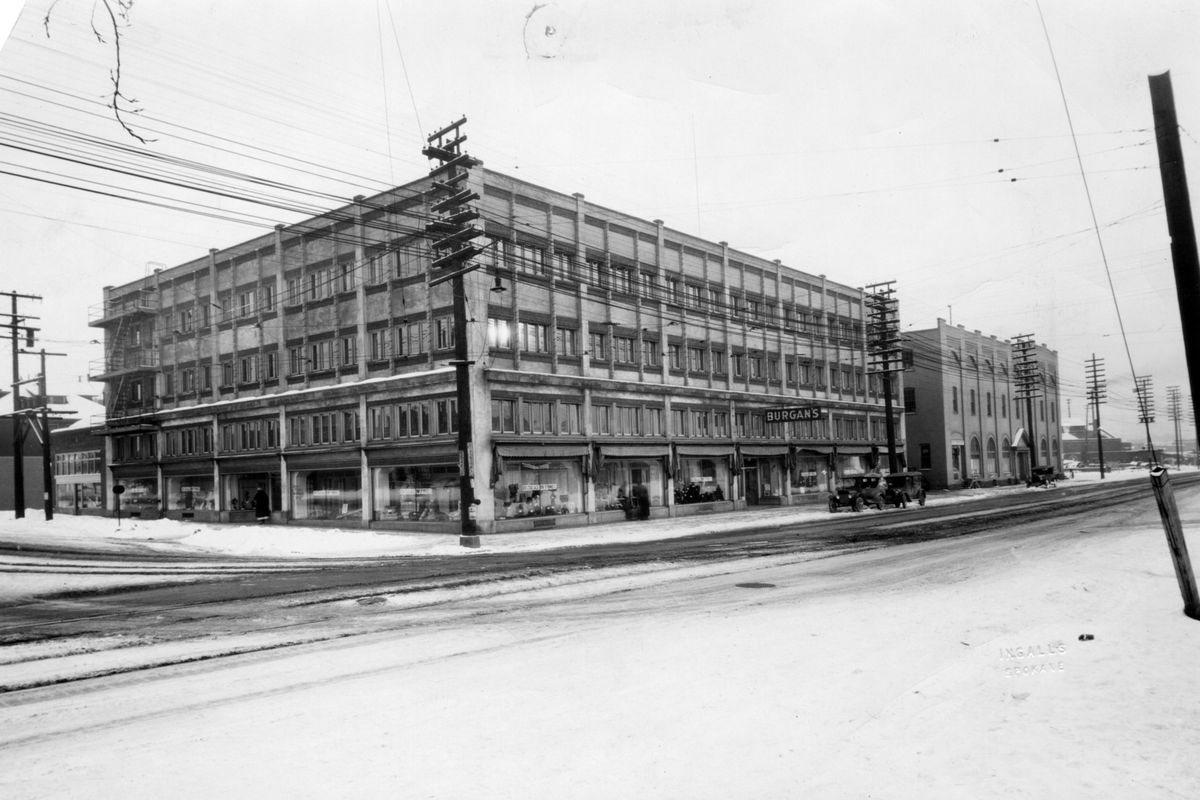 April 16, 1930: Burgan's anchors Division and Boone.
Edwin S. Burgan, born 1849 in Ohio, started as a store clerk at 14. In 1870 he took Horace Greeley's advice to "Go west, young man."
Burgan worked in stores and flour mills in Waitsburg, Walla Walla, Portland and Pullman, slowly building interests in various businesses and serving as president of the First National Bank of Pullman. He was hired to open a new store in Spokane in 1889, but the great fire took the building before it even opened.
In 1915, at age 65, he purchased a dry goods store in Spokane and incorporated E. S. Burgan and Son with his son, Jesse. In 1918, he built a multistory block at Boone and Division, creating warehouse space and a store. At the peak, Burgan maintained a chain of more than 40 small grocery stores, scattered around Spokane and stretching from Genesee to Harrington.
On his 88th birthday, the avid fisherman and devout Christian Scientist told a reporter the key to longevity was healthy living. "I've never had a sick day in my life," he said.
He retired in 1945, at age 95, but continued to visit the business almost every day. His memory for business facts and names amazed his friends and employees. He wanted to live to 100 but died at age 99 in 1948.
The "dean of grocery men" had been in business in the region for more than 75 years. On his 94th birthday, his voice choked with emotion, he told a reporter, "No one could ask for more than to enjoy a long life with the wonderful friends in Spokane and the Inland Empire."
After his death, his family sold off the grocery stores and concentrated on the furniture store on Division. In the early 1950s, the business was sold to the McEachran family, which ran the furniture store until closing it in 2008. The Burgan's building is now the Ruby Suites, an upscale, long-term-stay hotel, developed in partnership between Bruce McEachran and Jerry Dicker.
– Jesse Tinsley
Local journalism is essential.
Give directly to The Spokesman-Review's Northwest Passages community forums series -- which helps to offset the costs of several reporter and editor positions at the newspaper -- by using the easy options below. Gifts processed in this system are not tax deductible, but are predominately used to help meet the local financial requirements needed to receive national matching-grant funds.
Subscribe now to get breaking news alerts in your email inbox
Get breaking news delivered to your inbox as it happens.
---