Sports
Blanchette: Connor Halliday's reversal puzzling, but his business
Sat., May 16, 2015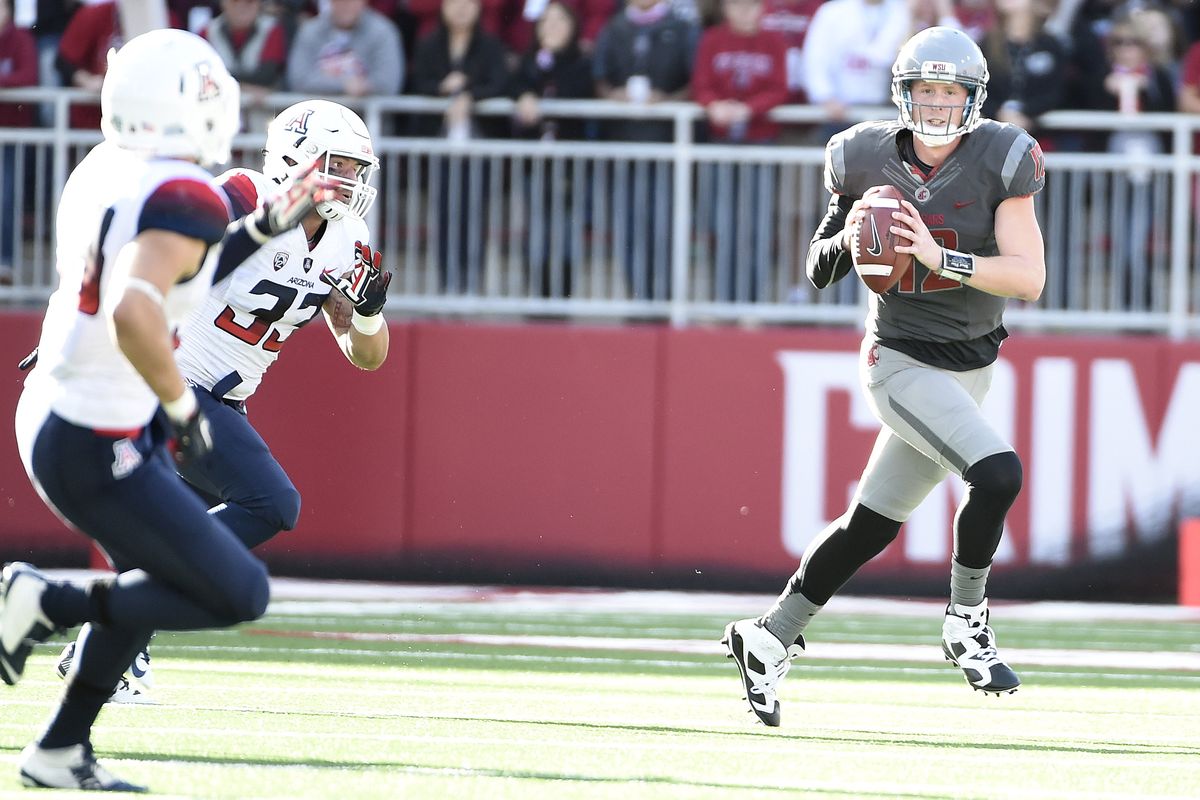 (File)
For someone who seemed easily reconciled to the glorious, communal possibilities of football and the inevitable beatings it delivers to the soul – to say nothing of the body – Connor Halliday authored a stunning twist to his tale Friday.
Surprise immediately turned to mystery, which it will remain unless he decides to share the thinking behind his jarring U-turn exit from the game at the age of 23.
Not that he owes any explanations.
But absent his perspective and any amplification from the team, Halliday's withdrawal from the Washington Redskins' rookie minicamp this weekend just made him the most interesting in-limbo NFL quarterback of the offseason next to Tom Brady of "PSI: Foxboro" – and that's saying something for an undrafted free agent.
When Halliday's name was not listed on the roster for the Redskins' minicamp, a source told ESPN's John Keim that Halliday had lost his love for football. Another source told the Washington Post that he had decided to retire.
Could it actually be burnout? That's difficult to digest if Halliday was shooting square in enthusiastic remarks leading up to his date in D.C.
Were the club's docs reluctant to clear him for takeoff? The NFL normally makes that information public.
Is he just the latest player – and surely not the last – to conclude that the game's long-term physical and neurological risks lap its rewards?
Are these even the right questions?
For anyone who watched Halliday's quarterbacking arc at Ferris High School and Washington State, this plays like a decidedly un-Connor turn. Not that he couldn't be mercurial. Not that he wasn't above an "aw, screw it" moment. But usually that amounted to taking an ill-advised shot into coverage, thinking he could manufacture what wasn't coming naturally, or quickly enough.
Those times were about chucking it downfield, not chucking it all.
And if you didn't trust the eye test when it came to assessing his want-to, there was always the mom test.
Here's what Jessica Halliday wrote about her son on Sports Illustrated's MMQB site in the days before the NFL draft:
"Football owns Connor in a way that has nothing to do with love of the game. It's in him; it simply is him."
Hmm. And now it isn't?
Of course, epiphanies by definition aren't slow-cooked.
Yet as much as the "Why?" question was being asked, it was almost being drowned out by the "Why now?" questions.
The gruesome broken ankle Halliday suffered last Nov. 1 against USC has been rehabbed over the course of six grueling months, after some initial angst on his part that it might derail his NFL aspirations. That's a lot of sweat and pain just to pull the plug on the eve of the grand opportunity. Halliday was, naturally, disappointed at being passed over during the draft, but Washington general manager Scot McCloughan had invested considerable time in checking him out – and it's not as if free agency is some sort of scarlet letter.
"If you look at it, actually, last year there were more rookie free agents that made teams than guys that got drafted," Halliday told the Washington Times in an interview this week, "which is a pretty crazy stat but it actually happened last year. So I don't think it affects my mentality in any way."
But something did.
If the Redskins began having second thoughts about Halliday's physical readiness, and voiced them, it's conceivable that he could have called his own audible. But Halliday was going to have to prove himself somewhere. He's skinny, coming off a devastating injury and out of a system where he was never called upon to take a snap from directly under center – and has produced one NFL quarterback of any note (though not much success) in 20 years. The Skins had already taken a minor leap of faith, so why not stick it out with them?
Because maybe he really is done with football – or at least the playing of it?
It's convenient to see this as a ripple from the Chris Borland retirement this spring – another win for sanity in the risk-assessment debate over the awful toll football takes on its practioners. Borland's concerns, however, came after research into concussions and head trauma – just as previous early retirements, like former Washington quarterback Jake Locker, were tied to a long injury history.
Halliday has that, too – the lacerated liver he suffered as a WSU freshman, the ruptured spleen in high school.
But he also spoke often and forthrightly about his dream of playing in the NFL. Maybe he came to the realization that it had become a dream he just thought he should have, after giving so much to the game all these years.
Or maybe it's something else.
Whatever it is, he's the only one who has to be OK with it.
Local journalism is essential.
Give directly to The Spokesman-Review's Northwest Passages community forums series -- which helps to offset the costs of several reporter and editor positions at the newspaper -- by using the easy options below. Gifts processed in this system are not tax deductible, but are predominately used to help meet the local financial requirements needed to receive national matching-grant funds.
Subscribe to the sports newsletter
Get the day's top sports headlines and breaking news delivered to your inbox by subscribing here.
---