Sports
CCS caps coach's final season with NWAC championship
Tue., May 19, 2015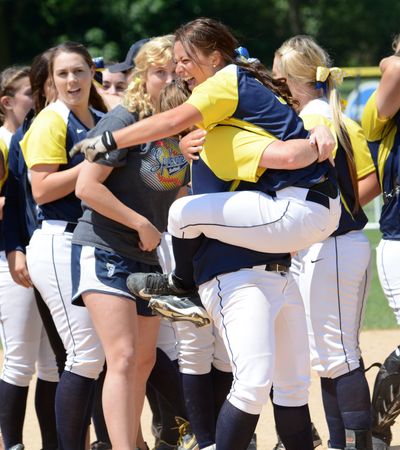 PORTLAND – A fighter jet rumbled the sky over Delta Park as Spokane's Shawnee Zink stepped into the batter's box in the fifth inning Monday.
Not long after the grey streak disappeared from view, Zink showed what she knows about fast-moving objects, sending a grand slam over the left-field fence in a hurry.
It was her second homer of the day and put the mercy rule into play as the Community Colleges of Spokane Sasquatch downed defending champion Mt. Hood 12-3 in the Northwest Athletic Conference softball championship game.
"I had gone '0-fer' on Saturday and Sunday, so I just had to stop thinking, put my bat on the ball and trust it to go somewhere," Zink said. "I knew we had a chance to end the game early, and I just had to relax and do my thing."
The Saints went down in order in their half of the fifth, getting two quick outs when Katelyn Geyer tracked down fly balls in right field. Moments later, Sydnie Malloy dug a ball out of the dirt and fired to first, and it was time to celebrate.
Spokane (46-4) backed up its No. 1 seed – it's biggest challenge coming in an 1-0, extra-inning win over Southwest Oregon in the quarterfinals.
It appeared Monday's championship game might be another battle with Mt. Hood keeping pace 3-3 after a pair of uncharacteristic Sasquatch errors in the second inning.
"I could tell we were a little tense, so I called time and told them 'this is not what we're about,' then I started to see some smiles and we got it going," said Spokane coach Janet Skaife after the Sasquatch produced the school's fifth league title but first since 1998.
Pitcher Lindsie Scholwinski, who finished the season undefeated, found her motivation in the third inning when a pitch on the outside corner wasn't called a strike giving the Saints a base runner.
It would prove to be their last of the game.
"I was nervous at the start and nothing was working," Scholwinski said. "I pitch better when I'm mad, so I was looking for something to get angry about, and that was it."
She retired the final seven batters she faced, and finished the game by scattering four hits and striking out four.
The Sasquatch put away the game with a five-run burst in the fifth inning with Alex Shuster sending a blooper into right field to start the scoring before Zink finished it with her grand slam.
Early in the game, Spokane got down to its last strike before getting a clutch home run from Zink in the first inning and a two-run double from Berkley Fisher in the second.
Katelyn Sage produced what would stand up as the winning run with a double off the left-field fence in the fourth inning.
"Things were a little tense with the game still tied, but we were able to get out of our heads and start hitting," Sage said. "That's what we do."
The Sasquatch had four players with multiple-hit games in Zink, Lexi Miller, Sage and Geyer.
Mt. Hood survived five elimination games to reach Monday's championship.
Skaife goes out with her second championship as she ends an 18-year career as CCS coach. She is retiring to spend more time with her family.
"I'm really going to miss it – I wish there was time to do both," Skaife said.
Local journalism is essential.
Give directly to The Spokesman-Review's Northwest Passages community forums series -- which helps to offset the costs of several reporter and editor positions at the newspaper -- by using the easy options below. Gifts processed in this system are not tax deductible, but are predominately used to help meet the local financial requirements needed to receive national matching-grant funds.
Subscribe to the sports newsletter
Get the day's top sports headlines and breaking news delivered to your inbox by subscribing here.
---