Sports
Brittany Dugger sparks CC Spokane women to track title
Wed., May 20, 2015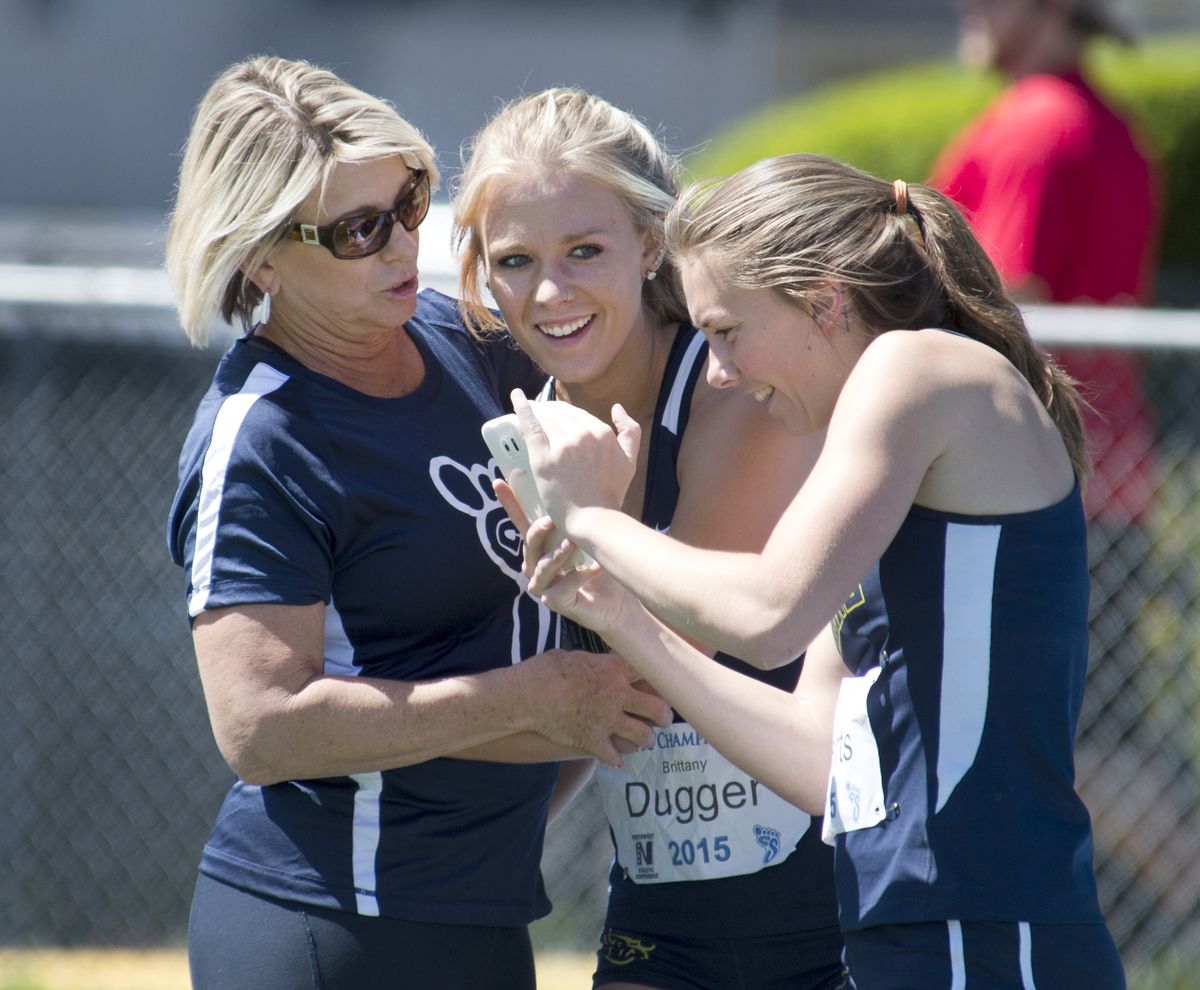 Brittany Dugger, center, of CC Spokane, celebrates with coach Linda Lanker, left, and Sidney Roberts after she won the 100 hurdles. (Jesse Tinsley)
In the race she wanted to win a year ago, Brittany Dugger "messed up."
Well, maybe more than that.
"I choked," she confessed on Tuesday. "I got intimidated by the girl next to me. She had the same (season best) time as me, but I didn't get out of the blocks and got third. That really stuck with me."
For how long?
"Until about 20 minutes ago," she said.
Or until the Community Colleges of Spokane sophomore crossed the finish line at Spokane Falls to win the 100-meter hurdles at the Northwest Athletic Conference championships – one of a handful of big moments in the Sasquatch's run to the women's team title.
Like Dugger's run in the hurdles, the team trophy wasn't revenge so much as it was unfinished business. The Sasquatch, after nine straight women's titles, had loaned first place out to Lane the past two years and after the first one of those in 2013, coach Jason Cash amped up the recruiting.
Here's how it paid off: all five of CCS' individual titles were won by sophomores Dugger (hurdles and high jump), Kendra Hamm (heptathlon) and twins Sara and Megan Fristoe (steeplechase and 800 meters). Two of those came on Friday, when the Sasquatch built a 57-point cushion over Lane. Then a narrow win – .02 of a second – over the Titans in the 4x100 relay got Tuesday started right.
"We always score this out on paper a week before and we had us losing to Lane by 12," said Cash. "To be up that much after day one was a big help. I told them last night we still have to show up on day 2 and finish, and they certainly did that."
Lane did capture a third straight men's title – the only school besides Spokane to pull off such a run in the last 20 years. CCS has been second to the Titans all three times.
Spokane has never had more numbers on the women's team, but it never hurts to have a big hitter like Dugger, who accounted for 40 1/2 points and was the NWAC's female athlete of the year.
Not bad for a one-event wonder out of East Valley.
"All I ever did was the hurdles," said Dugger, who sped through them in a lifetime best 14.36 seconds Tuesday. "I was a soccer player for 13 years who just went out for track because I thought it might be something else to do. My freshman year here, I realized college track isn't a joke and I'd better take it seriously."
Now she's headed to Sacramento State on scholarship, joining a team that won the Big Sky title in Cheney last weekend.
As is their custom, the Sasquatch have a way of turning the unpolished into gems. Dugger only made it to the state high school meet her senior year, finishing fourth. Hamm, who scored 32 1/2 points at this meet, never placed at state in an individual event for University. The Fristoes, from Bend, Oregon, split up for college to go to Oregon (Megan) and Oregon State (Sara) before deciding to redefine their aspirations and reuniting at CCS.
"I felt like a number there," said Megan Fristoe, who ran away in the 800 despite coming in with just the fourth-best time in the field. "And my sister and I missed each other. Now we've both won championships here. It shows we picked the right place to be."
When Colin Kubik entered CCS, he wasn't sure the track was the place for him. A product of North Central's distance factory, he skipped his freshman cross country season, then turned out and won the 2014 NWAC steeple title. On Tuesday, his kick in the last 200 meters won the 1,500, a nice surprise in a year of "good workouts and bad races.
"I don't know if it's been psyching myself out or just doubting," he said. "The doubting voice is strong in running."
But no race was more entertaining than CCS freshman Andrew Stich's win in the 400 hurdles, a neck-and-neck affair with Lane's Josh Rambert that saw Stich clock a lifetime best 53.97 – windmilling his arms and screaming in agony through the finish.
"It just hurt so bad," he said. "You can think you're mentally prepared for this race, but as soon as you're in the blocks it's, 'Oh, crap.' It's the race of all races."
Local journalism is essential.
Give directly to The Spokesman-Review's Northwest Passages community forums series -- which helps to offset the costs of several reporter and editor positions at the newspaper -- by using the easy options below. Gifts processed in this system are not tax deductible, but are predominately used to help meet the local financial requirements needed to receive national matching-grant funds.
Subscribe to the sports newsletter
Get the day's top sports headlines and breaking news delivered to your inbox by subscribing here.
---